Billy Strayhorn: Lush Life | Film Screening & Panel Discussion
Date:
October 26, 2012 - 7:30pm
Location:
Nichols Concert Hall | 1490 Chicago Avenue, Evanston
Contact:
Box Office: 847.905.1500, ext. 108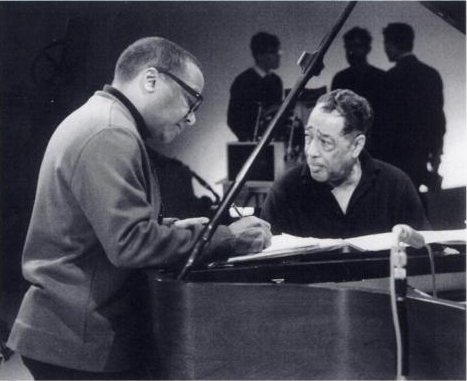 This event is part of the Music Institute's three-day Billy Strayhorn Jazz Festival, October 26-28, 2012. 
---
Program
Film Screening 7:30pm ~ Robert Levi's documentary "Lush Life" 
Panel Discussion (following the film) ~ Moderated by WBEZ 91.5FM broadcaster and host Richard Steele, the panel features filmmaker Robert Levi with Strayhorn biographer David Hajdu; trumpeter Terell Stafford; Alyce Claerbaut, President of Billy Strayhorn Song and Gregory A. Morris.

---
About the Film
Billy Strayhorn: Lush Life not only emphasizes the vast contributions Strayhorn made to Ellington's oeuvre, but also features his own newly discovered compositions, with world premieres of his music featuring singers Elvis Costello and Dianne Reeves, pianists Hank Jones and Bill Charlap, saxophonist Joe Lovano and guitarist Russell Malone. With interviews, performances and archival footage, "Lush Life"showcases Strayhorn's gifts and illuminates the issues that deprived him of deserved recognition.
In 2008, Billy Strayhorn: Lush Life became the first program in broadcast history to receive three important awards in one year: the Emmy Award for Best Documentary of the Year, the George Foster Peabody Award for Broadcast Excellence and the Writers Guild Award for Best Documentary Screenplay. The film was also one of three documentaries to make New York Magazine's "Top Ten Best Television Events" list.
Listen to Richard Steele and Tony Sarabia's Morning Shift interview with Mark George and Alyce Claerbaut "Duke Ellington's right-hand man:  Billy Strayhorn" on WBEZ 91.5 FM

Listen to the 2007 interview "Billy Strayhorn: Jazz Composer Gets His Due" on NPR's Talk of the Nation

Read Chicago Tribune jazz critic Howard Reich's article on the festival >>
---