2016 Judges
JEFFREY SWANN, Chair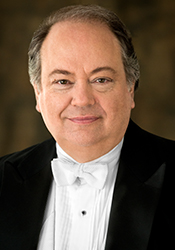 Jeffrey Swann enjoys an international performing career which has taken him throughout the United States, Europe, Latin America and Asia. He won first prize in the Dino Ciani Competition sponsored by La Scala in Milan, a gold medal at the Queen Elisabeth Competition in Brussels, and top honors at the Warsaw Chopin, Van Cliburn, Vianna da Motta and Montreal Competitions. His large and varied repertoire includes more than 60 concertos as well as solo works ranging from Bach to Boulez.  In addition to presenting lecture/recitals worldwide, Mr. Swann has performed with major symphonies under the direction of such conductors as Zdenek Macal, David Robertson, Esa-Pekka Salonen, Marek Janowski, Kazimirz Kord, Myung-Whun Chung, Roberto Abbado, Riccardo Chailly, Daniele Gatti and Leonard Slatkin. He also continues to lecture regularly at the Wagner Festival in Bayreuth, Germany, and at Wagner Societies in the United States and Italy.  A native of Northern Arizona, Jeffrey Swann studied with Alexander Uninsky at Southern Methodist University and with Beveridge Webster and Adele Marcus at The Juilliard School, where he received his B.M., M.M. and D.M.A. Degrees.  Mr. Swann can be heard on Ars Polona, Deutsche-Gramophon, RCA-Italy, Replica, Fonit-Cetra, Music & Arts, and Agorá recordings.
Since 2007, Jeffrey Swann has been Artistic Director of the Dino Ciani Festival & Academy in Cortina d'Ampezzo, Italy; since 2008 the Adel Artist-in-Residence at Northern Arizona University; since 2010 Professor of Piano at New York University; and since 2013 Artistic Director of the Scuola Normale Superiore Concert Series in Pisa.  Mr. Swann has served on the jury of numerous international competitions, including the Stecher & Horowitz International Piano Competition (New York City), Premio Venezia (Venice, Italy), Rosalyn Tureck International Bach Competition (New York City) (President of the Jury), Dino Ciani Competition (La Scala), Queen Elisabeth International Piano Competition (Belgium), International Competition "Carlo Soliva" (Italy) (President of the Jury three times), Busoni International Piano Competition (Italy), International Franz Liszt Competition (Utrecht).
ALVIN CHOW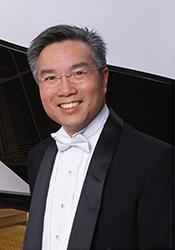 Pianist Alvin Chow has performed throughout North America and in Asia as orchestral soloist and recitalist.  He has been a prizewinner in numerous competitions, including the University of Maryland International Piano Competition, the MTNA Collegiate Artist Competition and the New York Piano Teachers Congress International Competition.  His appearances as soloist with orchestra include the National Symphony Orchestra, Colorado Symphony Orchestra, Civic Orchestra of Chicago, Shanghai Philharmonic, Pan-Asia Symphony in Hong Kong, and the Mozarteum Orchestra in Salzburg.   He has been a member of numerous competitions juries, including the New Orleans International Piano Competition, Iowa International Piano Competition, MTNA National Competitions, Sorantin Young Artist Competition, International Piano e-Competition, Hilton Head International Piano Competition, Crescendo Music Awards, Eastman Young Artists International Piano Competition, and the Cooper International Piano Competition at Oberlin.
Mr. Chow graduated Co-Valedictorian at the University of Maryland, where he was a student of Nelita True.  He also received the prestigious Victor Herbert Prize in Piano from the Juilliard School, where he studied with Sascha Gorodnitzki, and held the Joseph Battista Memorial Scholarship at Indiana University as a student of Menahem Pressler.  From 2011-14 he was the Ruth Strickland Gardner Professor of Music at the Oberlin Conservatory, and currently continues as Chair of the Piano Department.
SANDRA SHAPIRO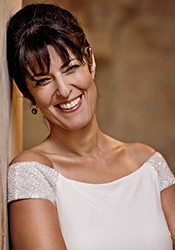 Sandra Shapiro enjoys an active career as both performer and teacher throughout the United States and Europe. As a versatile performer, Ms. Shapiro appears as soloist in recitals and with orchestras, as a chamber musician, and recording artist. She has received both national and international awards with critical acclaim and recognition in each of these areas.  This upcoming season, Ms. Shapiro will collaborate with Czech violinist Ivan Ženatý on tours that will include debuts at Carnegie Hall and the Prague Spring Festival, tours of Spain, Europe, South America and Asia.  Ms. Shapiro left home at age 15 to study at the Juilliard School upon the recommendation of her mentor, Gina Bachauer. Her teachers include Leon Fleisher, John Perry, Nadia Reisenberg, and Guido Agosti.  As a member of the renowned duo-piano team of Hecht & Shapiro, Ms. Shapiro's laureates include winning the Munich International Duo Piano Compe- tition, the Ellis National Duo Piano Competition, and top prizes in the Dranoff International Two Piano Competition, and the International Jeunesses Musicales Competition.
Ms. Shapiro's performances have taken her throughout most major cities in the United States, along with international performances in Berlin, Stuttgart, Mu- nich, Belgrade, Tel Aviv, and Jerusalem. She has been featured in radio and television productions internationally.  Sandra Shapiro has performed with numerous orchestras including the Chicago Symphony, New York Philharmonic, Baltimore Symphony, Stuttgart Symphony, Bavarian Radio Symphony, Belgrade String Orchestra, as well as Cleveland Orchestra appearances at both Severance Hall and the Blossom Music Festival. As chamber musician, she has collaborated with Truls Mork, Peter Rejto, Stanley Drucker, Mats Lidstrom, Franklin Cohen, Jaime Laredo, Sharon Robinson, Joan Kwuon, Joel Smirnoff and members of the New York Philharmonic on the New York Philharmonic's Chamber Music Series.  Ms. Shapiro has made numerous recordings on the Azica label. Sandra Shapiro is a Steinway Artist, and is a member of the Piano and Chamber Music faculty at the Cleveland Institute of Music.
STANISLAVA VARSHAVSKI / DIANA SHAPIRO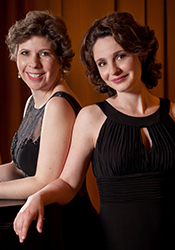 The Varshavski-Shapiro Piano Duo is comprised of pianists Stanislava Varshavski and Diana Shapiro, who began playing together in 1998. Since then, they have gone on to capture the top prize at numerous national and international competitions, including the most prestigious competition for piano duos—the Murray Dranoff International Piano Competition in Miami.  A winner of Astral Artists' 2012 National Auditions, the Varshavski-Shapiro Piano Duo also won First Prize at Italy's XV Piano Competition "Rome 2004," Jerusalem's Kol HaMusica Young Artists Competition, the Israel Chamber Music Competition, the XIII Schubert Competition in the Czech Republic, Jerusalem's Sharon Tabor-Fintz Competition, and the First International Piano Duo Competition in Bialystok, Poland, where they were also awarded two of the competition's special prizes. Other prizes have included two recordings, as well as numerous concert tours throughout the world.  The Varshavski-Shapiro Piano Duo has participated in many international festivals and has performed recitals in such distinguished venues as the HKAPA Concert Hall in Hong Kong, Henry Crown Symphony Hall in Jerusalem, Teatro Valle in Rome, and Lincoln Theater in Miami. They have appeared with the Radio Orchestra in Munich, the Israel Chamber Orchestra, Jerusalem Symphony Orchestra, Warsaw Philharmonic Orchestra, and Miami's New World Symphony, and have recorded for Bavarian Radio, Radio 4 of Hong Kong, and Israeli National Radio.  The Duo has held residencies and presented master classes at numerous universities across the Midwest. They recently recorded a CD in collaboration with Wisconsin Public Radio; the performances were also broadcast live on WPR and recorded for a documentary film, presented on Wisconsin television. They have also been broadcast on New York's WQXR.
Both Ms. Varshavski and Ms. Shapiro hold Bachelor and Master's degrees from the Jerusalem Academy of Music and Dance, where they studied with legendary Israeli duo Alexander Tamir–Bracha Eden. They continued their education under renowned American pianist Victor Rosenbaum, and in 2011 both pianists completed Doctoral degree studies at the University of Wisconsin-Madison. Both also serve on the faculty of Silver Lake College in Manitowoc, Wisconsin.
---
Judges will be chosen by committee and will be acknowledged experts with major performance and/or teaching careers. They will represent a mix of expertise in piano duo, solo and ensemble performance. No judge will be affiliated with the Music Institute of Chicago.

*

Judges who have taught the contestants as a principal teacher (either solo or duo) must recuse themselves from judging that contestant.
Ties are permitted. In such case, money for the two tied awards will be divided equally. Judges are not obligated to choose a particular prize winner.
Decision of the judges is final. The deliberations of the judges are closed. Judging procedure will be determined in advance by competition administration. Disputes among judges regarding rules and procedure will be resolved by administration.
*Directors Award (see home page, as described) will be determined by the competition directors, who are resident piano duo at the Music Institute of Chicago.