CDPF- 2019 Concert Schedule
Chicago Duo Piano Festival Summer 2019 Concert Schedule
In addition to offering students coaching, lectures, master classes, and recitals, this year's Chicago Duo Piano Festival includes two public events featuring members of the Music Institute piano faculty and special guests, all performing duo piano repertoire.
All concerts take place at:
Nichols Concert Hall | 1490 Chicago Avenue, Evanston
Single Tickets: $30 adults | $20 seniors | $10 students
Registered MIC students, plus up to two additional guests, may claim complimentary tickets at the door when they show their student ID.
---

Among the highlights of this year's concerts is a tribute to American composer George Crumb on the occasion of his 90th birthday.
Gala Opening Concert
Sunday, July 14 at 3 pm

Featuring a complete performance of George Crumb's Makrokosmos III: Music for a Summer Evening for two amplified pianos and percussion, with pianists Fiona Queen and Louise Chan and percussionists Joshua Graham and John Corkill.
Other works include:
WEBER:  Invitation to the Dance
Katherine Petersen, Katherine Lee, Soo Young Lee, and Camille Witos
SCHUBERT:  Andantino Varié
Matthew Hagle and Mio Isoda
BORODIN:  "Polovetsian Dances" from Prince Igor
Xiaomin Liang and Jue He

Duo Piano Extravaganza Concert
Friday, July 19 at 7:30 pm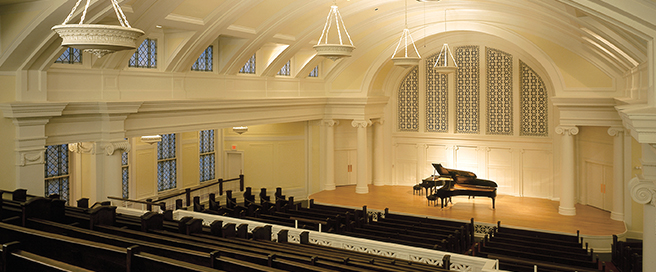 Featuring excerpts from Crumb's Makrokosmos IV: Celestial Mechanics for amplified piano, four hands, with pianists Louise Chan and Susan Tang. 
Other works include:
BRAHMS:  Variations on Theme by Haydn
Elaine Felder and Milana Pavchinskaya
MOZART:  Sonata in D Major for Two Pianos
Inah Chiu and Sung Hoon Mo
RACHMANINOFF: selections from Suites for Two Pianos
Alexander Djordjevic and Gregory Shifrin
FRANZ VON SUPPE:  Poet and Peasant Overture
Mark George, Ralph Neiweem, Gregory Shifrin, and Alexander Djordjevic
Saturday, July 20 at 10 am
Xiaomin Liang and Jue He
---
Chicago Duo Piano Festival
Founded in 1988, the Chicago Duo Piano Festival has as its mission to foster a deeper interest in the repertoire, performance, and teaching of music for piano, four hands and two pianos, in a fun and supportive atmosphere.  The Chicago Duo Piano Festival presents an annual summer festival and winter mini-fest, youth and adult competitions, master classes, and concerts featuring national and international guest piano duos. The festival has hosted many of the world's most formidable piano duos, including the Paratore brothers, Hans-Peter and Volker Stenzl, Tal and Groethuysen, the Contiguglia brothers, and Anderson and Roe.

Claire Aebersold and Ralph Neiweem
Claire Aebersold and Ralph Neiweem, artists in residence and faculty members at the Music Institute, enjoy an international career as proponents of music for both piano duet and two keyboards. The Washington Post has described them as "consummate practitioners of pianism, in complete sympathy with and understanding of each other," and Gramophone Magazine called their Schubert recordings "utterly charming." The duo has appeared with orchestras internationally, including the Chicago Philharmonic and the Vienna Tonkünstler. They have performed in recitals throughout the U.S. and Europe. Concerts include a 25th anniversary celebration concert at Merkin Hall in New York, an appearance at the Gina Bachauer Festival in Salt Lake City, two recitals in Odessa, Ukraine, and more than 200 recitals in Austria and Italy. Aebersold and Neiweem have commissioned significant new works for the piano duo, including pieces by Joseph Turrin and Patrick Byers. The duo's CDs on the Summit label include Four Hand Reflections and music of Brahms and Schubert. They are frequent performers on WFMT 98.7FM and are founders of the Chicago International Duo Piano Competition.