Music Institute Chorale presents: "The Creation"
Location:
Nichols Concert Hall, 1490 Chicago Avenue, Evanston
---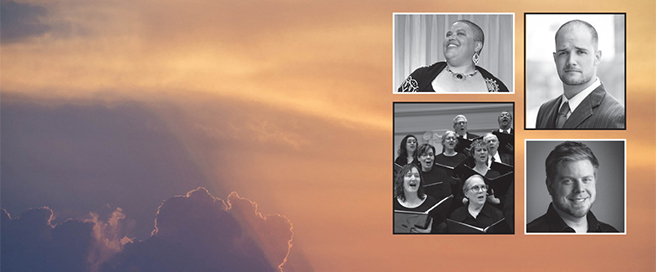 Joseph Haydn's The Creation
for soloists, choir and chamber ensemble (adapted by D. Wallenberg) 
Daniel Wallenberg, conductor
Gregory Shifrin, piano
Rae Myra Hilliard, soprano
Nathan Oakes, tenor
Ivo Suarez, bass
About the Chorale
The Music Institute of Chicago Chorale is a community chorus that provides an opportunity for adult singers with prior experience to study and perform the best in sacred and secular choral music. Now in its 31st year, the Chorale has one continuing goal: to perform the finest sacred and secular choral music with the highest of standards in a community setting. Under the leadership of Conductor Daniel Wallenberg, the Chorale has developed a wide range of repertoire, including motets, madrigals, part-songs, folk songs, and larger choral-orchestral works by Bach, Beethoven, Haydn, Mozart, Duruflé, and many others. Throughout the years, the Chorale has collaborated with local choirs and symphony orchestras and has produced two fully costumed Elizabethan madrigal dinners. In addition, the Chorale has collaborated several times with the Music Institute's voice faculty for concerts of opera and Broadway music.
 
Chorale conductor Daniel Wallenberg is also on the staff of the Chicago Children's Choir, working with the In-School Chorus and After-School Programs for the Rogers Park and Humboldt Park Neighborhood Choirs, as well as its world-renowned Concert Choir with whom he toured Ukraine and the United States. He is the director of the junior and adult choirs at the Jewish Reconstructionist Congregation and the founder and artistic director of "Zemer Am," the Chicago Jewish Choral Festival. A native of Bogota, Colombia, Wallenberg founded several adult and children's choirs while living in Israel.
About the Soloists
Rae-Myra Hilliard is an active recitalist and concert artist who diligently researches and promotes works written by composers of color. In October 2015, she released her debut CD, Lifescapes: One Woman's Journey, featuring compositions exclusively by Black-American composers. Her Christmas CD featuring classical and popular works will be available in November 2019. She has performed as soloist in Ralph Vaughn Williams' Serenade to Music, Vivaldi's Gloria, Saint-Saëns' Christmas Oratorio, Bach's Magnificat in D, Handel's Messiah and Judas Maccabaeus, Rossini's Stabat Mater, Mozart's Regina Coeli and Requiem, Haydn's Lord Nelson Mass, Dubois' The Seven Last Words of Christ, David Fanshawe's African Sanctus, and Beethoven's Mass in C. Her operatic credits include Emma Berdis Jones in Rènee Baker's The Baldwin Chronicles and Singing Spirit in Baker's Sunyata: Towards Absolute Emptiness, The Countess in Mozart's Le Nozze di Figaro, Serena in Gershwin's Porgy and Bess, Donna Elvira in Mozart's Don Giovanni, Miss Pinkerton in Menotti's The Old Maid and the Thief, and the world premiere of Wendell Logan and Paul Carter Harrison's Doxology with the New Black Music Repertory Ensemble under the direction of the late Maestro Coleridge Taylor-Perkinson. She is a member of the Music Institute of Chicago voice faculty and also teaches at the University of Saint Francis (Joliet) and  Evanston Township and Niles West High Schools among others. She is music director at St. James Lutheran Church in Lake Forest.

Nathan Oakes hails from Upstate New York, but has adopted Chicago as his home. When not performing, he works as a full-time mechanic. He studied at Roosevelt University with Tracy Watson and has performed with various ensembles, including Petite Opera in Park Ridge, the American Chamber Opera, and the Floating Opera Co. He currently sings with the CSO Chorus and is the section leader and soloist at St Giles Episcopal Church in Northbrook.
 
Ivo Suarez earned his bachelor's degree in vocal performance from the University of Iowa and his master's from the Conservatory of Music and Dance at the University of Missouri – Kansas City. A native of Caracas, Venezuela, Ivo moved to the United States as a child and began developing his skills through a variety of different instruments as well as voice. As a professional, he has performed in many operatic productions, including Sarastro in Die Zauberflöte, Colline in La Bohème, Don Alfonso in Cosí fan Tutte, Bottom in A Midsummer Night's Dream, and most recently as Leporello in Don Giovanni with Petite Opera productions. He resides in Chicago, actively engaging in all facets of performing and constantly seeking to advance himself as an artist.
---
NEXT CONCERT IN THE SERIES:
Sunday, June 9, 2019, 3:00 pm
"Lay a Garland"  featuring songs about the joys of nature