Duo Piano Dialogues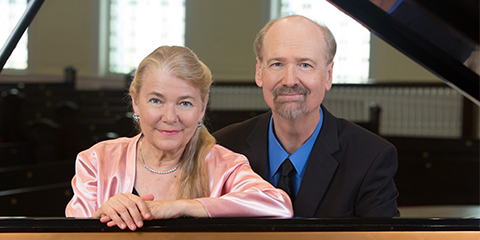 ---
To spotlight the unique repertoire for two pianists at one and two keyboards, the Music Institute of Chicago presents Duo Piano Dialogues, a series of performances with commentary featuring the Music Institute of Chicago's piano duo in residence Claire Aebersold and Ralph Neiweem as performers and speakers.
---
Friday, March 2 at 7:30 pm
"Exploring Debussy"
Marking the centenary of Debussy's death, Aebersold and Neiweem present a program dedicated to the composer's music for piano duo, including his own arrangement of La Mer  and Prelude to the Afternoon of a Faun.  
Nichols Concert Hall
1490 Chicago Avenue  |  Evanston
Tickets:  $30 adults | $20 seniors
              $10 students
              MIC students free + 2 guests

---
Chicago Duo Piano Festival
Called a "duo piano mecca" by Pioneer Press, the Chicago Duo Piano Festival was founded in 1988 by Music Institute of Chicago faculty members Claire Aebersold and Ralph Neiweem. Its mission is to foster a deeper interest in the repertoire, performance, and teaching of music for piano, four hands and two pianos, in a fun and supportive atmosphere. The festival offers coaching, master classes, concerts with special guest artists, and student recitals for students age 12 through adult. In June 2016, the festival sponsored the Chicago International Duo Piano Competition.
 
Claire Aebersold and Ralph Neiweem
Claire Aebersold and Ralph Neiweem, artists in residence and faculty members at the Music Institute, enjoy an international career as proponents of music for both piano duet and two keyboards. The duo has appeared with orchestras internationally, including the Chicago Philharmonic and the Vienna Tonkünstler. They have performed in recitals throughout the U.S. and Europe. Recent concerts include a 25th anniversary celebration concert at Merkin Hall in New York, an appearance at the Gina Bachauer Festival in Salt Lake City, and two recitals in Odessa, Ukraine. Aebersold and Neiweem have commissioned significant new works for the piano duo, including pieces by Joseph Turrin and Patrick Byers. The duo's CDs on the Summit label include Four Hand Reflections and music of Brahms and Schubert. They have delivered a two-part lecture series on the life of Franz Schubert as reflected through his four-hand piano music at the Goethe Institute in New York and the Pitten Classics festival in lower Austria.