Faculty & Guest Artist Series
2018-2019 Season
All concerts take place at the historic Nichols Concert Hall
1490 Chicago Avenue, Evanston
Tickets, except where noted, are $50 for VIP seating, $40 for adults, $25 for seniors and $15 for students, available online or 800.838.3006.
---
Academy Orchestra with the Bach Week Festival

featuring Sergei Babayan, piano

Sunday, April 28 at 3 pm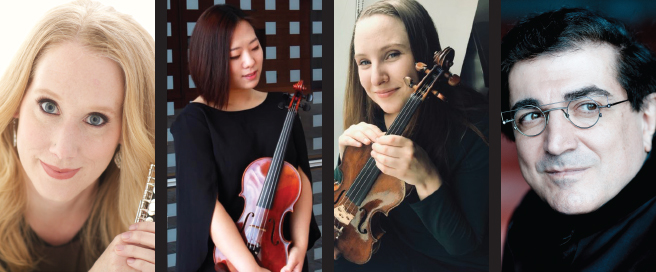 The Music Institute's Academy Orchestra and members of the Bach Week Festival Orchestra join forces!  Featuring renowned pianist Sergei Babayan, CSO flutist Jennifer Gunn, and Academy violin alumni Laura Park and Rebecca Benjamin.  Bach works include Orchestra Suite No. 2 in B minor, Concerto for Two Violins in D minor, and Keyboard Concerto in D Major.
Sergei Babayan, piano  |  Jennifer Gunn, flute 
Laura Park and Rebecca Benjamin, violins
Music Institute of Chicago Academy Orchestra | James Setapen, conductor
Bach Week Festival Orchestra | Richard Webster, conductor

---
About Nichols Concert Hall
Noted architect Solon S. Beman designed the architecturally and acoustically magnificent First Church of Christ, Scientist, located at 1490 Chicago Avenue in Evanston, in 1912. In 2003, the building was sensitively restored to become Nichols Concert Hall, a state-of-the-art, 550-seat performance space and music education destination, easily accessible to numerous restaurants, on-street and metered parking, and the Davis Street CTA and Metra stations. The converted building, featuring a fully restored, 1914 E. M. Skinner pipe organ, received the Richard H. Driehaus Award for best adaptive use by the Landmarks Preservation Council of Illinois.  Each year Nichols Concert Hall reaches approximately 15,000 people and hosts a world-class chamber music series, workshops and master classes, student recitals, and special events.
---
Past 2018-2019 Performances
Lionel Hampton Birthday Celebration
featuring Joe Locke, Thaddeus Tukes, and Tammy McCann

Saturday, April 20 at 7:30 pm  
The Music Institute's annual jazz event celebrates the late American vibraphonist and bandleader in an exuberant program featuring performances by Music Institute Artist-in-Residence Tammy McCann; jazz vibraphonist Joe Locke, voted number one vibist by Downbeat magazine's Critics' poll; Thaddeus Tukes, Chicago native and first-ever Northwestern University graduate with a degree in jazz vibraphone; and members of the Music Institute's Jazz Studies faculty.
---
Time for Three
Sunday, April 7 at 3 pm  
The young, dynamic trio Time For Three—violinist/vocalist Nicolas (Nick) Kendall, violinist/vocalist Charles Yang, and double bassist/vocalist Ranaan Meyer—breaks boundaries with its performances and defies traditional genre classification, performing works from Bach to Brahms to bluegrass to the Beatles.
---
Paul Barnes, pianist and chanter
"Love, Death, and Resurrection in the Musical Vision of Philip Glass, Vitoria Bond, Franz Liszt, and Orthodox Chant"
Sunday, March 10 at 3 pm  
Pianist Barnes has created a powerful musical meditation on the ways in which humanity grapples with death. Beginning with the story of Orpheus, the program connects the music of Franz Liszt, Philip Glass, and a Chicago premiere by Victoria Bond with Byzantine chant, as it artfully explores the hope for the destruction of death and of life eternal.
---
Inna Faliks:  " "Polonaise-Fantaisie, Story of a Pianist"
Sunday, February 10 at 3 pm  
This program traces, in music and words, Faliks' journey from Odessa, in the former Soviet Union, to the freedom of the United States and a life in music. The Music Institute alumna and head of piano at the Herb Alpert School of Music at UCLA tells her incredible story while playing music of Bach, Mozart, Chopin, Gershwin, and much more.
---
Family Event:  Duke It Out!
Saturday, December 8 at 2 pm  
The Music Institute presents an unusual version of The Nutcracker, alternating music from the classical (Tchaikovsky) and jazz (Duke Ellington/Billy Strayhorn) scores with choreography curated by Dance Chicago. Musicians include members of Axiom Brass and Music Institute Ensemble-in-Residence Quintet Attacca in a performance that runs a family-friendly 60 minutes, followed by a festive holiday reception with refreshments and a photo booth with the artists.
---
Callisto Quartet
Saturday, November 10 at 7:30 pm