FAQ-MIC COVID Plan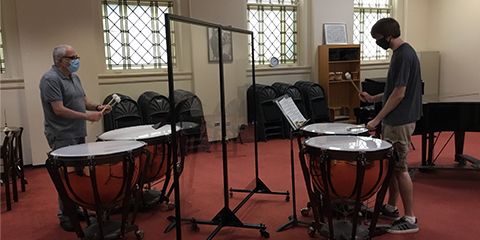 Frequently Asked Questions
Which MIC locations are currently open?
(This information subject to change depending on conditions.)
Chicago - St. James, Downers Grove, Evanston East, Lake Forest, Lincolnshire, and Winnetka campuses. 
    
Do I have to wear a face covering?
Yes, wearing face coverings that cover the nose and mouth is mandatory for all students and accompanying family members regardless of vaccination status. If you do not have one, MIC will gladly provide one.
What are the criteria for decisions regarding closing or re-opening MIC campuses?
Recommendations and statistics from the Illinois Department of Public Health (The Music Institute of Chicago campuses in Chicago St. James, Downers Grove, Evanston, Lake Forest, and Winnetka reside in IDPH regions 8, 9, 10 and 11). A key metric is COVID-19 test positivity (during a 7-day rolling average). Positivity average must be equal to or less than 8%.

What will happen if Illinois returns to Stage 3?
No MIC campuses will be open if Illinois returns to Stage 3. All instruction will immediately convert to remote learning.

What are campus safety precautions based on?
Recommendations from the Centers for Disease Control (CDC) and the Illinois Department of Public Health (IDPH).

What changes have been made to MIC facilities to increase the safety for visitors and staff?
Ventilation systems have been upgraded with new filters, bi-polar ionization units, and improved air flow as needed, by campus.

Clear acrylic dividers have been installed in the reception areas and in some studios.

Touch-free hand sanitizers and soap dispensers are readily available.

Signage has been added to the floors reminding guests about proper social distancing.

Stringent sanitization procedures have been implemented.
How do I schedule an in-person lesson?
Contact your campus director to request an in-person lesson. Scheduling in-person instruction is based on student and teacher preferences and space availability at MIC campuses.

What does a "hybrid" teaching schedule mean?
Weekly lessons and classes are offered in a combination of online and in-person settings, based on student and teacher preferences and space availability at an MIC campus.

What if I want to continue with online lessons only?
Students will always have the option for online lessons.

May I make an appointment to practice at an MIC campuses?
Not at this time. We are prioritizing scheduling as much in-person instruction as possible. Students may only come to MIC campuses for lessons or recording sessions.

When should I arrive for my in-person lesson?
Please arrive 5 minutes before your lesson time so you have time to check in, wash your hands, and safely make your way to a teaching studio. 

What if I don't have a lesson scheduled or an appointment?
No one without a scheduled lesson or an appointment will be permitted into the building. Please call your campus director or the general number in advance to make an appointment: 847.905.1500.

Who may accompany a student to an in-person lesson?
No more than one parent or adult guardian may accompany a student to a lesson.

What should I do if my child or I are not feeling well?
If you are sick, please stay home. If you are symptomatic and would like to take a lesson, please contact your teacher to make arrangements for a remote lesson.

What happens if I do not pass the screening process?
If you answer affirmatively to any screening question, you will not be permitted to enter the building. You will need to reschedule your lesson with your teacher in accordance with the make-up lesson policy. It is preferable to stay home and reschedule in advance, as mentioned above.

What can I expect when I enter the building?
Each visitor will be greeted and checked in at the door. Health screening questions will be asked. Screeners will ensure that everyone is wearing a face covering and guide them to wash hands in the restroom or use touch free hand sanitizers. Visitors are expected to comply with social distancing guidelines at all times.

Do MIC staff members have the authority to refuse entry to students and other visitors?
Yes. Strict protocols will be observed in the best interest of everyone.

Where can I go once in the building?
Movement in the building is monitored closely. Visitors will be restricted to restrooms, teaching studios, and the direct path between them.

May I sit and wait for my child in the lobby?
No. The lobby and all other common area (except the restrooms) are not available.

What happens if someone tests positive for Covid-19?
MIC staff will immediately notify every visitor who might have come in contact with the person testing positive. MIC staff will determine if further action (e.g., additional cleaning, building closure) is necessary.

What should I do if I test positive for COVID-19 after being at MIC for a lesson or meeting?
Please contact the Dean and Vice President of Academic Affairs, Emily Abraham immediately.

What happens to the information collected in the screening process?
Arrival and departure times for all visitors, as well as data collected in the screening process is necessary in event there is a need for contact tracing. MIC will retain the information in a secure computer file and privacy will be maintained at all times.  

What is your cleaning protocol?
Common surfaces, including doorknobs, light switches, and piano keyboards, are cleaned with a disinfectant multiple times daily.

What are you doing to keep MIC staff and faculty safe?
MIC staff and faculty are subject to the same safety precautions as all other visitors. They are provided with N-95 or KN-95 face coverings and face shields. Staff and faculty with immune-deficiencies or who are the primary caretakers for an elderly or ill family member have the option to work from home.

Will tuition be reduced for online lessons?  
No. MIC faculty continue to provide high quality instruction and have received additional training to learn new skills to offer remote teaching that is interactive and engaging. Note that costs have increased substantially because of necessary investments in technology, as well as increased costs for campus safety measures.