Indoor Voices 2020-2021 Series
More About Indoor Voices Series  
The Music Institute of Chicago presents "Indoor Voices," a free weekly series of virtual "house calls" with musicians and special guests who have performed in Nichols Concert Hall or helped to shape its legacy in some way. Each episode is hosted by Fiona Queen, Director of Performance Activities.
"Musicians have been separated from their colleagues, their students, and the familiar exhilaration of performing live on some of the world's most iconic stages to packed houses. But art can't be stifled in isolation—it will always find a way to lift us up and carry us through the most trying times. We are discovering new ways to connect and adapt, to use the distance to eliminate difference. We truly are all in this together," comments Queen.
Don't miss this series of entertaining visits with musicians and special guests from across the country who have helped to shape Nichols Concert Hall and its legacy. Enjoy lively conversation, ideas and reminiscences, and music.
Thursday, July 8 at 7:30 pm: Premieres here July 8

The Chicago Duo Piano Festival returns to Nichols Concert Hall for its 33rd season (July 9-18) and festival founders Claire Aebersold and Ralph Neiweem celebrate 40 years as a piano duo this season. Fiona Queen talks with festival founders and composer Robert Chumbley. Chumbley's piece "Cries and Whispers" receives its premiere on July 9 as part of the Festival's gala opening concert.
---
PAST 2020-2021 EPISODES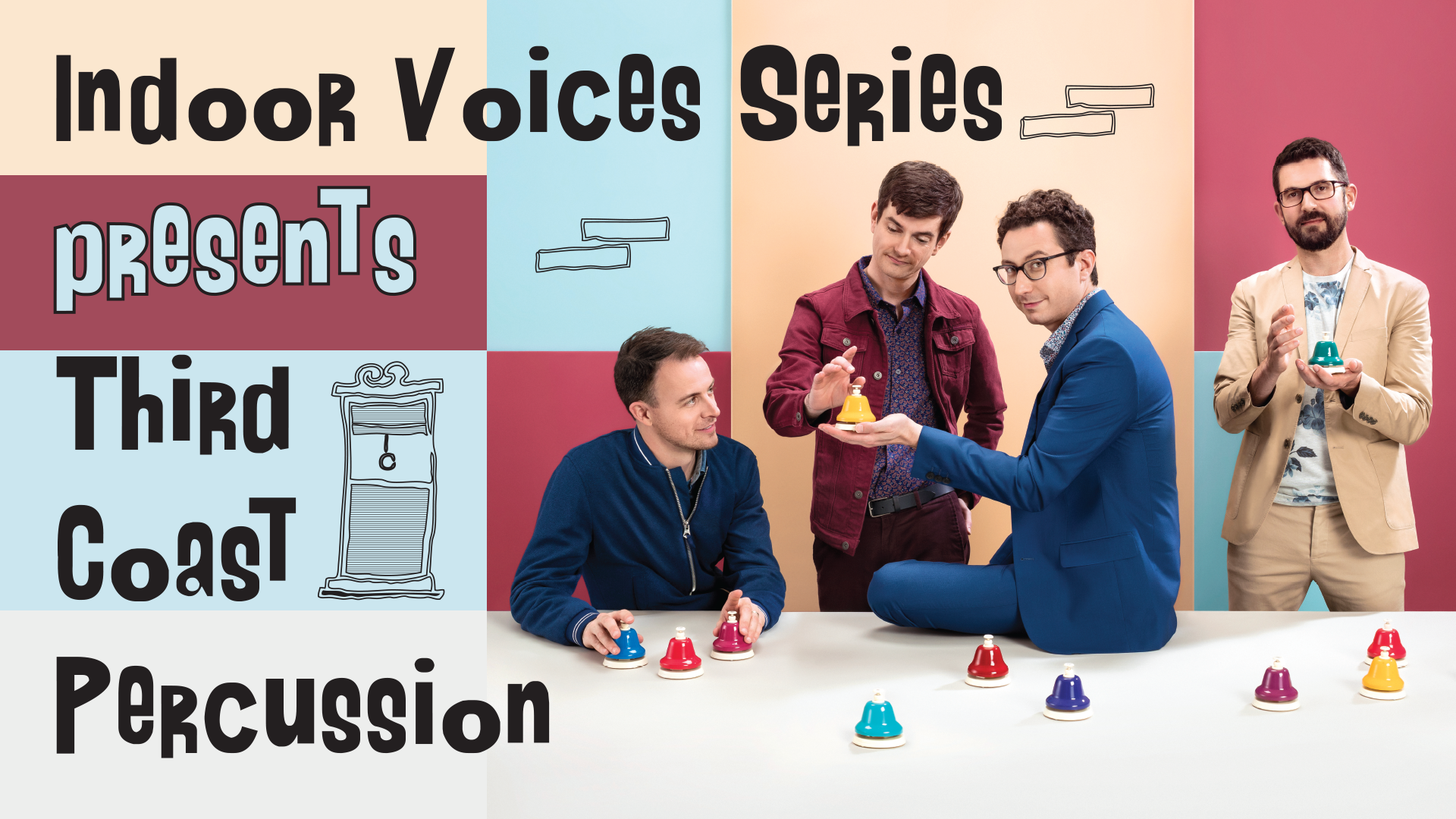 Friday, April 23 at 7:30 pm: WATCH >>

Indoor Voices returns with the Grammy Award-winning Third Coast Percussion.  Join Fiona Queen, Indoor Voices Host and Director of Performance Activities at Nichols Concert Hall, for a lively conversation with members of the ensemble. 
---

Friday, December 18 at 7:30 pm: WATCH >>

Dance Chicago's John Schmitz and "Duke It Out" Nutcracker
 
MIC's "Indoor Voices," a free series of virtual visits with arts luminaries featuring conversation and occasional performances, returns with a special holiday edition. Fiona Queen, Indoor Voices Host and Director of Performance Activities at Nichols Concert Hall, talks with Dance Chicago co-founder and artistic director, John Schmitz.

Schmitz, along with Altin Naska curated the dance portion in  collaboration with Queen to produce MIC's "Duke It Out" Nutcracker. This unique rendition pairs the classical (Tchaikovsky) and jazz (Duke Ellington/Billy Strayhorn) versions of the holiday favorite with music arranged by composer Jim Stephenson and featuring members of Axiom Brass and Music Institute ensemble in residence Quintet Attacca.

Grab some hot chocolate and cookies and enjoy this holiday episode, which also features clips from past performances.