Indoor Voices: Roderick Cox
Photo: Dennis Weber
Dear Friends,
"Indoor Voices," our free Friday virtual "house call" series with musicians and special guests cedes the mic this Friday, Juneteenth, to Roderick Cox.  His recent series "Conductor's Perspective" breaks down preconceptions of what classical music is, and imaginatively explores what classical music can and will become.  
The internationally recognized German based American conductor has ties to Chicago as a graduate of Northwestern University, where he received his master's degree in 2011.  He is winner of numerous awards, most recently the 2018 Sir Georg Solti Conducting Award by the Solti Foundation U.S.. Lady Solti was the first guest I had the honor of interviewing on Indoor Voices, and it is wonderful to hear from this Sir Georg Solti Conducting Award recipient.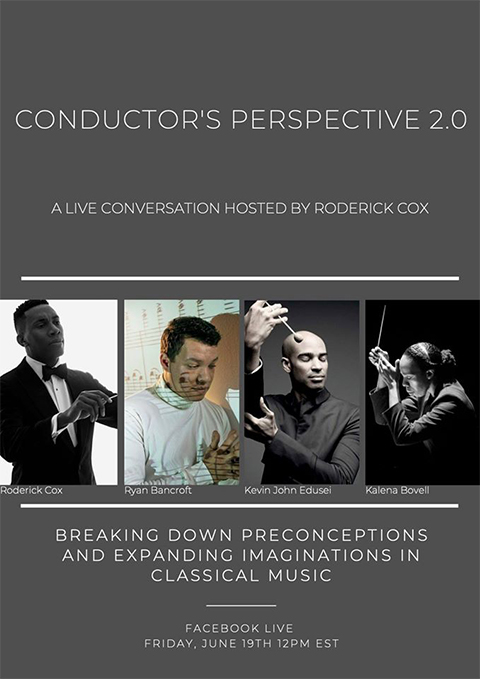 Tune in to Cox's Facebook Live conversation, 11 am (CDT) featuring:
Roderick Cox, conductor
Ryan Bancroft, Principal Conductor BBC National Orchestra of Wales
Kevin John Edusei, Chef-Dirigent Münchner Symphoniker
Kalena Bovell, Assistant Conductor Memphis Symphony Orchestra
---
Later in the day, perhaps at our regular 7:30 pm time, or a time that works best for you, please listen to another extremely important and relevant interview hosted by Cox recorded on June 5, 2020.
This conversation features: