Indoor Voices Series Presents: Howard Levy, harmonica
The Music Institute of Chicago presents "Indoor Voices," a free weekly series of virtual "house calls" with musicians and special guests who have performed in Nichols Concert Hall or helped to shape its legacy in some way. Each episode is hosted by Fiona Queen, Director of Performance Activities. Enjoy lively conversation, ideas and reminiscences, and yes—possibly even the odd sourdough recipe. New episodes air on Friday evenings at 7:30 pm and last approximately 30 minutes.
Missed a past episode?? You can always vist the MIC YouTube channel "Indoor Voices" playlist to check out the archive.
---
Premieres Friday, July 17, 2020 | 7:30 pm
Howard Levy, harmonica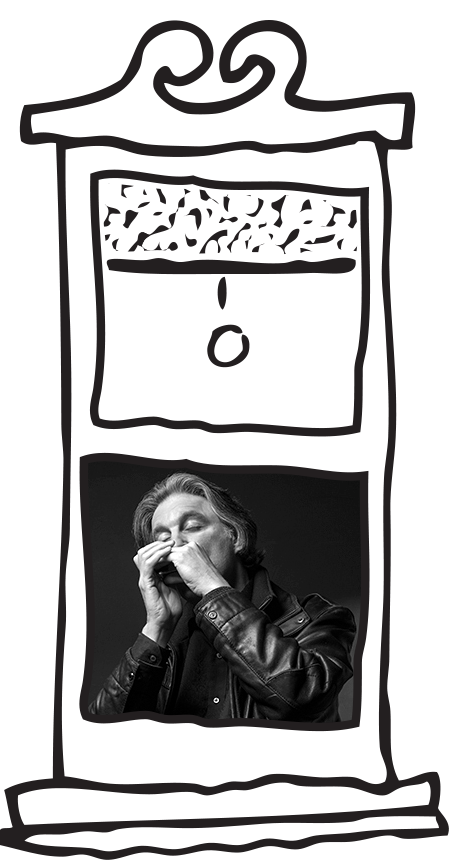 In this episode, Fiona Queen sits down for music and conversation with multiple Grammy Award-winner Howard Levy. Levy is recognized the world over as  a master of the diatonic harmonica and a great technical innovator on the instrument.  In addition, he is a well-regarded pianist, composer, recording artist, bandleader, teacher, and producer.

At home across musical genres, Levy is known for his fresh lyrical approach and has performed with artists including Dolly Parton, Paquito D'Rivera, Styx, Paul Simon, and many more, but he is perhaps best know for his work with Bela Fleck and The Flecktones.
Levy recorded four CD's with Bela Fleck and The Flecktones, a unique band that set the musical world on its ear back in the early 1990's. In 2010 he reunited with the band to record Rocket Science and toured extensively in 2011-2012.  Levy won a Grammy for Best Instrumental Composition for "Life in Eleven", which he wrote with Bela Fleck.

Other prominent collaborations include three CDs with Trio Globo (Glen Velez and Eugene Friesen), two with Lebanese Oud player/composer Rabih Abou Khalil, and one with the avant- garde Jazz Riessler/Levy/Matinier Trio.

Levy is music director and chief composer for the Latin/Jazz group Chévere de Chicago. He produced and released the band's CD Secret Dream, and Time Capsules with his acoustic swing group Acoustic Express, on his own label, Balkan Samba Records.  His solo Jazz CD, Alone and Together on Balkan Samba, and his Jazz trio CD Tonight and Tomorrow on the Chicago Sessions label, both received 4-star reviews in DownBeat.

In 2011 Howard also released a classical CD featuring his Concerto for Diatonic Harmonica and Orchestra, the first concerto ever composed for the diatonic harmonica. He has performed the piece more than 20 times in the US and Europe. He also has an online harmonica school. Howard tours as a solo artist, with Chris Siebold, Trio Globo, Bela Fleck and the Flecktones, and with his new band, The Howard Levy 4.