MIC is Open Online
---
Our physical campuses may be closed, but the Music Institute of Chicago (MIC) is open for business online. MIC's stellar faculty is delivering hundreds of music lessons each week on the Zoom interactive videoconference platform and we are happy to offer online music instruction to people across the country and around the world. Our academic staff is ready to answer any questions you might have about beginning virtual lessons or classes in the safety of your own home.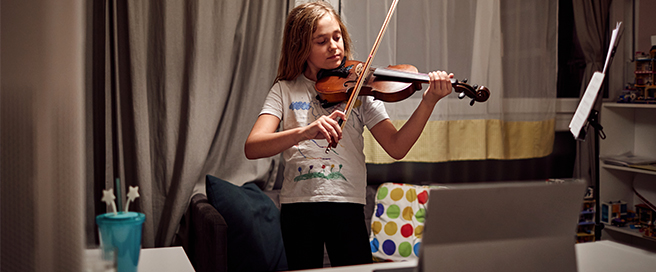 Music Heals, Music Connects
During this difficult time, we all need music and human connection more than ever. Many of us feel isolated, anxious, lonely, and frightened – little can touch lives and bring comfort the way music can. Music improves mood, provides comfort, reduces stress, and provides an outlet for the expression of feelings. We are proud to have transitioned to online teaching so quickly and without interruption. In just the short time from the end of MIC's spring break (March 23) - April 3, 150 MIC faculty members taught 1,300 lessons for over a collective 4,800 hours.  Our teachers are creative, determined, experienced, and dedicated.
We salute our faculty and are honored and touched by how our MIC family has come together to continue making music during this challenging time.
 
Keeping New Learning Alive
Whether you are a beginner at music lessons or an adult wanting to return to music, the Music Institute of Chicago has a place for you. Private lesson enrollment is available on a rolling basis and students of all ages and every level of experience are welcome to begin at any time. Private lessons in piano, guitar, strings, woodwinds and brass and more are offered.
Register Now for MIC Summer Classes

Our faculty are busy applying their creative expertise to ensure summer camps and classes are available in an exciting and effective virtual setting.

Summer Session Begins: June 9, 2020