Music as Service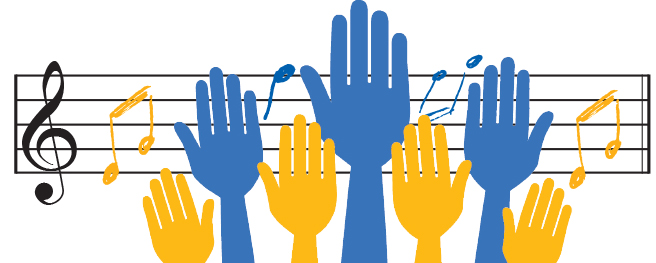 ---
The Music Institute of Chicago uses the power of music to educate, inspire and bring comfort to the communities we serve. The Music as Service initiative provides MIC students with the opportunity to share their music as volunteers across our community with people in need.

Every MIC student - beginners or virtuosos, children or adults, with either a serious or casual interest - can share their ability to make music, with MIC partner organizations that serve the aged, homeless, disabled, sick, or lonely.

Volunteer students need only to play one piece, even if it is very short, in a very informal setting, not a recital, not dress-up, doesn't even have to be perfect. Think of this as simply giving a gift of music in a safe and supervised environment.

New Opportunities - Sign Up Now!
Sunday, April 7, 1 pm
Glenkirk Next Generation Services
1964 Green Bay Road, Highland Park, IL 60035

---
Past Opportunities

Sunday, March 10 at 6 pm
Hilda's Kitchen (operated by Connections for the Homeless)
1458 Chicago Avenue, Evanston
Open to students (non-pianists) age 10 and up including adults.

Wednesday, March 13 at 5 pm
Epiphany United Church of Christ Welcome Meal
2008 W Bradley Place, Chicago  (in the North Center neighborhood)
Open to all students age 6 and up including adults.

Sunday, March 17 at 3 pm
Nathalie Salmon House
7320 North Sheridan Road, Chicago (in the Rogers Park neighborhood)
Open to all students age 6 and up including adults.
Questions?  Please contact Community Engagement Manager,
Victor Ribadeneyra or phone:  847.448.8338
---
The mission of the Music Institute of Chicago is to lead people toward a lifelong engagement with music. Our goal is to provide widely accessible resources for high quality music teaching, performing, and service activities. In other words, we aim to harness the power of music to educate, inspire and bring comfort to the communities we serve.

MIC has thousands of students learning to make music - just like you. That means we have thousands of students with something to give. Everyone can share their ability to make music with another person, and there are many people who need to receive that gift, such as the aged, the homeless, disabled, sick, and lonely, to name a few.  

It doesn't matter whether you are a virtuoso or a beginner, a child or an adult, or whether your interest is serious or casual.  The simple act of playing one small piece can have an enormous impact on those who are listening.

The impact works both ways.  Students sometimes wonder why they are devoting so much time and energy to practicing and learning music. When those students see the reaction of the people for whom they are playing, they immediately understand that what they are doing is valuable.  It helps people. It is a profound act of kindness. It also happens to be a wonderfully positive motivation to practice and prepare.

MIC is building partnerships with local organizations, such as Connections for the Homeless, Refugee One, Misericordia, and Housing Opportunities and Maintenance for the Elderly. In the coming weeks, we will plan our first efforts to connect our students with people associated with these organizations. These will not be formal concerts or recitals. They are simply informal opportunities to play music for people who need it the most. When you see a request for participation, please answer the call if you possibly can.

If you want to learn more about this initiative, or make suggestions for organizational partners, please contact President Mark George.