Musical Pen Pals
September 28, 2021

The Music Institute of Chicago creates pathways for individuals of all ages and backgrounds to engage with music through high-quality music education, performance, and service to the community. By harnessing the talents of its students and teaming up with social service agencies, senior centers, and even Meals on Wheels, the Music Institute's Music as Service initiative brings live music and authentic interaction to the Chicagoland community's most vulnerable and underserved populations.
When the pandemic struck in March 2020, stay-at-home safety protocols kept older adults isolated at home and safety regulations severely restricted service activities. That's when the Music Institute's Victor Ribadeneyra, Director of Community Engagement, leapt into action.
"The pandemic made older adults more vulnerable than ever to isolation," he said. "I knew we had to find a way to adapt our Music as Service initiative to meet the moment." Within days, the Music Institute re-envisioned Music as Service for a virtual environment, and Musical Pen Pals was born.
Absorbing lessons from earlier Music as Service experiences, Musical Pen Pals virtually combined the joys of music with the benefits of sustained connectivity to address an unprecedented public health emergency. The program tapped young music students to reach older adults through the simple pleasures of music and conversation.
"We used videoconferencing, FaceTime or simple phone calls, whatever it took, to make these connections," said Ribadeneyra.
The pilot phase of Musical Pen Pals, which was generously supported by the RRF Foundation for Aging and the Highland Park Community Foundation, included a research component designed to prove how well intergenerational connections using music and conversation enriched, enhanced, and improved the lives of older adults as well as young Music Institute students. The study also tested the program's impact on developing leadership skills in young people, decreasing social isolation among older adults, and expanding strategies to promote connection using virtual technology.
The Music Institute teamed up with Generations United during the program development and training phase and relied on their expertise to ensure smooth delivery of an intergenerational service program. "Generations United was an amazing resource for the project," commented Music Institute Vice President and Chief Operating Officer Sue Polutnik. "They worked closely with us to organize student and facilitator trainings, provided essential help when intervention was needed with several Musical Pen Pals pairs, and gave us great recommendations for strengthening and growing the project in the future."
From February through May 2021, the Music Institute paired 25 music students ages 6–18 with adults aged 65 or older for eight biweekly video or audio "music visits." Flexible by design and responsive to the technological capacity of the adult participant, the program hosted an impressive 195 unique interactions. Students drew up a performance repertoire for each visit, and facilitators from the Music Institute's staff and parent community accompanied the calls to create a positive environment, ensure the safety of the student participants, and serve as a conduit for meaningful communication. 
Ribadeneyra, who has created and managed numerous community events since joining the Music Institute in 2017, commented on the program's success: "It has been rewarding to see the positive difference these calls have made in the lives of both our students and their older adult partners."
Older adults were recruited from partner organizations including Highland Park Senior Center, North Shore Senior Center in Northfield, Senior Connections in Evanston, The Village Chicago in Lincoln Park, and Westminster Place in Evanston. Upon conclusion of the Musical Pen Pals pilot phase, 71% increased the frequency of their social interactions with youth; evaluation data revealed themes of continuing relationships, positive intergenerational connections, social growth, and a sense of wellbeing and purpose. Nearly 44% of respondents indicated an increase in music listening via technology, and 36% spent more time listening to music overall.
The music students also benefited. Most entered the project with a moderate level of understanding of the aging process; upon completion, 60% of students signified their favorability of older adults increased because of their interactions. They found real value in engaging with older adults from vastly different backgrounds and life experiences.
Ribadeneyra stated, "The data coupled with fact that many participants are maintaining their new friendships completely on their own is a testament to the wonderful relationships they have built through this project. These successful friendships are inspired by a shared passion for music, suggesting that music can and does serve as an important conduit for intergenerational dialogue."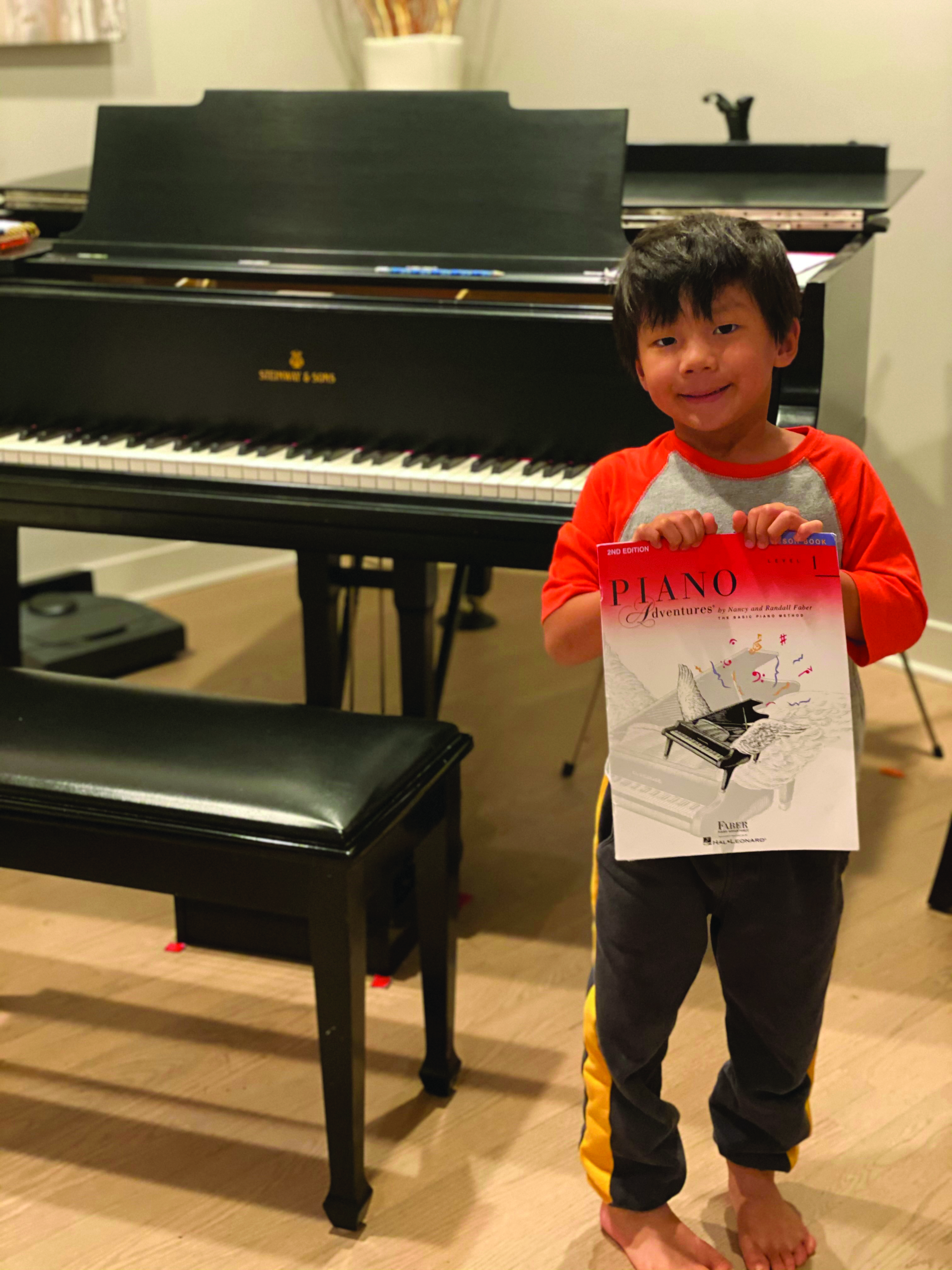 Musical Pen Pals participants raved about the experience. Music Institute student Andrew Ji, a six-year-old studying piano with Marianne Parker at a Music Institute campus in Chicago, and his older brother Jason visited via Zoom with JoAnn Robson, a retiree who lives in Evanston. Ms. Robson said, "[The boys] are so full of life and so joyful, it's infectious. They confirm once again that a pandemic can never take away the universal joys of music and art." Anli Chen, Andrew and Jason's mother, shared, "The boys always enjoy putting things together for Ms. JoAnn. And music means much more for them when it's shared." 
Diane Deiss, who lives in Highland Park, described the virtual visits by a Music Institute student as a "joyous journey" and recalled, "I once dreamed of piano performance as a career; however, that requires more talent and dedication than I possessed. Having tried reaching for the stars, I appreciate those coming along behind me who are hoping to use their musical gifts as a lifelong venture. My role is to be their cheerleader and applaud from the audience. I do that heartily!" 
Musical Pen Pals will remain part of the Music Institute's Music as Service programming, resuming activities in person and virtually in late fall/early winter 2021. Organizations serving individuals who are 65 and older that wish to participate may contact Victor Ribadeneyra.