Rachel Barton Pine Foundation Celebration
---
On October 11 the Rachel Barton Pine Foundation hosted a celebration concert at the home of Rachel and Gregory Pine in Chicago which featured young artist recipients of the Instrument Loan Program, young artist recipients of grants for education and career and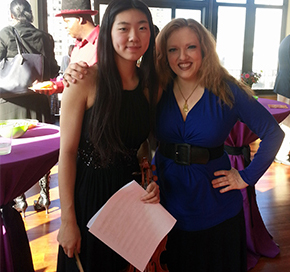 students from the Music Institute of Chicago and students from Sherwood Park in Englewood performing repertoire from Music by Black Composers.
Music Institute of Chicago student participants included violinists Anya Brumfield (Homewood, IL), 17-year old student of Addison Teng  and Ellie Kim (Northbrook, IL), 16-year old student of Sang Mee Lee  who performed the duet Rachel's Remix, by Gregory T.S. Walker.  Anya also performed the folk song "Kwadede" by J.H. Kwabena Nketia and Ellie performed Ignacious Sancho's "Minuet in G minor."     
The Rachel Barton Pine Foundation provides services and funding for classical music education, research, performances, and artists, to benefit listeners and learners. Most recently, the 1732 Antonio Stradivari violin, "Arkwright Lady Rebecca" was added to the permanent collection.