MIC alumnus and Academy groups win at M-Prize
May 20, 2016
The Calidore String Quartet, including Academy alumnus violinist Ryan Meehan, won the inaugural $100,000 M-Prize, a new chamber music competition hosted by the University of Michigan's School of Music, Theatre & Dance. An ensemble from New York City, Calidore is the 2016 Borletti-Butoni Trust Fellowship recipient, the first American ensemble in the foundation's history to receive the prestigious career grant. They were appointed to the Chamber Music Society of Lincoln Center Two roster for the 2016–19 seasons. The ensemble has also won grand prizes at the Fischoff, Coleman, Chesapeake, and Yellow Springs competitions and captured top prizes at the 2012 ARD Munich International String Quartet Competition and Hamburg International Chamber Music Competition.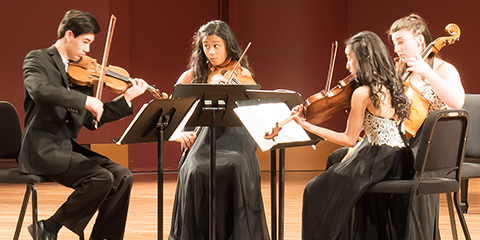 The Music Institute of Chicago Academy ensembles also fared well in the M-Prize's Junior Division. Vibrante String Quartet (pictured above) placed second, winning $3,000.  Coached by Matthias Tacke, Vibrante includes Academy students Zachary Brandon (violin, 17, Battle Creek, Michigan), Hannah White (violin, 16, Germantown, Wisconsin), Freya Irani (viola, 17, Mequon, Wisconsin), and Leevy Williams (cello, 18, Chicago, Illinois). 

Calliope Trio placed third, winning $2,000. Coached by Tatyana Stepanova and Paul Vanderwerf, Calliope include Academy students Karisa Chiu (violin, 16, Palatine), Nathan Mo (cello, 17, Rolling Meadows), and Andrew Guo (piano, 17, Chicago).
M-Prize is sponsored by University of Michigan's Office of the Provost and received additional support from an anonymous donor. The goals of the competition are to provide a world-class performance and adjudication platform for chamber arts; to launch and advance the careers of chamber ensembles through prizes, visibility and professional development opportunities; and to evolve the breadth and depth of the chamber arts landscape and associated professional opportunities for exceptional ensembles.