2020 Crain-Maling Foundation CSO Young Artists Competition
---
March 7, 2020
Continuing its history of success at the prestigious Crain-Maling Foundation CSO Young Artists Competition, the Music Institute of Chicago's Academy for gifted pre-college musicians took three of the four finalist positions, with violinist Isabella Brown (17, Gurnee, Illinois) taking first place. Academy finalists also included violinist Esme Arias-Kim (14, Hoffman Estates, Illinois), who was the first alternate, and cellist Mia Wimbiscus (16, Wilmette, Illinois).

This is the second time Academy students have claimed three of the four finalist positions in this competition; in 2017, the three Academy students were violinist Maya Anjali Buchanan, who took first place; violinist Joshua Brown, who was first alternate; and violinist Thompson Wang. Academy students have consistently   
placed—and often won—this competition in each year of string and piano performers (alternate years feature percussion and wind instruments), placing first in 2018, 2017, 2014, 2012, 2011, 2009, and 2008.

Brown, a student of Almita Vamos and Roland Vamos, performed Beethoven's Violin Concerto in D Major, Mvt. 1; Arias-Kim, a student of Almita Vamos and Grigory Kalinovsky, performed a movement of Sibelius's Violin Concerto; and Wimbiscus, a student of Hans Jensen, performed Tchaikovsky's Variations on a Rococo Theme. During the final round, the Civic Orchestra of Chicago, under the direction of conductor Michael Christie, accompanied the finalists. As winner, Brown will have the opportunity to perform as a soloist with the CSO during its 2020–21 season as part of its school and family concert series.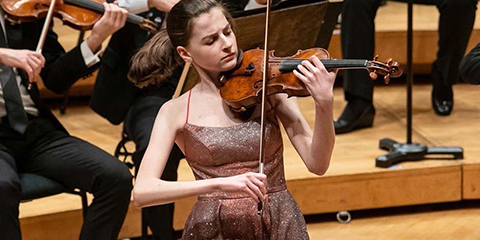 "The process of preparing for and participating in the finals was really great," said Brown. "I first met with the conductor, Maestro Michael Christie, to run through the piece, discuss tempi, etc. He gave me a few helpful suggestions, and made me feel at ease right away. The next day I had my first rehearsal with the orchestra. The orchestra sounded great even on the first run-through! It is so gratifying when you have been practicing a piece by yourself or with piano accompaniment, to actually put it together with the orchestra, especially when the orchestra is as great as the Civic Orchestra of Chicago! Before I performed in the final round, I had some anxiety, but my nerves left pretty quickly after I walked on stage and started playing. It was such a great experience to play one of my favorite pieces with a great orchestra in front of a large and supportive audience. I'll never forget it! And knowing I get to play with the Chicago Symphony Orchestra next year is like a dream come true!"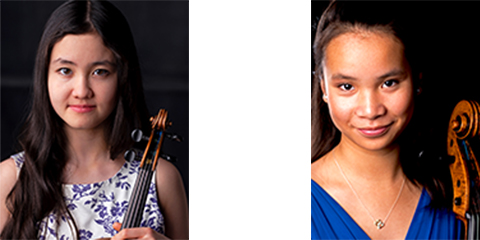 Liz Stein, who served as judge coordinator, has been involved in the competition for the past 15 years, including being a past winner herself. "Every 'Strings' or 'Piano' year, we know Music Institute students will place as finalists and usually win. Almita and Roland Vamos are the core of all strings talent in the Chicago area and throughout the country. And the late [Music Institute instructor] Gilda Barston made a lasting impression on every successful cellist, many of whom have since proceeded to have professional music careers. Along with private instruction, the Music Institute chamber music programs are most prominent. It is not unusual to listen to WFMT's Introductions each Saturday and hear winners of quartet competitions—many Music Institute students! Looking back on past years of this competition, a few Vamos winners include Maya Anjali Buchanan, Gallia Kastner, Susie Kim, Lydia Hong, and the very well known Rachel Barton Pine—all enjoying very successful music careers.

"The Music Institute provides an unmatched level of pedagogy. It's a rare gem these days and gives us all hope for a continued future of the highest level of live music performance."

Other recent Academy competition successes include:
Violinist Noelle Naito (17, Elkridge, Maryland) won the William C. Byrd Young Artist Competition, an international competition that takes place at the Flint (Michigan) Institute of Music.
Violinist Katya Moeller (15, Coralville, Iowa) took second place in the LaCrosse Rising Stars Competition.
Esme Arias-Kim won the Fox Valley Youth Concerto Competition.
At the MYA (Midwest Young Arts) National Chamber Music Competition, the Insieme Piano Trio—violinist/violist Sonya Jones (15, Chicago, Illinois), violinist/violist Abigail Park (16, Northbrook,
Illinois), and pianist Ashley Kim (16, Wilmette, Illinois)—were the Overall and Open Strings Winners.

You can read more about Academy student achievements here >>

Photos top to bottom courtesy of the Music Institute of Chicago:

Isabella Brown.
Esme Arias-Kim (L), Mia Wimbiscus.
Copyright © 2020 Music Institute of Chicago, All rights reserved.