Where are they now? Viola alumna, Arianna Smith
Arianna Smith, violist  |  MIC Academy graduating class of 2010
Known for her capitvating spirit and ability to move from "soft and sultry to all around smiles" – Splash Magazines, Arianna Smith quickly established herself as a young prodigy, performing at such prestigious venues as the Kennedy Center for the Performing Arts in Washington, D.C., the Symphony Center and Harris Theater in Chicago, as well as the Dame Myra Hess Concert Series Live from Preston Bradley Hall. Ms. Smith has also been invited as a young performing artist at such festivals as the Verbier Academy, the Perlman Music Program, the Kronberg Academy, Festival de la Vézère, and Les Rencontres Musicales de Saint Cézaire sur Siagne with l'ensemble Calliopée.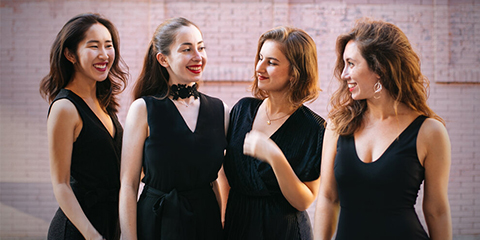 Quatuor Mona:  Verena Chen, violin | Roxana Rastegar, violin | Arianna Smith, viola | Elia Cohen Weissert, cello
An avid chamber musician and current violist with Quatuor Mona, she has given collaborative performances with world-renowned artists such as Steven Isserlis, Christian Tetzlaff, Mate Bekavac, the Ébene Quartet, James Galway, Arnold Steinhardt, Daniel Hope, Viviane Hagner, Claudio Bohorquez, Rachel Barton Pine, and Paul Coletti. 

In the United States, you can hear Arianna's performances featured on National Public Radio's "From the Top," WFMT's "Live from WFMT" and "Introductions," as well as KUSC's "Sundays Live Program from LACMA."

Arianna is currently an artist in residence at The Queen Elisabeth Music Chapel and most recently joined the Villa Musica Rheinland-Pfalz roster of 2017. She is a concertist at the École Normale Supériur de Musique after having finished a year contract at the Opera National de Paris and her masters degree at the Conservatoire National Supérieur de Paris. In May of 2014 she received her Bachelor of Music degree from the Colburn Conservatory of Music in Los Angeles, California under the tutelage of Paul Coletti. Ms. Smith was born in Chicago, and raised by the musical family of Roland and Almita Vamos at the Music Institute of Chicago along with their talented assistant, Marko Dreher. She spent three years  (graduating class of 2010) in the Music Institute of Chicago's Academy Program.
---
What was most beneficial about studying with Mr. and Mrs. Vamos and your time at the Academy?

Studying with Mr. and Mrs. Vamos was like being part of a dynasty, a family. The lessons of Sevcik or Schradeick have made me the player I am today, but the days passed in the house listening to other lessons or chatting over brownies or the noise of Mr. Vamos on the elliptical are the memories that will stay with me every time I touch my viola. They taught us so much more than how to play an instrument. They taught us to love and live through music and to share in the learning and everyday process that makes us into the people and performers we all are today. The community they created with their students is a testament to their mastery and devotion.

How do you think the Academy prepared you for conservatory training?

The Academy gave us endless opportunities to get out our nerves before releasing us into the real world: from the master classes, which brought to us some of the greatest minds of music, to the chamber music and orchestral opportunities, I remember at 16 feeling ready and excited to take on another journey.

What were some highlights during your time at the Academy?

Aurelia String Quartet, 2009 Junior Division Fischoff Competition First Place Winners
My favorite part of the Academy was of course Fischoff. Performing there with more than half of the Academy supporting each other was the most inspiring experience of all my years at the Academy.