Bach Week Festival and Music Institute Present: Virtuoso Soloists
Location:
Nichols Concert Hall, 1490 Chicago Avenue, Evanston
---
Co-presented by Bach Week Festival and the Music Institute of Chicago
Featuring pianist Sergei Babayan, CSO flutist Jennifer Gunn, and Academy violin alumni Laura Park and Rebecca Benjamin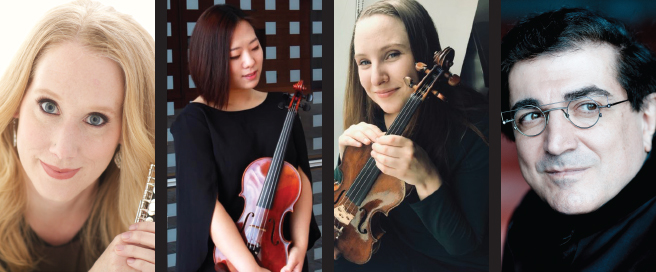 The Music Institute's Academy Orchestra and members of the Bach Week Festival Orchestra join forces for a program directed by Richard Webster and James Setapen and featuring pianist Sergei Babayan in a celebration of mentorship combining professional and extraordinary student musicians.
PROGRAM
Bach Orchestral Suite No. 2 in B minor, BWV 1067
Jennifer Gunn, flute—Chicago Symphony Orchestra
Bach Week Festival Orchestra—Richard Webster, conductor

Bach Concerto for Two Violins in D minor, BWV 1043
Laura Park and Rebecca Benjamin, violins
Bach Week Festival Orchestra with the
Music Institute of Chicago Academy Orchestra: James Setapen, conductor

Solo keyboard works by Jean-Philippe Rameau
Sergei Babayan, piano

Bach Keyboard Concerto in D Major, BWV 1054
Sergei Babayan, piano
Bach Week Festival Orchestra with the Music Institute of Chicago Academy Orchestra: Richard Webster, conductor
---
An Interview with MIC Academy violin alumna Laura Park
Music Institute of Chicago Academy alumna violinist Laura Park is a member of the Kennedy Center Orchestra, the Washington National Opera Orchestra, and Chicago's Grant Park Orchestra. She grew up in the northwest suburbs of Chicago and attended Fremd High School in Palatine. As a member of the Academy's inaugural class in 2006, she studied with Injoo Choi and Almita and Roland Vamos. She earned a bachelor's degree from the Curtis Institute of Music and a master's degree from the Yale School of Music. She has performed with orchestras nationally and internationally, and she earned gold medals from the Fischoff National Chamber Music Competition, the St. Paul String Quartet Competition, and others. You can read more about Laura here >>

Laura plays with fellow Academy alumna Rebecca Benjamin when the Music Institute collaborates with the Bach Week Festival on a concert this Sunday, April 28, at 3 p.m. at Nichols Concert Hall.

Do you have a favorite memory about your time studying at the Academy?
This is more general than specific, but I fondly recall many times in many chamber rehearsals where serious musical discussions dissolved in laughing fits with my quartet members. We of course eventually got the work done, but it just shows how important it is to get along with your fellow colleagues and have a little fun sometimes!

How did your time at the Academy influence your musical path—from Curtis to Yale and now to the Kennedy Center?
I definitely would not be where I am today without Mrs. and Mr. Vamos. They are absolutely brilliant at knowing exactly what someone needs in order to grow, not only as a musician but also as a person. In addition, because the Academy offers such a comprehensive curriculum starting from a young age, I had the benefit of gaining years of experience in skills such as orchestral and chamber playing, theory, and ear training before I even started college. Having that background going into undergrad was extremely helpful, and I was able to spend the time I might have spent learning the basics to learn other things and pursue more projects, both at Curtis and at Yale.

How does it feel to be joining the Kennedy Center Opera House Orchestra? What was that audition process like? Did your Academy training help with that?
One of the most valuable skills I learned during my six years with the Academy is the ability to hold on to a lot of repertoire at once. Studying with the Vamoses, I was always inspired and encouraged to explore new repertoire while maintaining an existing recital program, for example. Through weekly studio classes, international competitions, and everything in between, I was trained to have hours of constantly changing repertoire under my belt. Adding in the chamber, orchestral, and educational demands of the Academy curriculum, it was sometimes a lot to handle! As I got older, though, I realized that you sometimes don't have the luxury of having months or even weeks to have something at a level that you're proud of. Being able to learn something well, quickly enough, and keep it at that level (at least) is imperative, especially in audition preparation and even more so when we're playing under pressure.

I'm really looking forward to joining the Kennedy Center Opera House Orchestra/Washington National Opera Orchestra! I'm excited because the ensemble performs in operas, ballets, musicals, and other kinds of productions, while also offering chamber music opportunities. I'll also be coming back to Chicago in the summers, as I recently joined the Grant Park Orchestra, which performs symphonic programs, so throughout the year, I get to play different kinds of repertoire with different kinds of people.

Do you have any advice for young musicians?
I'd like to emphasize how important it is to practice intentionally and efficiently, not mindlessly. It's so easy to just mark off the checkbox saying you've practiced however many hours that day, but in the end, the amount of time doesn't matter if the practice wasn't purposeful. It's amazing how much you can get done in little time when you're really listening, really adjusting, and really concentrating. This type of practice also helps prevent against injury, as you aren't just repeating things for no reason, and you can really tune into what your body is telling you.

What are you most looking forward to at the April 28 concert?
I'm thrilled about all the collaboration! It's been really lovely to see and work together with [Academy Director/Conductor] Jim Setapen and Rebecca Benjamin again, and I'm looking forward to meeting this year's Academy students. There's also the fact that this concert is an exciting collaboration between the Music Institute Academy and the Bach Week Festival, and I'm glad to be able to be a part of it. On top of it all, it's been awhile since I've performed in Nichols Concert Hall, and it almost feels like coming home.