Paul Barnes, pianist and chanter
Location:
Nichols Concert Hall, 1490 Chicago Avenue, Evanston, Illinois 60201
---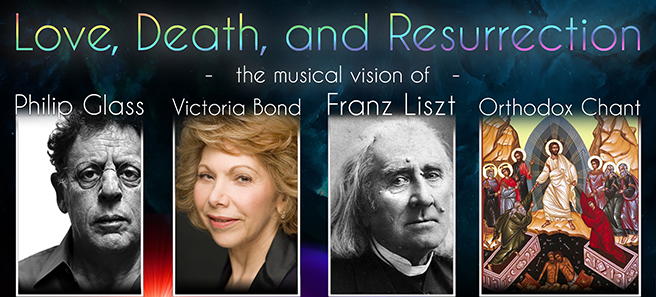 Pianist Barnes has created a powerful musical meditation on the ways in which humanity grapples with death. Beginning with the story of Orpheus, the program connects the music of Franz Liszt, Philip Glass, and a Chicago premiere by Victoria Bond with Byzantine chant, as it artfully explores the hope for the destruction of death and of life eternal.
---
More about the Program
 
During the summer of 2017, Barnes lost many close friends to cancer. One of the ways he processed his grief was developing this powerful musical meditation exploring love and death. Beginning with the story of Orpheus, the program connects the music of Glass, Liszt, Bond, and byzantine chant. Glass and Bond have written multiple pieces for him in the past, many based on byzantine chant. He has also specialized in Liszt, particularly in terms of religious symbolism in his piano music.
 
Barnes commissioned Bond to write a new piano work based on the Greek Orthodox hymn on the crucifixion of Christ. "Simeron Kremate (Today is Suspended)" is co-commissioned by the Hixson-Lied College of Fine and Performing Arts (HLCFPA) in Lincoln, Nebraska and the SDG Music Foundation in Chicago. The Chicago premiere on March 10, presented by the Music Institute at Nichols Concert Hall, immediately follows the March 3 world premiere at HLCFPA's Kimball Recital Hall.  

Celebrating his 23-year collaboration with Glass, Barnes commissioned and gave the world premiere performance of Glass's Piano Quintet "Annunciation" with the Chiara Quartet at the Lied Center for Performing Arts in Lincoln, Nebraska on April 17, 2018. The work is Glass's first piano quintet and first work based on Greek Orthodox chant. Barnes, who shares with Glass a love for ancient chant, serves as head chanter at Annunciation Greek Orthodox Church in Lincoln. He has toured Europe, Asia, and the U.S. He is the Marguerite Scribante Professor of Music at the University of Nebraska-Lincoln Glenn Korff School of Music and teaches during the summer at the Vienna International Piano Academy and the Amalfi Coast Music Festival.

---
Complete Faculty and Guest Artists Series 2018-2019 >>