Time for Three
Location:
Nichols Concert Hall, 1490 Chicago Avenue, Evanston
Contact:
Brown Paper Ticket Box Office: 800.838.3006
---
The young, dynamic trio Time for Three includes violinist/vocalist Nicolas (Nick) Kendall, violinist/vocalist Charles Yang, and double bassist/vocalist Ranaan Meyer—breaks boundaries with its performances and defies traditional genre classification, performing works from Bach to Brahms to bluegrass to the Beatles, giving world premieres by Pulitzer Prize winners William Bolcom and Jennifer Higdon, as well as playing originals and their own arrangements of everything from folk tunes to ingenious mash-ups of hits by Kanye West, Katy Perry, Justin Timberlake, and more.
---
AN INTERVIEW WITH TIME FOR THREE'S NICK KENDALL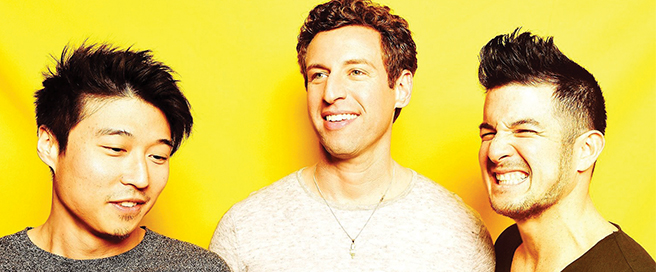 MIC:  What was the inspiration behind the formation of Time for Three?
Tf3:  The three of us have similar backgrounds in classical music. We agree that we've grown as people and as artists from the master works in core classical music. At the same time during this coming of age, we each had other musical expressions,
performing in bands that played music that was very different from Bach or Beethoven, which we spent most of our practice time mastering. Playing in alternative groups was an outlet from the concentrated work and focus required to play challenging compositions. So to let off steam, we would play music we wanted to play—classical, popular, whatever sounded good to us and was fun—sometimes arranging songs we heard on commercial radio. There has been a natural growing segment of super-talented young people, all dedicated classical musicians, who also want to make connections with their peers and feel relevant. Back in high school, I was playing Nirvana's "Smells Like Teen Spirit" on the violin to connect with my friends. It was this expression of musical release, fun, and making connections that was at the core of Time for Three's beginnings. It has continued this way throughout our career for years and years. Now, Time for Three has turned an exciting corner, paving a road that takes every bit of our past and finds us evolving as we look to our future. This has manifested itself predominantly in a focus on writing original music (as apposed to arranging, which we still do) and commissioning composers for new concertos for the group and orchestral accompaniment. This has given us new energy and a new voice. 
MIC:  What's your process as you choose/arrange/write the music you play and what role might improvisation play in your work?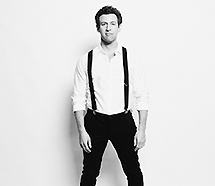 Tf3:  Classical training is without question the underpinnings of what we do as a band, but we are not a classical group; we have our own music, style, and voice. We don't want to be pigeonholed within any one genre. Improvisation has been an essential tool that is at the core of our composing and songwriting and allowed us to find that voice and style. We improvise to find the riffs and melodies, some of our more complex songs coming straight from this process. As musicians who are very accustomed to the process of interpreting other composers' music, improvising gives us a wonderful contrast in our life as artists. We try to be patient and let things happen without forcing anything. Several songs can come out of those sessions, and material we use in our live shows takes shape during these sessions as well. 
MIC:  What have you found most interesting or surprising about the reactions to your wide range of musical genres and styles?
Tf3:  We're known for the unexpected. Perhaps our weird instrumentation is that starting place—when people were discovering us, they would ask, "Where's the middle voice, where's the viola?" for example—and if it's not a classical audience, they wonder, "Where's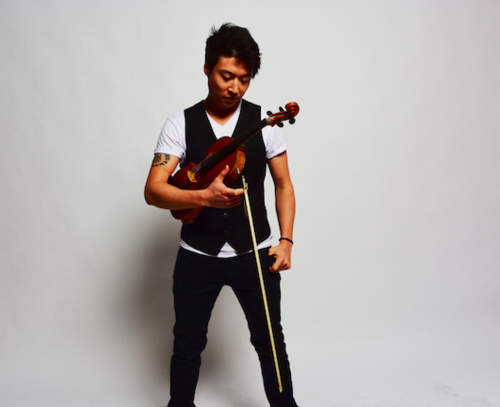 the drummer? How are two violins and a double bass going to hold our attention?" It's fun to play off of these expectations and assumptions and watch them crumble. The way we approach our instruments is unique. I've always felt this band has naturally been about blend, contrast, and rich, full harmonies. The music is always about making connections with our audiences. They mean everything to us, and we never take for granted that this is our life. We always put everything we've got onstage, telling musical stories, sharing the moments with our new friends who come out to hear us. When Charles Yang joined Time for Three almost four years ago, things changed in such an amazing way. As you will see, he has an incredibly expressive voice, Ranaan and I are backup vocals, and the blend has resulted in our group having six instruments instead of just three. It's a very unexpected, original sound, but, creatively, it's an endless pleasure to exist in and perform with. 
Any advice for young classical musicians interested in a career in music?
Tf3: We have young musicians say to their folks, "I want to do what they do." We love that, of course, but our advice has always been the same: the reason we have this freedom is because of the discipline we had as young musicians. We had to spend so much time on things that didn't come easily, like perfecting technique and playing in tune with good tone. As a young person, I had plenty of energy, but lacked structure. I'm forever grateful to my parents and teachers for pushing me to put the time into my classical studies, even when I fought them. Without them, I would never have this amazing career. 
What can audiences expect when they come to the April 7 performance at Nichols Concert Hall? Any specifics about works you are performing?
Tf3:  Our favorites, from Leonard Cohen's "Hallelujah" to mash-ups of Mozart, The Beatles, The Verves' "Bittersweet Symphony," Mahler, Guns 'n Roses, and original songs. We've been working in Nashville for almost two years with a songwriting team, including Liz Rose, who co-wrote Taylor Swift's early albums, and Femke Weidema. These two incredible artists have meant so much to us and continue to have a meaningful impact on shaping our sound. Besides totally loving Chicago, we are very much looking forward to being there for this show!