Chicago Duo Piano Festival Extravaganza Concert
Location:
Nichols Concert Hall | 1490 Chicago Avenue, Evanston
---

In addition to offering students coaching, lectures, master classes, and recitals, this year's Chicago Duo Piano Festival includes two public events featuring members of the Music Institute piano faculty and special guests, all performing duo piano repertoire. Among the highlights of this year's concerts is a tribute to American composer George Crumb on the occasion of his 90th birthday.
---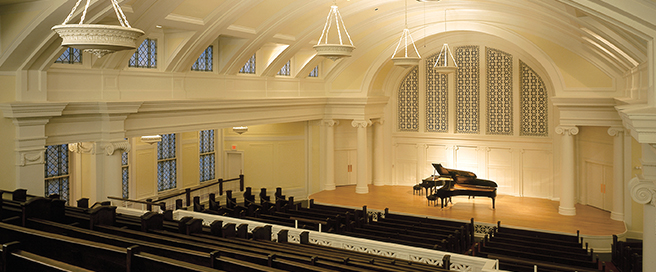 Featuring excerpts from Crumb's Makrokosmos IV: Celestial Mechanics for amplified piano, four hands, with pianists Louise Chan and Susan Tang. 
Other works include:
BRAHMS:  Variations on Theme by Haydn
Elaine Felder and Milana Pavchinskaya
MOZART:  Sonata in D Major for Two Pianos
Inah Chiu and Sung Hoon Mo
RACHMANINOFF: selections from Suites for Two Pianos
Alexander Djordjevic and Gregory Shifrin
FRANZ VON SUPPE:  Poet and Peasant Overture
Mark George, Ralph Neiweem, Gregory Shifrin, and Alexander Djordjevic
---
Chicago Duo Piano Festival Home >>