Marcus Roberts Trio- NEW DATE
Location:
Nichols Concert Hall | 1490 Chicago Avenue, Evanston
Cost:
General Admission: $25
General Admission, at the door: $30
VIP: $50
Users will be prompted to login or create an account during the order process. After checkout, patrons will receive an order confirmation page and a link to more information about concert procedures.  Patrons must either bring a printed copy of their order page or a mobile device that can display the order confirmation email that shows the order barcode.
---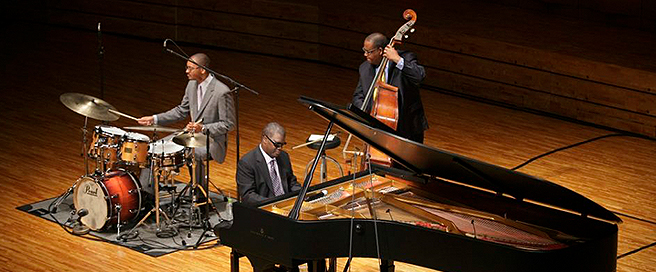 NEW DATE: Saturday, August 1, 2020
"Piano Giants"  - Bernstein, Gershwin, Monk, Ellington

Marcus Roberts, piano | Rodney Jordan, bass | Jason Marsalis, drums
Influenced by the famous piano trio styles of Ahmad Jamal and Oscar Peterson, the Marcus Roberts Trio builds from that rich foundation to create an ever evolving sound all its own.  Known for their virtuosic style and new approach to jazz trio performance, the Trio members share equally in shaping the direction of the music with lightning reflexes and imagination.