Robert Chen, violin and Matthew Hagle, piano
Date:
September 29, 2019 - 3:00pm
Location:
Nichols Concert Hall | 1490 Chicago Avenue, Evanston
Cost:
General Admission:  $25 pre-sale  |  $30 at the door
VIP: $50, includes early access seating and opening post-concert reception with the artists 
Users will be prompted to login or create an account during the order process. After checkout, patrons will receive an order confirmation page and a link to more information about concert procedures.  
Patrons must either bring a printed copy of their order page or a mobile device that can display the order confirmation email that shows the order barcode.
---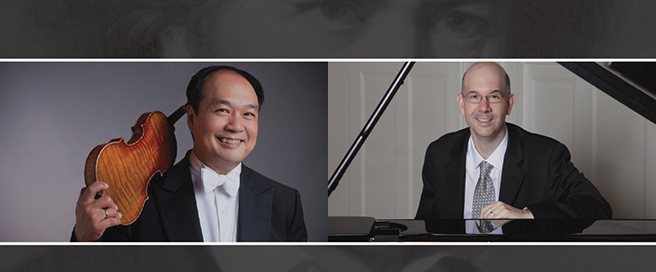 PROGRAM
Beethoven:  Sonata for Violin and Piano, Op.12, No. 3
Fauré:  Sonata No.1 in A Major for Violin and Piano, Op. 13
Intermission
Bach: Partita No. 3 in E Major, BWV 1006   
Schubert: Rondo in B minor for violin and piano, D. 895
To open its 2019–2020 season of performances at Nichols Concert Hall, the Music Institute of Chicago celebrates Beethoven's 250th birthday with a concert featuring Chicago Symphony Orchestra (CSO) concertmaster Robert Chen and Music Institute piano faculty Matthew Hagle.
 
MORE ABOUT ROBERT CHEN, VIOLIN
Enjoy a Q & A with Robert Chen >>
Chen, a native of Taiwan, has served as the Chicago Symphony Orchestra's concertmaster since 1999 performing as a featured soloist with Riccardo Muti, Daniel Barenboim, Pierre Boulez, and others. In addition to his work with orchestras, he is an avid chamber musician and has performed with artists including Itzhak Perlman, Pinchas Zukerman, and Yo-Yo Ma. A frequent participant at numerous festivals, he also has toured extensively with Musicians from Marlboro and is a founding member of the Johannes Quartet.
 
MORE ABOUT MATTHEW HAGLE, PIANO
 Enjoy a Q&A with Matthew Hagle >>
Chicago-area native Hagle, an active chamber musician and collaborator, has performed in concert halls throughout the U.S. and abroad with members of the Chicago Symphony Orchestra, Avalon Quartet, and Quintet Attacca. He is the principal recital partner of violinist Rachel Barton Pine, with whom he released two acclaimed albums on the Cedille label. Recently Hagle completed a series of live radio recitals with WFMT featuring the 32 Beethoven Sonatas. He has also served as a faculty member at the Music Institute since 1998 and teaches piano and composition. A Fulbright Scholar and graduate of Peabody Conservatory and Yale School of Music (where he received his DMA), he is also a Music Institute alumnus.
Chen, a native of Taiwan, has served as the Chicago Symphony Orchestra's concertmaster since 1999 performing as a featured soloist with Riccardo Muti, Daniel Barenboim, Pierre Boulez, and others. In addition to his work with orchestras, he is an avid chamber musician and has performed with artists including Itzhak Perlman, Pinchas Zukerman, and Yo-Yo Ma. A frequent participant at numerous festivals, he also has toured extensively with Musicians from Marlboro and is a founding member of the Johannes Quartet.
 
Chicago-area native Hagle, an active chamber musician and collaborator, has performed in concert halls throughout the U.S. and abroad with members of the Chicago Symphony Orchestra, Avalon Quartet, and Quintet Attacca. He is the principal recital partner of violinist Rachel Barton Pine, with whom he released two acclaimed albums on the Cedille label. Recently Hagle completed a series of live radio recitals with WFMT featuring the 32 Beethoven Sonatas. He has also served as a faculty member at the Music Institute since 1998 and teaches piano and composition. A Fulbright Scholar and graduate of Peabody Conservatory and Yale School of Music (where he received his DMA), he is also a Music Institute alumnus.
s.cloudinary.com/music-institute-of-chicago/image/upload/v1561588460/FY20%20NCH%20Artists/Chen-Hagle_480x240.jpg