2020 Lute Celebration
Date:
February 29, 2020 - 3:00pm
Location:
Evanston East Campus, 1490 Chicago Avenue
Contact:
Joel Spears at jspears@musicinst.org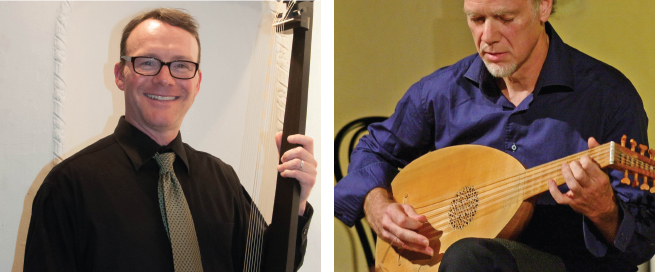 Music Institute of Chicago celebrates the lute in a series of free events, featuring instructor Joel Spears and guest musician Crawford Young at its Evanston East Campus, 1490 Chicago Avenue.
SCHEDULE OF EVENTS

An Introduction to the Lute | 3 pm
Spears will play music for renaissance lute, d-minor lute, and theorbo and give a brief overview on the history and evolution of the lute, plucking-hand technique, development of lute family instruments from medieval to baroque periods, and more. Free and open to the public for anyone interested in playing the lute, learning the history, or improving their guitar interpretations of lute music.
3rd Annual Chicago Lute Tasting | 3:45 pm
A free, informal gathering of lute enthusiasts and supporters, beginners, professionals, guitarists, and the lute-curious to ask questions, buy and sell instruments, try various instruments, and play in a supportive atmosphere. For beginners especially it is important to try as many different instruments as possible before making a purchase. A wide variety of instruments will be available, including plectrum lutes, renaissance and D-minor lutes, theorbos, archlutes, vihuelas, baroque guitars, and more.
Crawford Young talk | 4:30 pm
Special guest Crawford Young will comment on lute music, medieval and renaissance repertoires, and his own observations on technique. Questions are welcome.
Crawford Young master class | 5 pm
Open to lutenists, guitarists, singers, and other instrumentalists interested in pre-baroque music. To reserve a spot, please contact Joel Spears.

Check out MIC's Teacher Feature on Joel Spears and the lute >>