Acapella Chamber Music Camp with Quintet Attacca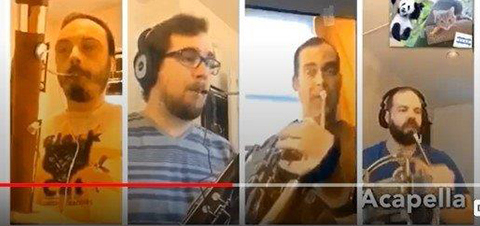 Ages:  11 - adult
Dates and Times:  August 3 – 7, 2020
Monday-Friday: 1:30 – 2:30 pm zoom meeting
Monday-Thursday: private 45-minute zoom lesson scheduled around student's availability
Location:  Online via Zoom
Camp Personnel:  Jennifer Clippert (flute), Erica Anderson (oboe), Barbara Drapcho (clarinet), Collin Anderson (bassoon), and Jeremiah Frederick (French horn)

In place of its 12th annual summer chamber music program for woodwind and brass players the Music Institute of Chicago and Quintet Attacca will be presenting an Online Acapella Chamber Music Camp. In this camp, you will prepare your individual part of one or more chamber works. You will be grouped with other players of like ability and age and/or members of Quintet Attacca. You will record your part at the end of the week using an Apple product and the Acapella© app.  The end result? A video recording of you playing with the complete chamber group that you can share with your friends and family! Click here to see and hear what Quintet Attacca clarinetist Barbara Drapcho has been designing with Acapella so you can get an idea of the possibilities. 
Time Commitment:
Daily zoom meeting - 1 hour (Monday - Friday) at 1:30 pm.  Games, music trivia, how to record your part on your phone, and how to use the Acapella app.
Daily 45 minute private lesson on chamber music assignment scheduled at a time that works for you.
Individual practice assignments.
Recording yourself on your iphone or ipad using Acapella - due Friday August 7, 2020 by 9PM
Future live-stream recital on YouTube of chamber performances
Video recording of your Acapella© performance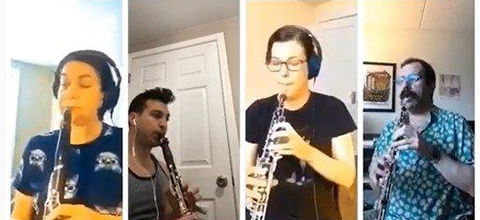 Who should sign up?
Open to flute, oboe, clarinet, bassoon, trumpet, horn, trombone, euphonium, tuba, and saxophone players who are looking for a fun and fulfilling online summer musical experience. Bring a friend and ask to be placed in the same group. 
What you need:
Apple device that can support the Acapella© app
Metronome and headphones
Recommended:
Separate device for Zoom
Prerequisite:
one year of study (recommended for intermediate to advanced level students)
Cost:  $375

Registration Deadline: Friday, July 31, 2020

Questions?  Please contact Camp Director  Erica Anderson