Quintet Attacca Chamber Camp for Winds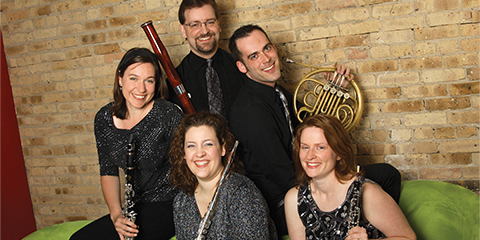 Chamber Camp for Winds
The Music Institute of Chicago presents its 15th annual summer chamber music program for woodwind and brass players. Wind quintets, trios, and quartets will participate in daily rehearsals, coachings, and group activities with Quintet Attacca, an MIC Ensemble-in-Residence and winner of the 2002 Grand Prize of the Fischoff National Chamber Music Competition. The 2022 Quintet Attacca Chamber Camp for Winds will meet in person, outdoors, under shaded trees and tents with open sides at MIC's picturesque Lake Forest campus. Indoor coachings and rehearsals may be available on a case-by-case basis depending on the weather and current Covid mitigations. 
Love your instrument and want some fun experiences with others in your age range and ability level? Join Quintet Attacca for a week of exciting and independent music making! Chamber music encourages team building, friendship and musical skills. Develop your craft while playing alongside members of Quintet Attacca! We welcome flute, oboe, clarinet, bassoon, French horn, recorder, saxophone, trumpet, trombone, euphonium and tuba players. The best performances in chamber music come from groups who trust each other and have fun together. Quintet Attacca Chamber Camp brings it all together!
Priority will be given to those who register early. If you would like to be placed with a friend, please indicate that on your registration form.
Ages:  11-adult
Dates:  Monday, June  13 - Friday, June 17, 2022

Location:  Lake Forest Campus - 40 East Old Mill Road, Lake Forest
                  (in-person, outdoors)
Prerequisite:  one year of study (recommended for intermediate to advanced level students)

Tuition:  $525
Registration Deadline: June 3, 2022       
(QA Chamber Camp has been Canceled)


Director:  Erica Anderson
Faculty: Erica Anderson (oboe), Jennifer Clippert (flute),
               Barbara Drapcho (clarinet), Collin Anderson (bassoon),
               Jeremiah Frederick (French horn)

Sample Daily Schedule | Monday - Friday, 10 am - 2 pm

10:00 - 10:15 am        Screening and Check-in
10:15 - 11:00 am        Chamber Music Coaching
11:00 - 11:45 am        Group activity (or independent rehearsal for adult or intensive groups)
11:45 - 12:30 pm        Chamber Music Coaching
12:30 - 1:15 pm          Lunch Break - bring your own lunch, lunchtime will be socially distanced and outside
  1:15 - 2:00 pm          Chamber Music Coaching
On the last day of camp, the student recital/recording will begin at 1:15 pm. It will be outside and open to the public.

Questions? Contact Erica Anderson
---
NEW Summer Class!
Chamber Music Mondays for Woodwinds and Brass
---