Society of American Musicians (SAM) Competition - April 18, 2022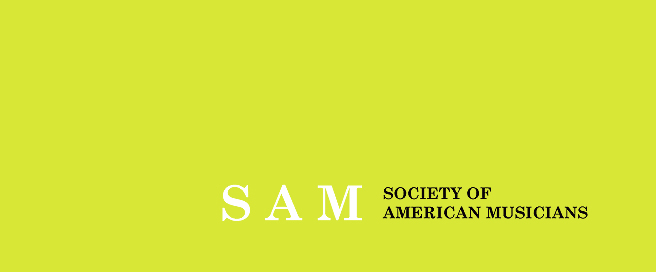 The Society of American Musicians, a non-profit organization, was founded in 1914 with the intent of promoting the best interests of music in America and maintaining the highest standards of musicianship. Through the competition, its awards, and performance opportunities, the Society offers assistance and encouragement to young musicians and promising artists.  Each spring, students compete in multiple levels of cello, flute, guitar, violin, viola, and piano.

Congratulations to all participants and winners!


---
CELLO COMPETITION WINNERS
Senior Division:  Jan Vargas Nedvetsky *, 15, from Wilmette, IL  - student of Hans Jensen

Intermediate Division:  
1st Place:  Simon Updegraff, 15, from Wilmette, IL  - student of Avi Friedlander
Honorable Mention:  Hannah Cheung, 15, from Northbrook, IL - student of Avi Friedlander 


Junior Division: 
2nd Place:  Cecilia O'Malley, 14, from Glen Ellyn, IL - student of Dr. Tanya Carey
VIOLIN COMPETITION WINNERS
Primary Division:
1st Prize:  George Wang, student of Davis King
3rd Prize:  Xiruo Wang, student of Davis King
Intermediate division:
1st Prize:  Aiden Yu, student of Davis King
2nd Prize:  Xiruo Wang, student of Davis King
3rd Prize:  George Wang, student of Davis King
PIANO COMPETITION WINNERS
Senior Division:
2nd Place:  Samuel Lam, 17, from Libertyville, IL - student of Dr. Soo Young Lee 
Honorable Mention:  Tyler Wang, 16, from Wilmette, IL - student of  Katherine Lee
Intermediate Division:
1st Place:  Kashyap Prasad, 15, from Lake Bluff, IL  - piano student of Dr. Yumy Lee Kim and of Shigetoshi Yamada (viola)
Honorable Mention:  Allison Zhang, 14, from Palatine, IL  - student of Dr. Soo Young Lee 
Junior Division:
1st Place:  Helena Sprajcer, 10, from Wheeling, IL - piano student of  Dr. Soo Young Lee; student of Barbara Martin (voice);  and student of Elaine Felder (piano chamber group)
Honorable Mention:  Alina Liu, 12, from Winnetka, IL - student of Dr. Yumy Lee Kim 
Primary Division:
Honorable Mention:  Bowen Gao, 10, from Naperville, IL student of Dr. Christina Tio 
GUITAR COMPETITION WINNERS
Intermediate Division:
1st Place:  Joseph Kim, 15, student of Brad Conroy
2nd Place:  Joshua Sutanto, student of Brad Conroy
Junior Division:
1st Place:  Armin Norton, 10, from Winnetka, IL - student of  Jeremiah Benham 
* - denotes MIC Academy member