Student Achievements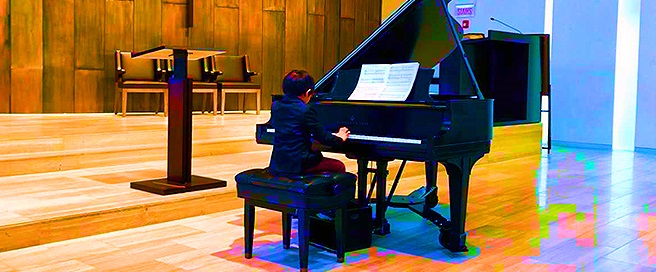 This page features Chicago student achievements and accomplishments

For more information about any of the items on this page, please contact the Chicago Campus Director, Dr. Marie Alatalo.
---
Students from the studios and classes of Jeremiah Benham, Addison Teng, Davis King, and Marie Alatalo played at the Driehaus Museum as part of the Museum's "Sounds of the Seasons" musical offerings. 
---
Congratulations to students of Dr. Marie Alatalo who passed Royal Conservatory assessments, held last May at Symphony Center. 

Participating students:
Matthew Pang  |  Tami Lucas  |  Henos Aman  |  Noel Aman  |  Georges Cehovic
Delaney Flynn  |  Riya Jain  |  Harrison Lee  |  Savannah Lee
Kayleigh Lim  |  Mika Matsuyama
A special congratulations goes out to 8 year old Kayleigh Lim who scored in the highest possible category-1st Class Honors with Distinction!

---
Adult students of Dr. Marie Alatalo played the Piano Preludes of George Banhalmi, who was a former and long-time faculty member of the Music Institute of Chicago.  The students were also joined by Chicago Campus Director, Marie Alatalo, and special guests Elaine Felder and Jeff Wagner.



.