Virtual Musical Theater: Summer SmashUp! 2020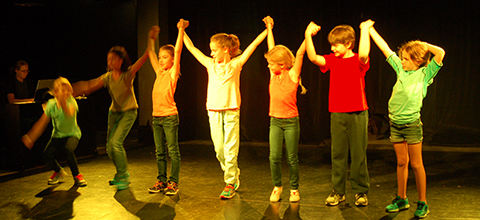 Grades:  for children entering grades K-3
Dates and Times:  Weekly Camps:  Register for the weeks that work for you!
July 6-10  |  Monday-Friday from 9 am-noon
AND/OR
August 3-7  |  Monday-Friday from 9 am-noon

Location: Online, via Zoom        

Camp Director:  Matt Boresi, MIC Musical Theater Artistic Director
Cost: $150 per week

Performances: World premieres Friday at noon!  July 10 & August 7 
Registration Deadline:  July 27, 2020
Questions? Please contact: Matt Boresi

Music, acting, dance, art and storytelling are "smashed up" into an original musical! Perfect for students interested in the fundamentals of creating and performing, or for boys and girls with an interest in the arts who just want to have a good time. Enjoy one or both week-long camps, each ending with a streamed mini-musical created by the campers. Themes are chosen by students, with past themes having included: Lost in Space, Wizards and Cowpokes, and Atlantis Olympics. Daily schedule alternates acting, music, and dance.

The curriculum has been modified for a virtual setting and provides both a celebration of performance and lessons in fundamentals to take place in an enthusiastic, supportive, and creative environment. Virtual SmashUp! camp will be broken into manageable units which rotate their curricular focus throughout the day. Brief off-line breaks will be provided each hour, and at the end of the day, parents may watch a demonstration of something the students created that day, check with instructors on progress, and ask questions.

Virtual SmashUp! includes age-appropriate skill building in creating and acting a character, understanding of musical dynamics, tempo, and rhythmic patterns, facility with locomotive and non-locomotive dance, body patterning, and popular musical theatre moves, creative storytelling, and songwriting building blocks such as rhyme, repetition, scansion, and character-based lyrics. The week will culminate in a streamed performance of an original student-devised musical!
Sample Daily Schedule
9:00-9:25 – Acting
9:25-9:45 – Storytelling and acting
9:45-10:00 – Break
10:00-10:20 – General music
10:20-10:45 – Songwriting
10:45-11:00 – Break
11:00-11:30 – Dance
11:30-11:50 – Show Rehearsal
11:50-12:00 – Sharing with parents