Summer SmashUp!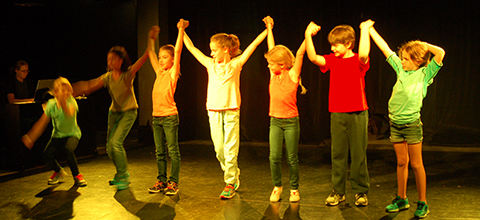 Grades:  for children entering grades K-3
Dates and Times:  Weekly Camps:  Register for the weeks that work for you!
July 8 - 12  and  August 5 - 9 : Monday-Friday  |  9 am – 1 pm 
Location: Evanston East Campus, 1490 Chicago Avenue         
Camp Director:  Matt Boresi, MIC Musical Theater Artistic Director
Cost: $200 per week (+$30 registration fee for new/returning students)
Students should bring a nut free lunch and a snack.  Refrigerated space limited to medicines.
Performances: World premieres Friday at noon!  July 12 & August 9 
Registration Deadline:  June 21, 2019
Questions? Please contact: Matt Boresi

Music, acting, dance, art and storytelling are "smashed up" into an original musical! Perfect for students interested in the fundamentals of creating and performing, or for boys and girls with an interest in the arts who just want to have a good time. Enjoy one or both week-long camps, each ending with a mini-musical created by the campers. Themes are chosen by students, with past themes having included: Lost in Space, Wizards and Cowpokes, Penguin Party, and Atlantis Olympics.