Suzuki Association of the Americas (SAA) Conference Announcements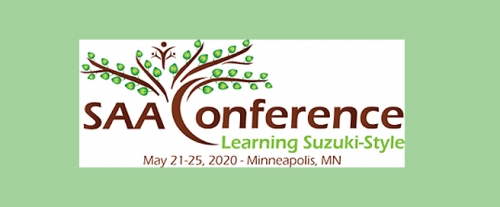 ---
May 21-25, 2020
---
The Suzuki Association of the Americas (SAA) Conference Committee has made these announcements:  
The following students were chosen to perform at the SAA biennial teachers' conference in Minneapolis, Minnesota on May 21-25, 2020.  The students were selected by audition.

PIANO - students of Christina Tio
Vida Bukerovic, age 7 - Solo Piano Masterclass
Micah Chan, age 11 - Solo Piano Masterclass
Michael Hahn, age 11 - 3-piano Concerto Masterclasses and Performance AND Solo Piano Masterclass
Edie Park, age 10  - Solo Piano Masterclass
Kashyap Prasad, age 12  - Solo Piano Masterclass
CELLO - students of Avi Friedlander
Simon Updegraff was selected to perform Haydn Concerto in C major in a cello masterclass at the SAA conference for cellist Astrid Schween from Juilliard.  
Simon Updegraff was also selected to perform in a cello collaboration with students from the Chicago area.   
MUSIC INSTITUTE SUZUKI FACULTY 
Dr. Christina Tio will be presenting a paper at the Suzuki Association of America's (SAA) Conference. 
---