Suzuki Virtual Winter Workshops - 2022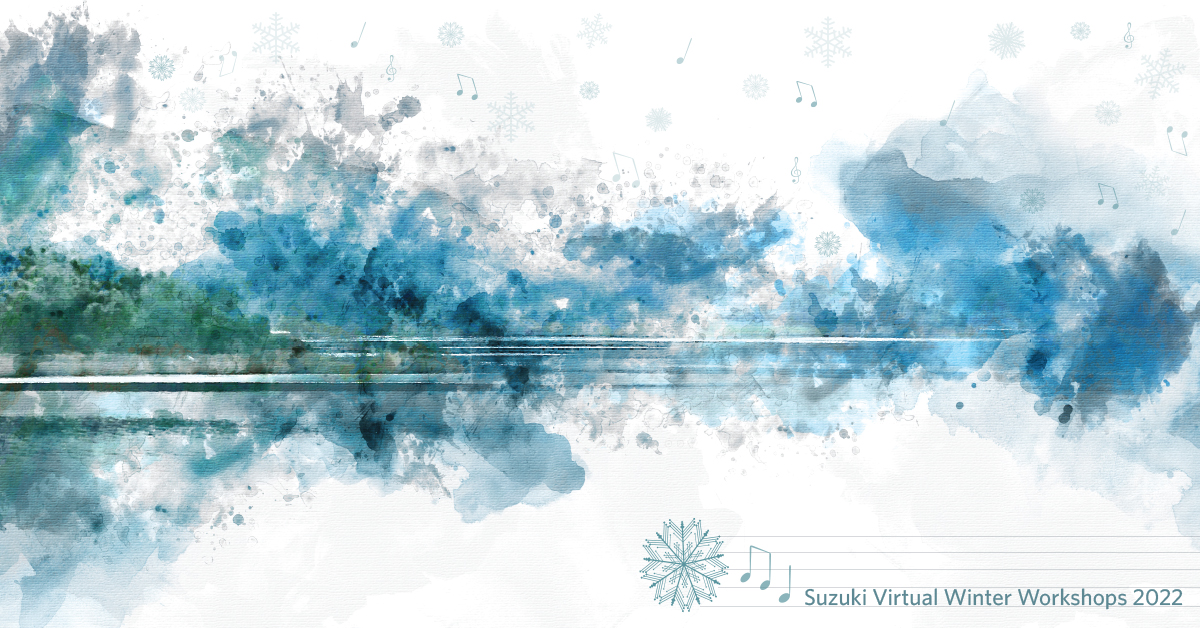 Violin – Viola – Cello – Piano – Flute - Guitar
Registration Deadline: Friday, January 14, 2022
Explore new ideas, refresh your practice routine, receive constructive feedback, make new musical friendships, enjoy Suzuki parent support, and have fun!
Suzuki Virtual Workshops allow students and teachers, alike, to explore new ideas and strategies for fostering musical excellence and efficient technique, all in an atmosphere of discovery and joy.
ALL WORKSHOPS
Friday, January 28, 2022 via Zoom
4:00-6:00 pm        Classes
6:00-7:00 pm        Parent talk/enrichment classes
Saturday, January 29, 2022 via Zoom
9:00-11:30 am     Classes
12:00-12:30 pm   Lunchtime concert
1:00-4:30 pm       Classes
Sunday, January 30, 2022 via Zoom
9:00 am-4:00 pm Classes and enrichment (Flute)
MASTER CLASSES 
Availabe for strings "Perpetual Motion" and above

Available for all levels of piano, guitar and flute
Large Group Classes - all students
Enrichment Classes - assigned according to level

ENRICHMENT
Taylor Morris - Fiddling and alternative styles of playing
Chris Clemente - Creative Percussion

PARENT TALK |  Friday at 6:00 pm
Christie Felsing Suzuki Vitamins: What keeps our musical diets healthy?

LUNCHTIME CONCERT |  Saturday at 12:00 pm
Taylor Morris, violin
---
Workshop Benefits:
1) Motivation to Practice
The incentive to practice begins with preparing for the workshop itself. Students polish workshop repertoire so they may easily incorporate new ideas. Master teachers bring and share new perspectives on familiar pieces inspiring students to explore further in future practices.
2) Constructive Feedback
Workshop guest clinicians are among the most sought-after Suzuki teachers in the world. Through master classes, workshop participants receive individualized feedback and expert coaching in a one-on-one setting.
3) Fostering Music Friendships
Fun and joy abound! A workshop parent commented "She really had a great time bonding with her music friends. That, to me, is what it is all about for them. They don't even realize they are learning!"
4) Parent Support
Scheduled parent talks provide insight into challenges specific to Suzuki parenting. Chatting with fellow Suzuki program parents throughout the workshop builds community and reminds us that we are all in this together.
---
2022 WORKSHOP CLINICIANS

VIOLA/VIOLIN WORKSHOP
Christie Felsing (violin)
CELLO WORKSHOP
Pam Devenport
PIANO WORKSHOP
Josh Wright
FLUTE WORKSHOP
Wendy Stern
GUITAR WORKSHOP
Ben Lougheed