Teacher Feature: Paul Hefner
All photos copyright Elliot Mandel Photography
---
What are the most challenging things, or the most rewarding things about teaching an ensemble rather than an individual?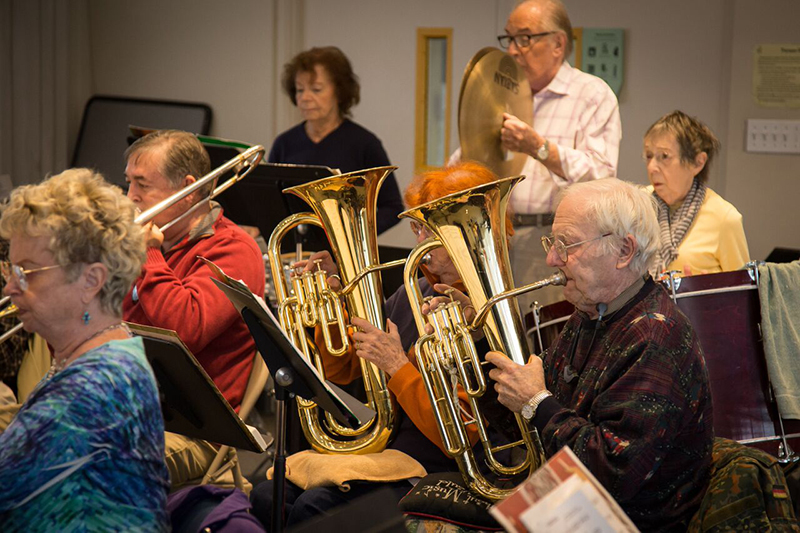 The biggest challenge about teaching an ensemble like the New Horizons Band is the large spectrum of musical experience and knowledge. Some members  have been studying their instrument for years, while others are just starting out. The irony is that to me, this becomes the biggest reward when we're able to make great music sound really good! I try to make it an enjoyable and fun process through a semester of successful rehearsals, members working together, and the help of sectionals and section leaders.
How has working with adult seniors differ from your previous experience teaching?
There are many similarities when working with seniors as compared to college or high school and middle school students. However, one primary difference has to do with the health and fitness benefits of playing an instrument; cardiovascular requirements, muscle motor skills, memory, etc. All of these are extremely beneficial to a senior studying music.
Do you have any stories to tell about how you have seen music influence or transform the lives of people with whom you have worked in New Horizons Band?
I was working with an adult band several years ago and Harvey, one of the bass clarinet players, was failing in health. He wasn't able to walk so he had a wheelchair and an assistant to move around. Arriving late to rehearsal this particular day, his assistant pushed him on the wheelchair to his place in the band. All the way, Harvey was hunched over slightly, had a small smile and eyes that were open only enough to see where he was going. Gently waving hands and straining to speak, Harvey apologized for being late. As he was trying to stand up out of his wheelchair to sit in his band chair, I couldn't get over how slow his movements were and how pale he looked. I thought for sure this man belonged in a hospital somewhere. With a little help from his assistant, Harvey managed to get into his band chair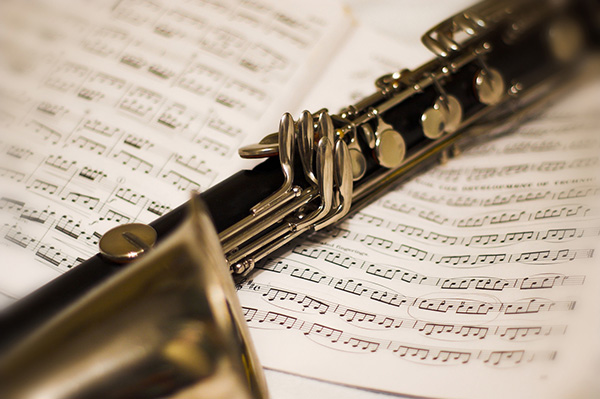 while the person next to him assembled his bass clarinet. Finally, being in his seat and having his bass clarinet in hand, Harvey's eyes opened more and his smile widened. Then, he took a very deep breath and began to play. A sound of robust and velvety volume came from his instrument. A glow of color quickly came to his face. I could see a light in his eyes flare up and old eyebrows rise! It was a miracle that I witnessed, one that happened every day Harvey played his instrument.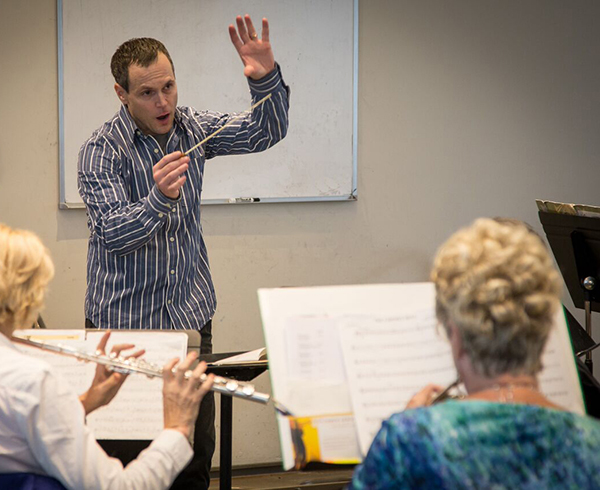 What would you say to an adult who is considering taking up an instrument, or returning to playing music after a long break, but is feeling apprehensive?
I would assure them that many others in the New Horizons Band once felt the same way; explaining the social and health benefits they could experience. I would urge them to give it a try for a semester!
You wrote in your bio that you're interested in "fitness training."  What kind of training do you like to do?  What parallels do you see between fitness/sports training and practicing an instrument?
The training I enjoy most is any that involves helping an individual achieve and exceed their personal fitness goals. I'd like to run a training class one day too. One of the closest parallels between fitness and practicing an instrument is that it takes consistency and proper form. Successful music requires daily work and focusing on doing the right musical exercises with proper form; embouchure, breathing exercises, tone production, articulation, etc.
---