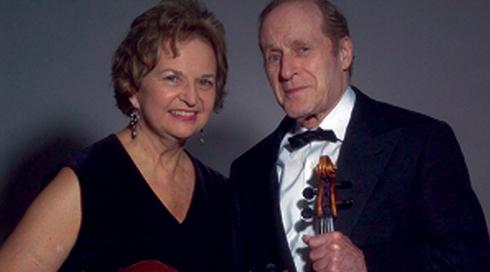 In the time since its founding, the Music Institute of Chicago's Academy has achieved international recognition for its dedication to excellent teaching and career mentoring of young piano and string students. 
At the center of the Academy's success are Almita and Roland Vamos; they have taught at the Music of Chicago since 1977, over forty years. With their transcendent teaching expertise, love of their students, orchestral leadership and chamber music coaching, they have been integral to developing the Academy's reputation as an essential destination for young violin and viola students with professional aspirations, as well as for conservatories and universities seeking to recruit such students.
In recognition of their stellar accomplishments, loving relationships with hundreds of current and former students, and the large number of musicians and non-musicians who admire them, the Music Institute of Chicago is establishing the Roland and Almita Vamos Violin and Viola Scholarship.
More about Roland and Almita Vamos
Roland and Almita Vamos have been faculty members at the Music Institute of Chicago for over 40 years.  Nationally recognized for their excellence in teaching, the duo has received numerous awards including the Distinguished Teacher in the Arts Award and Distinguished Service Award granted by the American String Teachers Association; six Presidential Excellence in Teaching Awards; Distinguished Teacher by the National Endowment for the Arts; and Chautauqua and Concert Artists Guild Awards.  Dr. and Mrs. Vamos have served on the faculties of Western Illinois University, University of Minnesota, Northwestern University and currently serve on the Roosevelt University faculty.  Both are graduates of The Juilliard School where they studied with Oscar Shumsky, William Lincer, Mischa Mischakoff and Louis Persinger.  Each has enjoyed a long performing career.  Dr. Vamos is a former member of the Houston and Denver Symphony Orchestras, Radio City Music Hall Orchestra, and Contemporary String Quartet with recordings on the Rizzoli and Atlantic labels.  Mrs. Vamos is a co-founder of the Westerfield Summer Music Festival.  The Vamos' recently completed a recording of works written by Chicago composers, Augusta Read Thomas, Robert Lombardo and Lazar Trachtenberg.