Back to top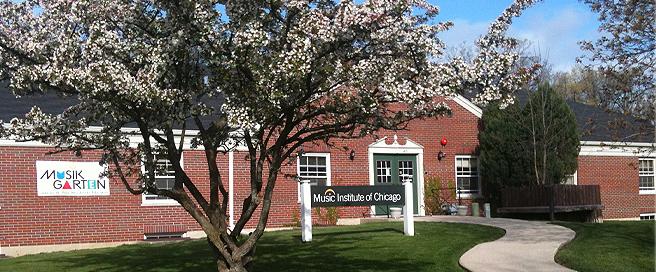 Campus Contact
Timothy Cook
Campus Director
AJ Seitz
Administrative Assistant
40 East Old Mill Road
Lake Forest, IL 60045
United States
Nestled in the Grove Cultural Campus of Lake Forest, the Music Institute of Chicago's Lake Forest Campus is a lovely setting to enjoy music education, concerts, and community fun.  We are just down the street from Deerfield High School, Northcroft Park, and the Heller Nature Center. Join us and study with gifted teachers, attend music theory classes, participate in chamber music, explore different instruments, grow as a student, and meet fellow musicians.
Campus Hours
Monday - Thursday
11:00am - 9:00pm
Facility Rental
The Music Institute of Chicago gladly rents studio and ensemble space at several campuses to outside individuals and groups seeking a place to practice and rehearse. Students enrolled in MIC classes can reserve practice studios at no charge, depending on availability.
To rent a studio, ensemble rehearsal room, or performance space (excluding Nichols Hall), please schedule an appointment with the front desk, then complete the rental agreement form making sure to select the proper campus. Please bring the agreement form with you and give to the front desk when you arrive.
The following rental fees apply to all Music Institute of Chicago campuses:
Studio - $15/hour
Mid-size ensemble room - $30/hour
Large ensemble room - $60/hour
Lake Forest Rental Details
Facilities Available:
13 studios (1 percussion studio)
4 mid-sized ensemble rooms
2 large-sized ensemble rooms
Lou Vos Recital Room ($60.00/hour)
The MIC Lake Forest Campus is handicap accessible.
Cancellation Policy for Recital Rooms (Thoresen Performance Center, Lou Vos Recital Room, and room 9 at Evanston-East): If this rental is cancelled for any reason, the renter will incur fees according to the following schedule: cancellation thirty days (30) or more in advance of the first (1st) "Rental Date", renter will pay to MIC $25.00 per date cancelled. In addition, if cancellation occurs less than thirty (30) days in advance of each "Rental Date", the lessee will pay to MIC an amount equal to one hundred percent (100%) of the total estimated fees and expenses.