Back to top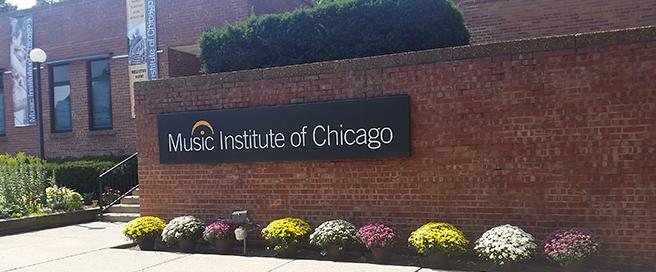 Campus Contact
Clem Leek
Campus Director
Rae Harris
Administrative Assistant
300 Green Bay Road
Winnetka, IL 60093
United States
Welcome to the Music Institute of Chicago's Winnetka Campus, where at nearly any hour of the day you will hear music being taught, practiced, appreciated, and performed!
With lessons and classes for 4-month-olds, 104-year-olds, and every age in between, the range of offerings at this location is simply awesome! Whether you are seeking a Musikgarten class for your baby or toddler, voice lessons for that upcoming theater audition, a jazz combo offering new performance outlets, an adult band or orchestra, or private lessons for your young soloist, chances are we have the class and teacher for you. And since we are conveniently located to so many northern Chicago suburbs as well as the I-94 expressway, families from all over – Winnetka, Wilmette, Glencoe, Northbrook, Northfield, Glenview, Chicago, yet also Wisconsin and Indiana – make up the wonderful musical community known as the Winnetka Campus. We hope you contact us soon so that you too can join this amazing music family!
Campus Hours
Monday - Friday
9am - 9pm
Facility Rental
The Music Institute of Chicago gladly rents studio and ensemble space at several campuses to outside individuals and groups seeking a place to practice and rehearse. Students enrolled in MIC classes can reserve practice studios at no charge, depending on availability.
To rent a studio, ensemble rehearsal room, or performance space (excluding Nichols Hall), please schedule an appointment with the front desk, then complete the rental agreement form making sure to select the proper campus. Please bring the agreement form with you and give to the front desk when you arrive.
The following rental fees apply to all Music Institute of Chicago campuses:
Studio - $15/hour
Mid-size ensemble room - $30/hour
Large ensemble room - $60/hour
Winnetka Rental Details
Facilites Available:
25 studios
4 mid-sized ensemble rooms
Thoresen Performance Center ($80.00/hour)