The Academy
The Academy, preparing to conclude its ninth academic year, is an elite pre-conservatory training center for students with extraordinary talent and remarkable career aspirations. 

Dear Prospective Academy Students,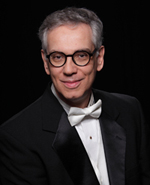 Our goal at the Academy is simple - to make you the best musician you can be. To achieve this, we offer you a curriculum with the tools you will need to be successful performers. Each aspect of the program - private instruction from world-class faculty, chamber ensemble coaching, music theory and history, orchestra or piano skills, master classes and a bevy of performance opportunities - provide you unparalleled music education. As you work through the Academy experience, keep these ideas at the front of your mind:

1. To be the most inquisitive musician
2. To be the most articulate musician
3. To be able to play as technically accurately as possible
4. To be able to move any audience I play for
With the ultimate goal of creating performers for the 21st century, the Music Institute of Chicago Academy provides brilliant young musicians the tools, knowledge, and inspiration to be the leaders in classical music performance and education.

Please don't hesitate to speak to me or to Sue Polutnik, Vice President of Administration and the Academy at the Music Institute of Chicago, if you have any questions. We are here to serve you.
Warm regards,
Jim Setapen
Director of the Academy