Back to top
Violinist Joshua Brown takes the top prize at The China International Music Competition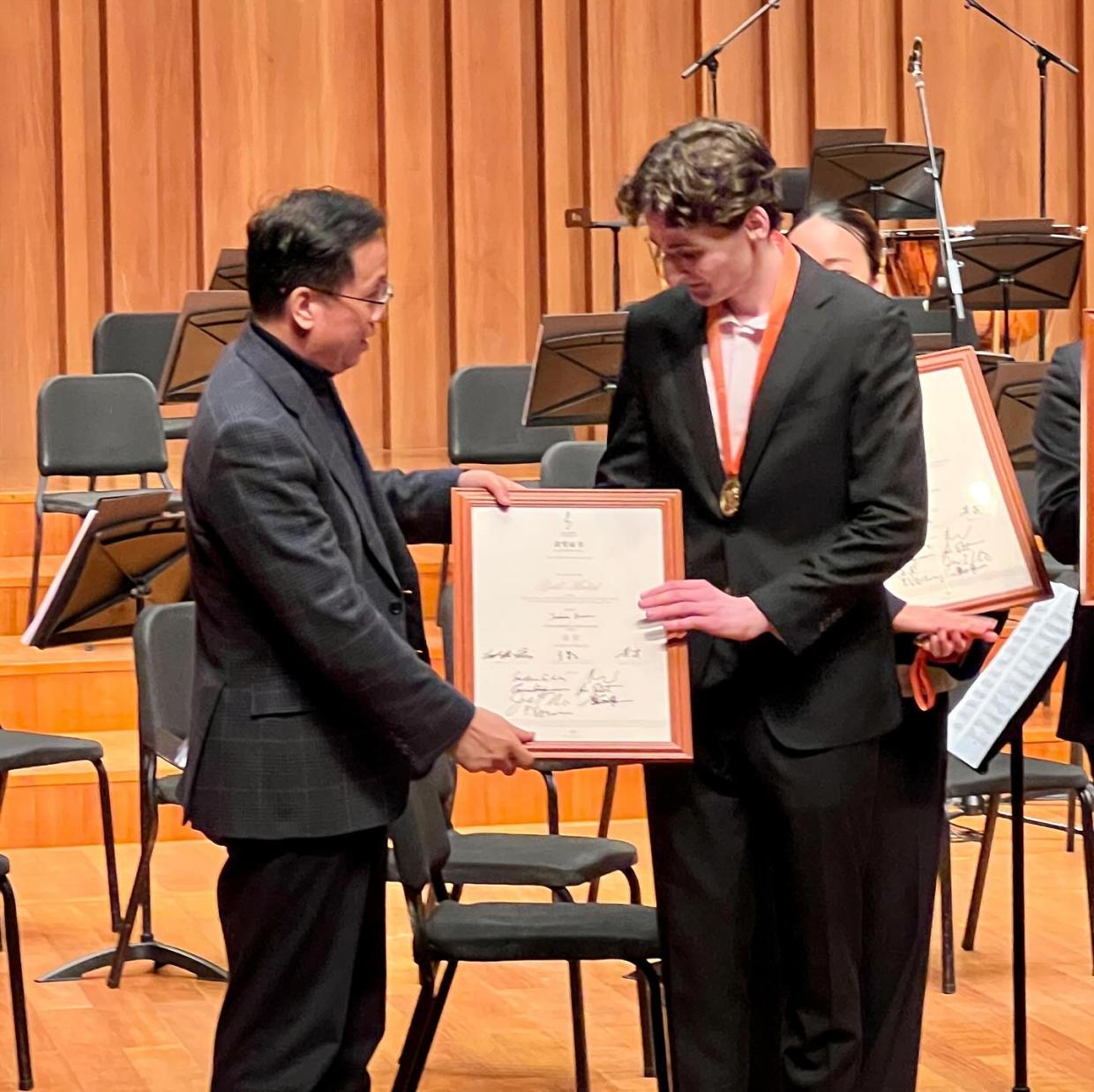 If you follow The Violin Channel, you already know the big news for former Academy student Josh Brown!
 
Academy alumnus Joshua Brown (Class of 2018) won the Gold Medal and $100,000 top prize at The China International Music Competition, alternatively known as the Global Music Education League Violin Competition (GMEL), held November 3-13, in Beijing.
The three Grand Finalists performed a major violin concerto at the National Center for the Performing Arts this past Monday. Joshua won the First prize, which comprises the cash prize, a Gold Medal, and three years of concert tours. Ellie Choi, also from the U.S. won the Second Prize and USD $ 65,000. The Third Prize and USD $ 30,000 went to Chaowen Luo from China.
 
The competition received applications from 13 countries and regions around the world. 24 violinists (five from the U.S.A.) were selected by a jury to advance to the Preliminary Round-- including Joshua and Noelle Naito, also a former Academy student. The 24 competitors performed a recital including one unaccompanied work of Bach and one violin work, both from the designated repertoire of the competition, as well as two caprices of Paganini. Twelve competitors then advanced to the Semifinal Round.  
At the First Phase of the Final Round, six violinists, including Joshua Brown, were selected to play a Mozart violin concerto, after which the competition moved from the Concert Hall of China Conservatory of Music to the National Center for the Performing Arts and the three finalists played one violin concerto. Joshua performed the Brahms Violin Concerto.
 
Joshua is also a former prize winner at the 2022 Quadrennial International Violin Competition of Indianapolis. In 2019, at the age of nineteen, He won the Tenth International Violin Competition of Leopold Mozart in Augsburg, Germany, securing the First Prize, "Mozart" Prize, the Audience Award, the Chairman of the Jury Special Prize, the Kronberg Academy Special Prize, and the CD Production Special Prize.  Following his solo debut with the Cleveland Orchestra at the age of fifteen, Joshua has performed regularly with orchestras in the United States and Europe.  
 
A recipient of the Stradivari Society of Chicago, Joshua plays on a 1679 Pietro Guarneri violin from Cremona. As a full-scholarship recipient, Joshua earned his Bachelor of Music and is pursuing his Master of Music with Donald Weilerstein at the New England Conservatory of Music (NEC). 
For the five years prior to NEC, Joshua studied with Almita and Roland Vamos at MIC's Academy as a Scholarship Fellow (recipient of both the Rachel Barton Pine Scholarship and the Alexandra C. and John D. Nichols Fellowship).
Joshua and siblings Nicholas and Isabella were all members of the Academy.

BRAVO, JOSHUA BROWN!