Back to top
1930-2023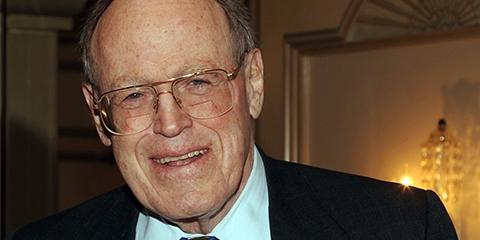 The Music Institute of Chicago mourns the loss of John D. Nichols (1930-2023), longtime friend and supporter of countless Chicago cultural institutions. President and CEO Mark George remarked, "A man who preferred to let his actions do the talking, John was a businessman and philanthropist the likes of which this world may never see again. His passion for business was equaled only by his passion for his wife, Alexandra Nichols, their children, and his family's philanthropic endeavors."
John served as Chairman of the Board and CEO of Illinois Tools Works Inc. from 1980 to 1996, President and CEO of The Marmon Group, Inc., and retired as Vice Chairman of The Marmon Group in 2013. Winner of numerous national business awards, he was named to the National Business Hall of Fame in 1999. He embraced innovation, encouraged prudent risk, and fostered local action, enabling tenfold revenue increases at the organizations he led.
His philanthropic endeavors followed the same principles and produced tremendous increases in the quality of life for Chicagoans with projects as wide-ranging as The Nichols Bridgeway linking The Art Institute of Chicago with Millenium Park and The Nichols Center at UCAN in Chicago's Lawndale neighborhood.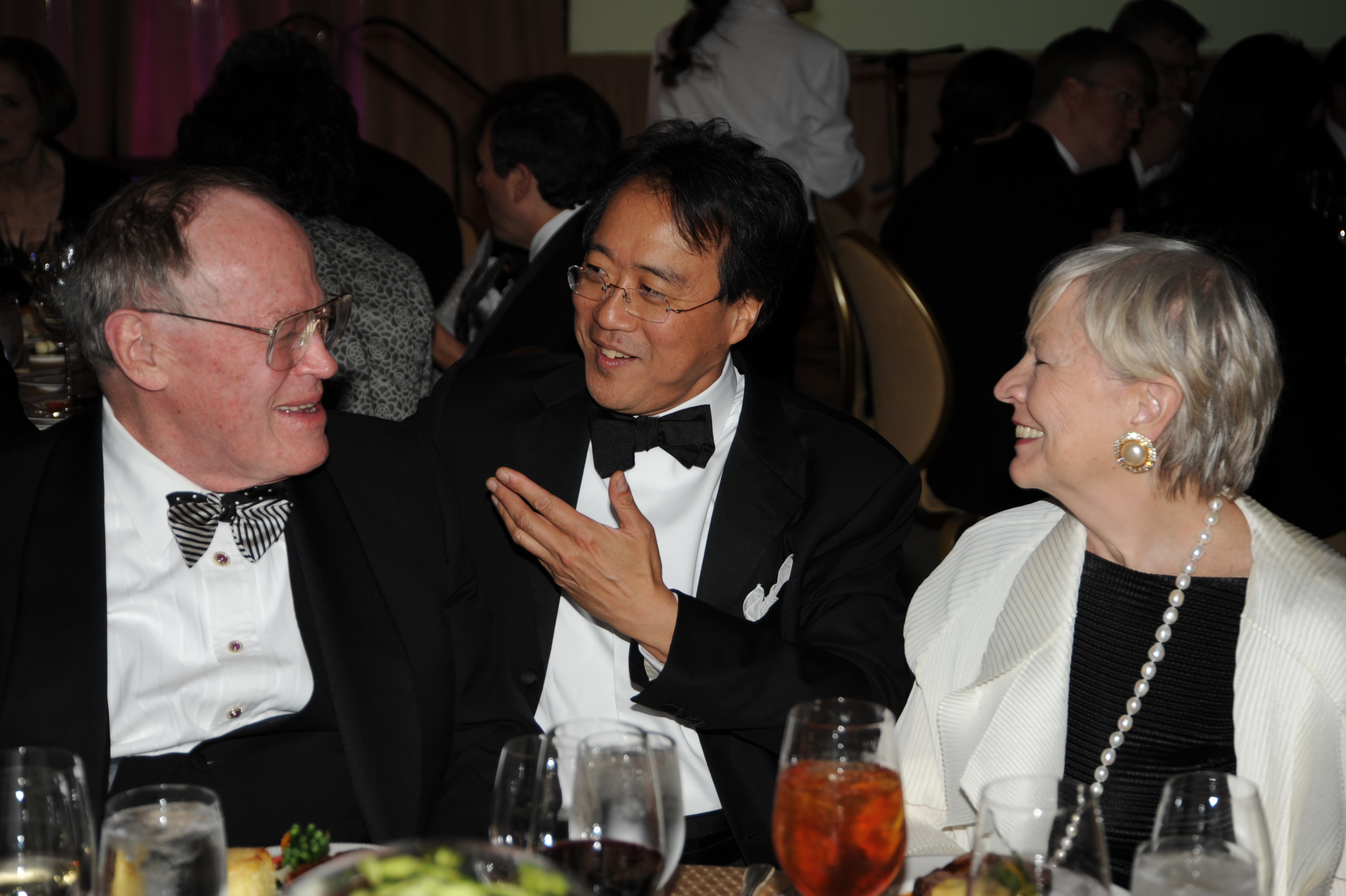 Alexandra and John served as Co-Chairs of the Music Institute of Chicago's 2010, 2011, and 2012 galas and as Honorary Gala Chairs for subsequent celebrations. In 2014, John and Alexandra Nichols received the Music Institute's 2014 Cultural Visionary Award for Chicago
John was born in Shanghai, China, on September 20, 1930, and grew up in New Jersey and Westport, Connecticut, before attending Loomis Chaffee School in Windsor, Connecticut. After, John attended Harvard University, earning a BA degree in 1953 and an MBA with distinction from Harvard Business School in 1955.
Following Harvard Business School, John served as an officer in the U. S. Army Finance Corps from 1955 to 1958. He then was director of financial controls for the International Telephone and Telegraph Corporation. He held several finance and operating positions with the Ford Motor Company, including Program Manager for the construction and operation of the NASA Manned Spacecraft Center in Houston, Texas.
In 1971, John married Alexandra Curran Nichols in New York City. Alexandra moved from New York to Newport Beach, California, where John had a home. From 1969 to 1979, he served as Executive Vice President and COO at Aerospace-General Corporation, a General Tire and Rubber Company subsidiary. In 1979, John was recruited by Silas Cathcart, President and CEO of Illinois Tool Works, to come to Chicago and serve as Executive Vice President and later President and CEO of Illinois Tool Works.
John and his family settled in Winnetka in 1981, where they have lived for 42 years. In addition to serving as President and CEO of Illinois Tool Works, John was invited to join the corporate Board of Directors of Hyatt Hotels; Household International, Inc., where he was the lead director; Morris Companies Inc.; Rockwell International Corporation; Stone Container IU; Borg-Warner Inc.; Kraft, Incorporated; Trans Union; Illinois Tool Works Inc.; and Ravenswood Winery, Inc. which he founded.
He was also an active member of civic organizations, including the Commercial Club of Chicago; the Civic Committee; the Economic Club of Chicago; and the Illinois Business Roundtable (retired).
In addition, John had many board affiliations. He was Director and Past Chairman of Junior Achievement of Chicago; Chairman and Founder of the North Lawndale Charter School; Trustee of the University of Chicago, 1986-1994; Trustee of Loomis Chaffee School in Windsor, Connecticut, 1985-1997; Trustee, Argonne National Laboratory, 1987-1994; Chairman of the Board, Teach For America, 2000-2005; Harvard University, Board of Overseers, 1994-2000; Harvard Committee on University Resources, Harvard Visiting Committee on Athletics; Harvard Graduate School of Education; Director, Museum of Science and Industry; Chicago Community Trust, past Vice Chairman; Chairman and Life Trustee, Art Institute of Chicago. He was also elected to the Junior Achievement of Chicago Hall of Fame.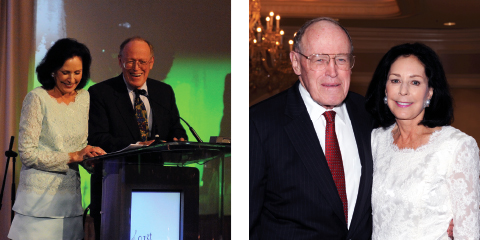 Alexandra and John served as Co-Chairs of the Music Institute of Chicago's 2010, 2011, and 2012 galas and as Honorary Gala Chairs for subsequent celebrations. In 2014, John and Alexandra Nichols received the Music Institute's 2014 Cultural Visionary Award for Chicago
John was deeply committed to the cultural arts in Chicago. He was a Trustee, then Life Trustee of the Chicago Symphony Orchestra, and a Director of the Lyric Opera of Chicago.
With his wife Alexandra, MIC Board of Trustee Chair Emerita, the Nichols' were honored by the Music Institute with the "2014 Cultural Visionary Award for Chicago" for their extraordinary civic leadership and philanthropic commitment to the arts, culture, and education. Their impact across the city of Chicago and beyond has had clear foundational significance, enriching and advancing Chicago's cultural legacy.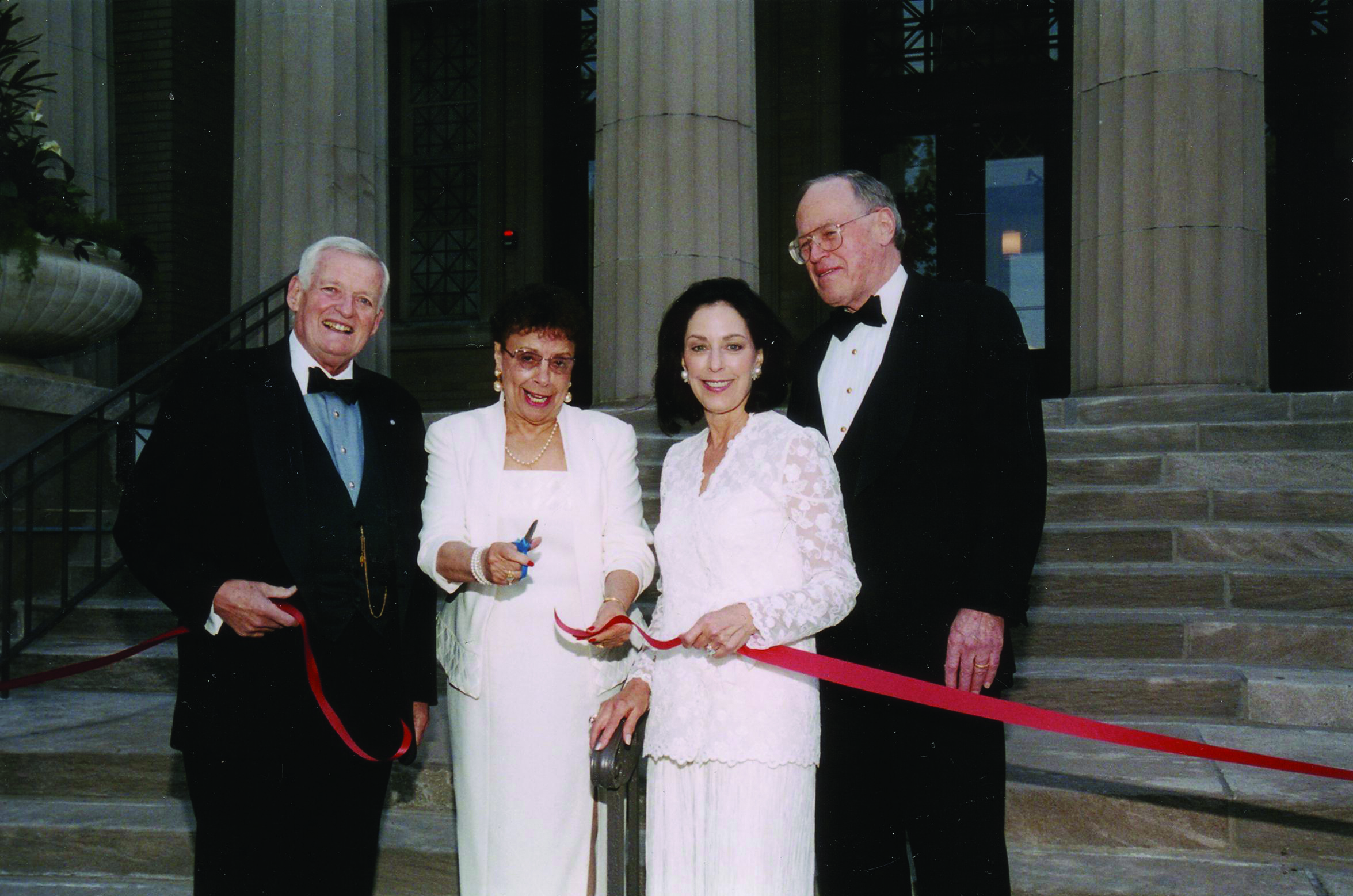 May 2003 Nichols Concert Hall ribbon-cutting.
(l to r) Music Institute President Frank Little, Evanston Mayor Lorraine H. Morton, Alexandra and John Nichols.
Of particular note for the Music Institute of Chicago, Alexandra and John's leadership in chairing the multi-million dollar "Overture for the Future Campaign" from 2000-2003 made the purchase and conversion of the century-old landmark First Church of Christ, Scientist building in Evanston into the award-winning performance and teaching facility which bears their name - Nichols Concert Hall. This world-class, acoustically perfect, architecturally significant center for the study and performance of music earned an award from the Landmarks Preservation Council of Illinois for best adaptive use and has proved transformative for the Music Institute, the city of Evanston, and the larger North Shore community. Since opening in 2003, Nichols Concert Hall has welcomed more than a quarter of a million community members for concerts, recitals, and community celebrations.
A true Renaissance man, John will always be remembered for his wit, exceptional intelligence, and integrity.
John was a devoted husband to his wife, Alexandra, to whom he was married for 53 years, and a loving father to his daughter, Kendra Nichols Wallace, and his son, John Doane Nichols, III. He is also survived by his daughter-in-law, Brenna Kathleen Nichols, son-in-law Thys Wallace, and his grandchildren, Mandarin Brooke Wallace, Stella Marine Wallace, Denym Thys Wallace, John Doane Nichols, IV, and Bauer Michael Nichols.