Where are they now? Violin alumnus, Giancarlo Latta
Giancarlo Latta, violin | MIC Academy graduating class of 2013
Following his time at the Academy, Giancarlo attended Rice University where he studied with Paul Kantor and he continued at Rice for his Master's degree as well. During his years at Rice, he participated in the New York String Orchestra Seminar and the Britten-Pears Young Artist Programme, and was a founding member of the Houston-based conductorless ensemble Kinetic. He developed a strong interest in contemporary music and worked with many composers at Rice and elsewhere on commissions and new works.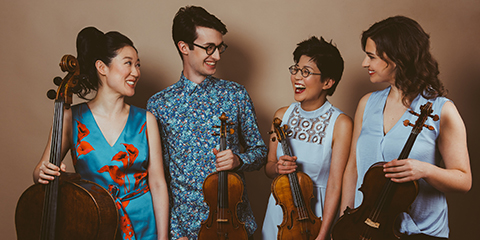 In his final semester at Rice, he joined the New York City-based Argus Quartet, and moved to New York in the summer of 2019.
Latta said, "Argus was a dream job for me because of the group's commitment to both traditional and contemporary repertoire. Plus, some of my fondest memories from my days at MIC were the opportunities I had to play in string quartets with my friends and colleagues, so I knew being in a quartet was something I wanted. Before COVID, the Quartet's season took us to LA, Syracuse, Iowa, upstate NY, and Lincoln Center in New York City.

I would truly not be where I am today without the Academy and my wonderful teachers there, Almita and Roland Vamos. The program provided exactly what I needed in high school to point me towards what I wanted to do, and for that I'm eternally thankful."
This summer (July 27-31) Latta and Argus Quartet are offering a 5-day virtual workshop for violinists, violists, and cellists aged 14 - 19.