Back to top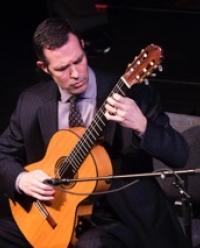 Guitar Faculty
At MIC for 9 years 3 months
Email
sramsdell@musicinst.org
Courses
Private Instruction
Classical Guitar
Folk/Jazz Guitar
Education
BM     Classical Guitar, Northwestern University
MM   Jazz Pedagogy, Northwestern University
Additional Studies / Recent Awards / Recordings
Significant teachers and mentors: 
Anne Waller, Paul Berliner, and David Bloom
Trips to New York, Cuba and Brazil to study with master musicians

CDs of original compositions: Steve Ramsdell Group(94) and Looking For (2005)

I stay on top of developments in Jazz and contemporary music.
Basic Teaching Philosophy or Special Music Interests/Specialties
Steve's philosophy on teaching focuses on where the students are, and then using that to try to meet them at that level and go from there. The goal with this is that over time he and the student will focus on technique, applied theory, listening, and repertoire in order to develop the overall musicianship needed to play at a high level. Considering that different styles of playing develop different skill sets, he enjoys working with Classical, Jazz, and other popular styles.
Professional Affiliations & Activities
Awards and achievements: 
Mr. Ramsdell performs commercial music, original music as a leader, jazz classics, and solo classical music. Some of his performance highlights include New Year's Eve celebrations at Mandalay Bay in Las Vegas, his original music at SPACE in Evanston, performances with Spider Saloff at the Iridium in New York, and shows with Matt Geraghty at Ondojazz in Lisbon and the Chicago Jazz Fest. His musical arrangements can be heard on Spider Saloff's CD 'Like Glass' while his original compositions appear on his release 'Looking For...' and his first CD, 'Steve Ramsdell Group'. As a teacher with decades of experience, Steve works with all levels of guitarists, striving to help his students develop the skills needed to pursue their musical goals.
Professional affiliations & activities: 
In addition to all of Mr. Ramsdell's achievements, he is also on the faculty at Wheaton College and College of Du Page. Furthermore, he performs professionally in myriad styles as a soloist and in small and large ensembles as well.
Currently affiliated with Arlen Music for performances

Research and presentations / publications: 
Editorial Work on Paul Berliner's book "Thinking in Jazz"
Interview with jazz guitarist John Abercrombie in the IAJE journal(1996)
Participated in Folkloric Workshops in Brazil (1997) and Cuba (1998)
Interests/hobbies outside of music
Why study music?
What does music mean to you?
What do you love about playing your instrument?
Why study music:
I find music to be a demanding and rewarding daily challenge. I particularly enjoy the contrast between between jazz and classical...each style seems to appeal to a different side of my personality. There is so much amazing music to work on!

Interests/hobbies outside of music:
I also enjoy working out and reading a broad range of subjects and fiction.
Anything else we should know?
Favorite practice tip: 
Empty your hands!
Favorite composer or piece to play: 
Bach, Villa-Lobos, Bebop and original compositions.