Gala Benefit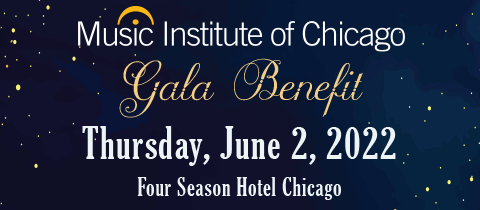 An inspiring evening in support of high-quality and accessible music education for all! The MIC 2022 Gala featured student and alumni performances and a special finale featuring violinist Hilary Hahn performing with Music Institute students.
Honoring

Nancy and Scott Santi
2022 Cultural Visionary Award for Chicago

Hilary Hahn
2022 Dushkin Award

Dr. Tanya L. Carey
2022 Richard D. Colburn Award for Teaching Excellence

Honorary Chairs
Peter Dushkin  •  Alexandra C. and John D. Nichols  •  Deborah Rutter

Co-Chairs 
Carlos R. Cárdenas  •  Hans and Denitta Germann  •  Catherine M. and Frederick H. Waddell

---
Renowned for its innovative teaching approaches, a first-rate faculty featuring some of the most outstanding musicians and music educators in the country, and a fundamental drive to ensure equitable access to quality music education, the Music Institute of Chicago harnesses the power of music to educate and inspire. 
All proceeds from the Music Institute's annual Gala Benefit support:
financial aid and scholarship offerings that allow students to embark on their musical journey regardless of their financial means,
tuition-free community engagement and schools programming that transcend participation barriers, and,
neighborhood-based service activities that ensure an accessible and diverse learning experience for all Chicagoland residents.