Back to top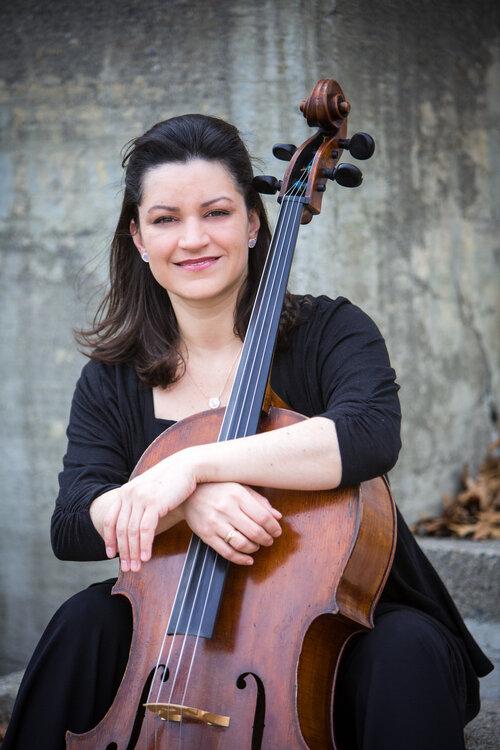 Kate Ann Photography
Cello Faculty (Suzuki and Traditional)
Email
bdaviladoprado@musicinst.org
Courses
Private Instruction
Suzuki and Traditional Cello
Evanston Outreach Cello Program lessons and Group Classes
Education
MM, Cello Performance and String Pedagogy, Illinois State University (Dr. Adriana Ransom,
             Dr. Cora Swenson-Lee)
BM, Universidade Federal de Santa Maria, Brazil (Dr. Angela Ferrari)
Additional Studies / Recent Awards / Recordings
Suzuki Training, Books 1-5 (with David Evenchick, Tanya Carey and Sally Gross)

Clases Grupales with Andrea Espinzo

Completed her studies under Dr. Adriana Ransom and Dr. Cora Swenson-Lee -
Receiving a scholarship to work as a Graduate Assistant for the ISU String Project and was the ISU Symphony Orchestra Principal Cello, Illinois State University

My composition Brazilian Habanera for Strings was one of the five pieces selected to be part of the "Beginning Level Volumes of the Celebrating Diversity in String Music Anthology", promoted by the University of Tennessee-Knoxville with a prize awarded by the Sphinx Venture Fund.  This collection of music will be published and distributed to schools in the United States.

I recorded six CD's with Camerata Ontoarte. With this group I had the opportunity to travel and perform in Brazil, Italy and Russia.

I also recorded the CD a Lua de Santiago, with music composed by Fernando Avila for Accordion and String Quintet.
Basic Teaching Philosophy or Special Music Interests/Specialties
I love playing the cello and my main goal as a teacher is to help the students learning to love it as much as I do. That all comes from a positive and diligent approach to effective practice so they can develop their skills in a way they can sound good and have fun while learning and discovering their potential as musicians.

Besides playing and teaching the cello I like to research and write about music and learning. My article "Setting Habits for Success: How Being a Suzuki Student Can Transform Your Child's Brain" was published in the American Suzuki Journal in November 2021.

I've been also working on making Brazilian music for strings more well known and performed in the US.  My article "Teaching Diversity: Four Brazilian Pieces for String Orchestra", was published in the Scroll Magazine from the Illinois ASTA.

Another article, titled "Viajando Pelo Brasil I, Suite for Strings: A Fun way to Explore the Richness of Brazilian Culture and Music" was published in the American String Teacher Magazine in May 2022.
Professional Affiliations & Activities
Fall 2021  - Online Cello Instructor at University of Idaho Preparatory Division 

Year 2021 - Head of the Cello Program at the Suzuki String Academy, in Sandpoint, Idaho
     At SSA she taught private cello lessons, Cello Choir, Mommy and Me Cello Class, Vivace Adult Cello
     Ensemble, Beginner and Intermediate Chamber Ensembles and Junior Orchestra at the Sandpoint
      Christian School.

Principal Cello of the North Idaho Philarmonia

Invited to teach at Festivals in Brazil and in the US:
       Illinois State University String Project Summer Camp in 2019 and 2020
       XXI, XXII and XIV Encontro de Violoncelos do RS, in Brazil
      Cello instructor, First Sandpoint Summer Strings Festival

Adjudicator and committee member:
3rd Concurso Jovem Violoncelista Jean-Jacques Pagnot (BR)
and the First Sandpoint Summer Strings Festival Adjudication (US)

2011 to 2018, Brazil:
Taught Suzuki Cello at Escola Tio Zequinha and was a member of Theatro São Pedro Chamber Orchestra Member, Quatricelli Cello Quartet
Winner of the "Premio Funarte de Concertos Didaticos" in 2014
A few of my favorite things:
I love that through my cello I've been having incredible opportunities to go places and meet wonderful people from all over the world. I love to see how music can connect independent of their language, age or ethnicity.

What does music mean to you:
Music is a powerful tool to bring people together, to create better citizens and to bring peace, joy and beauty to the the world. I love to be on stage and bring to life ideas that so many amazing composers had in their minds through their music. And I also love that I can change lives by sharing my knowledge and love for the cello with my students.

Interests/hobbies outside of music:  
I am Brazilian, but my great-grandparents came from Italy, so I enjoy cooking and eating Brazilian and Italian family recipes because that reminds me from home. I also love traveling and taking long walks appreciating the beauty of nature and taking pictures from the places I'm at to share with friends and family around the world.
Related News