Barbara Ann Martin on working with composer George Crumb
George Crumb and Barbara Martin in 2003 at Nichols Concert Hall

A conversation with Barbara Ann Martin, MIC Voice Department Chair and mezzo-soprano
Barbara Ann Martin has performed throughout the United States, Europe and Asia, appearing at major music festivals such as Aspen, Boulder, Ravinia, Caramoor, Huddersfield, Adelaide, and Salzburg. A well-known interpreter of the works of American composer George Crumb, she has sung his master-work Ancient Voices of Children with the Chicago Symphony Orchestra, the Berlin and New York Philharmonics, the Vienna Symphony Orchestra, the Maggio Musicale, the Montreal Symphony, and the Israel Philharmonic to critical acclaim. Her opera appearances include the Metropolitan, Chicago (as guest artist with the Lyric Opera Center), Central City, New Jersey State, and Minnesota opera companies. Martin's recordings feature works by Dominick Argento, Milton Babbitt, Crumb, Alan Hovhaness, Karel Husa, Patricia Morehead, George Rochberg, Augusta Read Thomas, Virgil Thomson, Louise Talma, and Chinary Ung. She is the featured soloist with James Freeman and Orchestra 2001 on the 2010 Grammy-nominated CD A Journey Beyond Time and The Winds of Destiny, two major song cycles written for her by George Crumb. Martin has been a guest professor at the International Summer Academy Mozarteum in Salzburg and the Royal Danish and Odense Conservatories in Denmark. She has served on the faculties of Bennington College and CUNY at Brooklyn and is currently Voice Department Chair at the Music Institute of Chicago.
---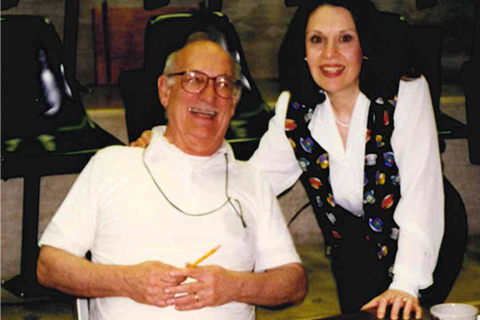 Ancient Voices Recording Session - 1998 George Crumb and Barbara Martin
You have known George Crumb for a long time. How did you meet him and develop your long working relationship?
I met George and his entire family at the Bowdoin Summer Music Festival in Brunswick, Maine at least 45 years ago. Lewis Kaplan, violinist with the Aeolian Chamber Ensemble and director of the festival, asked me to perform Ancient Voices during the summer that George was composer in residence.
I had already fallen in love with the piece, having heard the original recording by Jan De Gaetani, with Arthur Weisberg conducting the Contemporary Chamber Ensemble. Through the best networking I have ever experienced, it all started at Juilliard. I had a course with American composer Jacob Druckman, who asked me to improvise with him for a piece he wanted to write. He used my improv to create "Animus 2," which Jan De Gaetani premiered. When she became a superstar after premiering Ancient Voices, there were too many concerts for her to fill, so Arthur brought me in as her backup. One day, when we were doing a workshop at the Library of Congress, I actually had the nerve to sing the first page of Ancient Voices by myself for the conductor and ensemble that had created it! From that point on, Arthur took me under his wing and taught me the nuances of the score and other Crumb works, like Night of the Four Moons, which I'm performing on the second night of this weekend's festival. So when I sang it for George at Bowdoin, I already knew his artistic intentions. (Lewis told me that after I had sung through the piece, George turned to him and stated, "Jan has met her match!") From that point on, I was with George and his wife Liz and children Ann, David and Peter during many performances and workshops, as well as at their house in Media, Pennsylvania. It felt as if they had adopted me, and George and Liz became family—like my aunt and uncle. Peter, their youngest son, and I share the same birthdate—July 20, which we discovered when we were together again at the Bowdoin Festival. I was performing Four Moons, which was written during the moon landing—on our birthday!
 Premiere of Journey Beyond Time-George Crumb, Barbara Martin, and Jim Freeman-conductor
What is different about preparing George Crumb's music for voice, compared to more traditional classical vocal works?
In some respects, it is actually quite similar. Whether a singer is learning an operatic aria or a pop song or a musical theatre song, you have to master the basics, what the composer is asking of you. You have to learn the pitches, melodic line, rhythms, demands of language and diction, coordination with the instrumental accompaniment, and the inherent dramatic properties of the piece. In his writing, George has expanded the range of "the basics." He incorporates new ways of using the voice that are uncommon or unknown in standard repertoire. Humming, nature sounds (like trying to sound like a fly or a turtledove!), wind sounds, "sprech-stimme" (singing-speech), etc. There is a unique sonic world that George taps into, and he makes us more aware of what's around us and within us.
In redefining how we use our voices, it is absolutely essential that a singer has a solid understanding of vocal technique, breathing, alignment, movement, etc. And solid musicianship is vitally important. To be able to sing George's more "advanced" sense of the melodic line means having an excellent ear for unfamiliar pitch patterns. One has to be alert to take one's cues from instruments and develop an awareness of how to match tones with them and blend when necessary.
Putting this all together—we have to make it look easy, sound gorgeous, and wear a great outfit!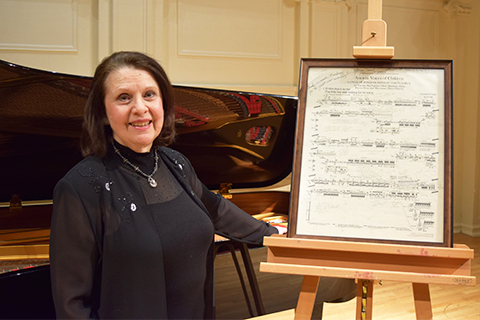 Barbara Martin with George Crumb score on stage at Nichols Concert Hall
What aspects of this special festival are particularly exciting/noteworthy? What should audiences especially watch/listen for?
First of all, the quality of the musicians involved is extraordinary! Each one has mastered George's "language" and is representative of the best interpreters of his style. They are dynamic performers and master craftsmen. There is an excellent variety of chamber works that show George's phenomenal writing for instruments and voice. He is capable of many different colors, many different ways of using our instruments, both traditional and innovative.
When the audiences come to these events, they should be prepared to be amazed! George presents us with a new language—new possibilities and new worlds, both within ourselves and in the concert hall. One has to have a sense of childlike wonder and a sense of discovery. We have to hear his music with an open mind and open heart. What am I going to experience next? There is a sense of adventure in stepping out into…the unknown. We cannot sit back and allow the music to just flow over us—although there are moments of great beauty when one may choose to do that. We must be active participants in these concerts—almost as much as those of us who will be performing onstage. We have to be aware of what the music is doing to us, how it is resonating through our bodies, our minds, our spirits. Sometimes what we experience can be uncomfortable, not just unfamiliar. We may resist where the music is taking us. Many different emotions can be stirred within us—joy, love, fear, confusion, unity, and so much more. 
I deeply believe that the music of George Crumb is vital for our time. In the final movement of Ancient Voices of Children, there is an impassioned plea for a return to lost innocence, to that perfect union with the macrocosm that brings wholeness and peace. And HOPE!
Barbara Ann Martin performs on both programs of the Music Institute's George Crumb Festival
Read Howard Reich's Chicago Tribune Preview of the Festival >>
The George Crumb Festival concerts take place Friday, January 31 and Saturday, February 1, 2020 at Nichols Concert Hall, 1490 Chicago Avenue in Evanston and includes concerts, a special panel discussion with composer William Neiil and Barbara Ann Martin and an exhibition. Tickets are $25 in advance, $30 at the door; a Festival pass for both concerts is $40. Tickets & Complete Information >>