Claire Aebersold and Ralph Neiweem
Location:
Nichols Concert Hall live stream - access at musicinst.org/nch-live
Contact:
Fiona Queen | fqueen@musicinst.org
---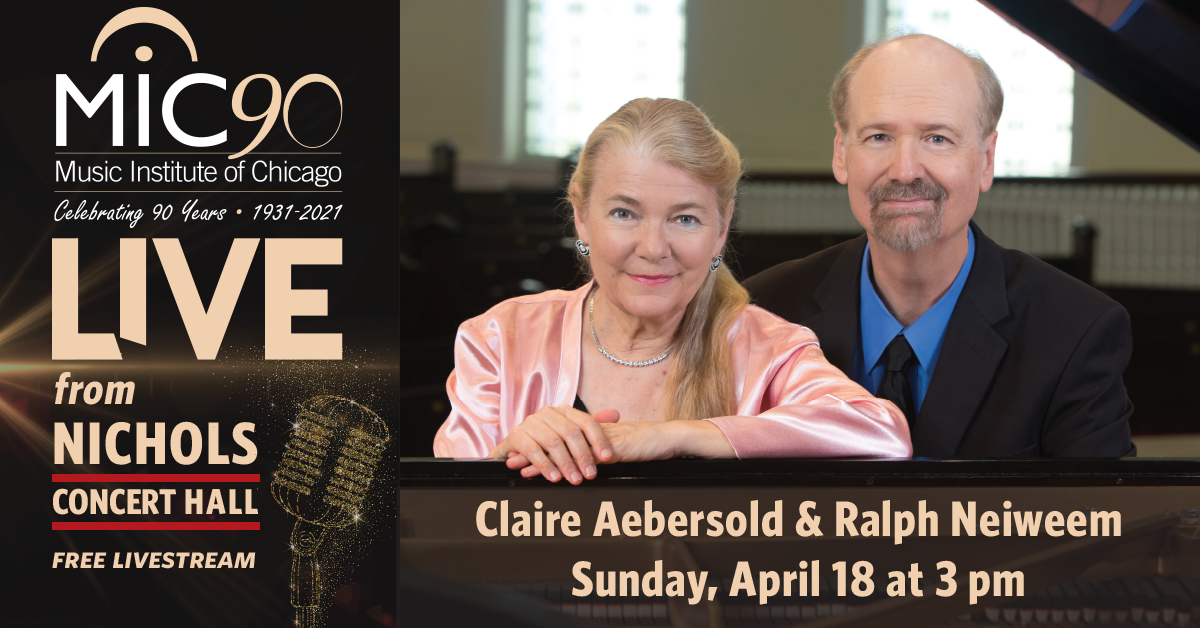 The Music Institute of Chicago opens its concert home to family homes worldwide through the presentation of "Live from Nichols Concert Hall," a free chamber music series April 11–May 2 streamed live from its historic Nichols Concert Hall. This series is part of the Music Institute's 90th anniversary year, which celebrates innovation, access, and excellence in music education, service to the community, and music performance.
 
Celebrating 40 years as a piano duo, Music Institute artists in residence and faculty members Claire Aebersold and Ralph Neiweem enjoy an international career as proponents of music for both piano duet and two keyboards. They have appeared with orchestras internationally, including the Chicago Philharmonic and the Vienna Tonkünstler, and performed in recitals throughout the U.S. and Europe. They have commissioned significant new works for the piano duo, including pieces by Joseph Turrin and Patrick Byers. The duo's CDs on the Summit label include Four Hand Reflections and music of Brahms and Schubert. They are founders of the Music Institute's Chicago Duo Piano Festival and the Chicago International Duo Piano Competition.
PROGRAM
Schubert: Rondo in A Major, D. 951  
Schubert: Divertissement à la Hongroise, D. 818  
Liszt: Bénédiction de Dieu dans la Solitude  
Liszt: Les Préludes (Poeme Symphonique)