Back to top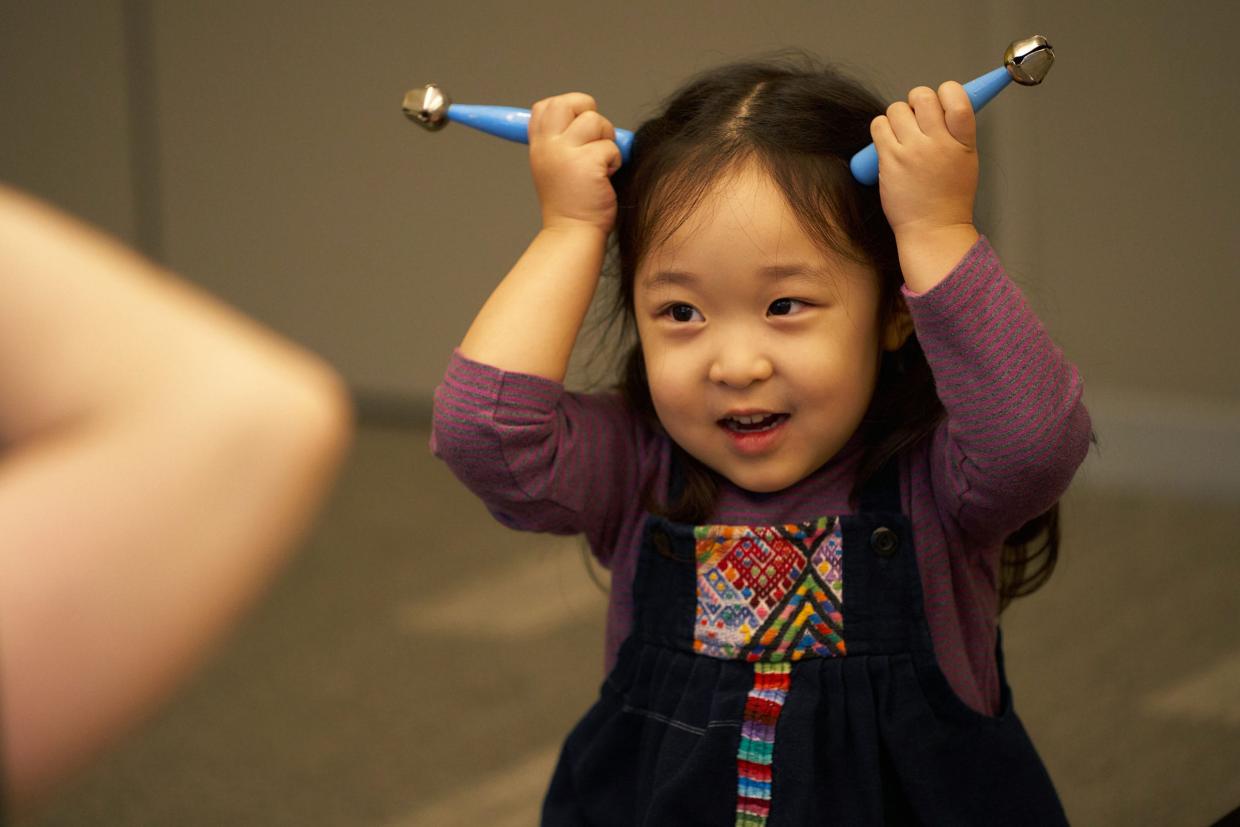 Musikgarten®
Early Childhood Music and Movement Classes
MIC Musikgarten® classes offer a comprehensive, sequential plan for the musical development of children, birth to age seven, in a joyful and stimulating educational environment. Specialists agree that early exposure to music plays an important role in children's emotional, intellectual and social development. Developmentally appropriate activities build fundamental musical skills and help prepare children for a wide range of music and school activities.
New participants and continuing students may register online. Musikgarten® classes are available in fall and spring (15 week semesters) and summer (6 week session) at multiple MIC campus locations.
---
Musikgarten: Family Music for Babies
(birth-18 months)
Play musically with your baby through bouncing and rocking songs, wiggle and peek-a-boo games, dancing, moving, and singing. Activities will increase your child's curiosity about music, develop listening skills and a sense of beat, and establish the foundation for singing and musical thought. An adult must accompany each child.
Musikgarten: Family Music for Toddlers
(16 months-3 years)
Develop a strong musical bond with your toddler while singing, chanting, moving, dancing, listening and playing simple instruments. These activities bridge the natural connection between music and movement while enhancing and further developing your child's musical aptitude and listening abilities. Classes provide an active, hands-on musical environment appropriate for this age. An adult must accompany each child.
Musikgarten - The Cycle of Seasons
(ages 3-5)
Celebrate your child's love of nature and growing independence through activities that focus on the joys of seasons of the year. Classes are designed to build attention span, self-expression, and language development. Components include singing, chanting, moving, focused listening, musical games, instrument exploration, creative movement, as well as stories for children to act out and embellish.  An adult must accompany each child.
Musikgarten: Music Makers I - At Home in the World
(ages 4-6)
Students will develop skills to establish the foundation for musical literacy, expand their listening capabilities, build self-discipline and social skills through ensemble development, and cultivate skills that impact all academic learning.  Class activities and objectives include dramatizing folk tales, coordinating body and voice, training the ear, and establishing fundamental musical skills. An adult must accompany each child.
Musikgarten: Music Makers II - Around the World
(ages 5-7)
This class explores the music of the British Isles, Germany and our Amerindian and African American heritage.  It features songs, dances, stories, rituals and customs of these cultures to enhance your child's cultural awareness.  The curriculum builds on skills for developing music literacy, including symbolic thinking, concentration, and memory and incorporates activities for self-expression, creative movement, and ensemble work.  An adult must accompany each child.