Back to top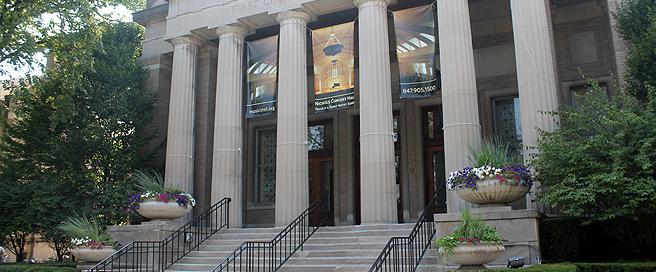 Campus Contact
Patrick O'Malley
Campus Director
Maria Alfaro
Administrative Assistant
1490 Chicago Avenue
Evanston, IL 60201
United States
Welcome to the Music Institute of Chicago's Evanston Campus. For more than 90 years, we have offered a wide range of private lessons and group classes to students of all ages. You can learn from our expert, supportive faculty in person - or online.
With teaching studios and rehearsal rooms, students of all ages are engaged in weekly private lessons, group classes, ensemble rehearsals, and many other musical activities.
Our friendly reception staff is ready to assist with registration, billing, and room scheduling questions. They also can provide parking meter change and restaurant recommendations. The Evanston Campus is also the home of Nichols Concert Hall, an elegant performance venue that presents concerts featuring not only MIC students and faculty, but numerous other Chicago-area artists and ensembles.
Campus Hours
Wednesday & Friday
9:15am - 8:00pm
Parking and Transportation
We are easily accessible by public transportation, with the Davis Street Purple Line CTA and Metra stations located within walking distance. Street parking is available, some spots are metered, accepting coins or credit cards. Please check local signs, which vary block by block. This Parking & Transportation Map shows nearby train stations and parking garages.
Facility Rental
The Music Institute of Chicago gladly rents studio and ensemble space at several campuses to outside individuals and groups seeking a place to practice and rehearse. Students enrolled in MIC classes can reserve practice studios at no charge, depending on availability.
To rent a studio, ensemble rehearsal room, or performance space (excluding Nichols Hall), please schedule an appointment with the front desk, then complete the rental agreement form making sure to select the proper campus. Please bring the agreement form with you and give to the front desk when you arrive.
The following rental fees apply to all Music Institute of Chicago campuses:
Studio - $15/hour
Mid-size ensemble room - $30/hour
Large ensemble room - $60/hour
Evanston East Rental Details
Facilities Available:
7 studios
2 mid-size ensemble rooms
1 large ensemble room
Cancellation Policy for Recital Rooms (Thoresen Performance Center, Lou Vos Recital Room, and room 9 at Evanston-East): If this rental is cancelled for any reason, the renter will incur fees according to the following schedule: cancellation thirty days (30) or more in advance of the first (1st) "Rental Date", renter will pay to MIC $25.00 per date cancelled. In addition, if cancellation occurs less than thirty (30) days in advance of each "Rental Date", the lessee will pay to MIC an amount equal to one hundred percent (100%) of the total estimated fees and expenses.