Meet Academy Alumna Samantha Bennett
---

Samantha Bennett, violin  |  Academy graduating class of 2008
Where are they now?  In celebration of the Academy's 10th year, MIC took time to catch up with alumni of the program.
Hailed by the Chicago Tribune as a violinist "requiring no caveats, full of subtlety and poise," Samantha Bennett is an active and varied performer around the nation. She was recently appointed to the violin section of The Florida Orchestra, beginning September 2015. She performs regularly with Boston Symphony Orchestra, Boston Pops, and Sarasota Orchestra and is a frequent Guest Concertmaster of the New Haven Symphony.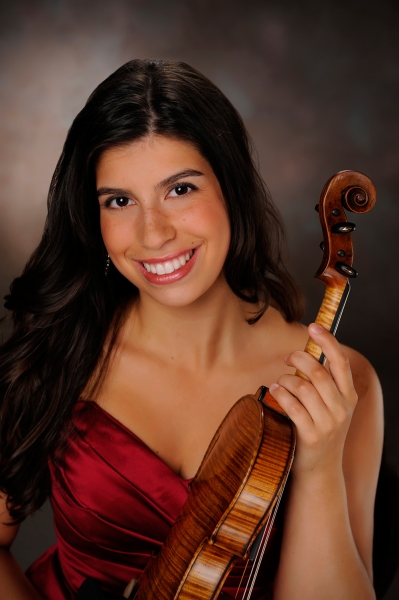 As a recitalist, she has performed in Boston's Jordan Hall, London's Wigmore Hall, and Zankel Hall at Carnegie Hall. She is a prize winner as both soloist and chamber musician at the MTNA and ASTA national competitions, the Chicago Union League Civic and Arts Competition, Saint Paul String Quartet Competition, Fischoff National Chamber Music Competition, and the Johansen International Competition. She has participated in the internationally renowned Lucerne Festival Academy, Spoleto Festival USA, the Music Academy of the West, and the Tanglewood Music Festival, where she was awarded the 2013 Jules C. Reiner Violin Prize. She had the privilege of performing at Tanglewood as a 2014 New Fromm Player, a group of Tanglewood Music Center alumni who specialize in contemporary music performance, and will return to that position in June 2015. The New Fromm Players performed new works to critical acclaim as Ensemble­In­Residence at the 5th Anniversary of renowned composer Bright Sheng's contemporary music festival, The Intimacy of Creativity 2015, in Hong Kong (May 2015). Also as part of the TMC, she accompanied legendary soloists Yo­Yo Ma, Anne Sophie Mutter, Gil Shaham, and Emanuel Ax as part of the PBS broadcast Tanglewood's 75th Anniversary Celebration.
A fierce advocate of new music, she has premiered works by Gunther Schuller, Toshio Hosokawa, Oliver Knussen, John Cage, George Benjamin, Augusta Read Thomas, and Philip Glass. Additionally, she recently co­founded a new music collective, ensemblenewSRQ, with percussionist George Nickson based in Sarasota, Florida. A native of Ames, Iowa, she completed her bachelor's and master's degrees at the New England Conservatory studying with Donald Weilerstein and Malcolm Lowe. Prior to her conservatory studies, she studied with Roland and Almita Vamos at the Music Institute of Chicago.
What was most beneficial about studying with Mr. and Ms. Vamos and your time at the Academy?
I truly believe that studying with Mr. and Mrs. Vamos was the single most important part of my early music training. Their incredible guidance, not only with matters of music, gave me a foundation that is invaluable. I owe so much of my perseverance, creativity, and passion to them: they saw something in me that could grow, that could achieve something great, and they nurtured it and brought it to the surface. I learned so much from them outside of lessons as well. They built a family for us all: they taught us generosity of spirit, sacrifice, and a willingness to help others and do whatever it takes to make something great.
My time with them at the Academy could not have happened at a better point in my career. I was a junior in high school and beginning to think about the prospect of colleges and conservatories. It was an exciting time to be involved with the Music Institute. It felt like we were on the brink of something bigger than ourselves—both in terms of the Academy and the changes happening at the Music Institute and in my own life. Being there at the beginning gave us all a small proprietary sense of ownership: we could take this new thing and be a part of its development. I felt valued personally and musically; I felt the belief of everyone at the Music Institute behind me. Saturdays at the Academy were the absolute highlight of my week. On top of everything I was learning, it was so much fun to be with my friends playing music all day. I still have inside jokes and hilarious memories that keep me connected to everyone from those Music Institute days. It really was the best time. 
The Academy gave me other opportunities that, in combination with the Vamoses' tutelage, set me up for a career in the best possible way. During my time at the Academy, I first fell in love with the orchestral repertoire. Working with Mr. Vamos on pieces like Bartok Divertimento, Suk and Tchaikovsky Serenades, and Mahler's Adagietto gave me the first glimpse of what one voice could do in context with a whole sea of voices. This was something that excited me deeply. While I didn't necessarily know it at the time, this feeling was what grew into my ultimate desire to become an orchestral musician. Every time I play one of these pieces, I cannot help but remember vividly the first times I played them, years ago. Still, there are no pieces in the orchestral repertoire that I know better or more fully than the ones we worked on with Mr. Vamos.
What were some highlights during your time at the Academy?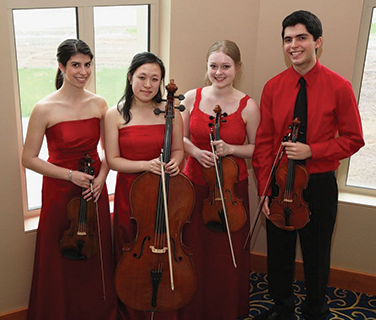 At the Academy I was so incredibly lucky to be a part of a great quartet, Ridere, with Ryan Meehan, Emma Steele, and Mindy Park. The four of us bonded pretty instantly, musically and personality-wise. We had some great successes, winning the St. Paul String Quartet Competition, winning Silver at Fischoff, recording an episode of From the Top's Live From Carnegie Hall, among other highlights.
How do you think the Academy prepared you for conservatory training?
With the quartet I learned to trust others musically. We played and listened to each other. There was no judgment, only respect and inspiration. I learned to value time spent with each other, but away from the instrument. Those unspoken moments strengthened my musical instincts and trained me to be an empathetic musician and person. All of these aspects prepared me for my eventual conservatory training. I got my bachelor's and master's degrees at the New England Conservatory in Boston. Looking back, my Saturdays at the Academy gave me a pretty exact taste of what daily life would be like in a conservatory: a bit of music theory, quartet coaching, break for lunch, orchestra rehearsal, more rehearsal (sometimes minus a break for lunch :) ). I felt like I had a leg up in many ways because I already felt like the capsular music world was familiar to me. I was able to dive right in the conservatory life and build on the experiences I gained on my Saturdays at the Music Institute. The Academy provided me with the space and opportunity to blossom as a young musician. 
What is your current position?

I currently hold a violin position with The Florida Orchestra (Michael Francis, Music Director). I won my job last May (2015) and started in September. I absolutely love my job. It has been a dream come true to play great repertoire every week under great conductors with a great group of musicians, and so far my time with the orchestra has been that and more.
Do you have thoughts about where you see yourself in five years?
Ultimately, I have always dreamed of being in a leadership position (concertmaster or principal second of an orchestra) so ideally, that's where I picture myself in five years. Thank you to Mr. and Mrs. Vamos, and to everyone at the Music Institute, for giving me my foundation. I still feel that support and belief in me every day!