Music Institute Students Triumph at MTNA Composition Competition
February 1, 2016
By Jill Chukerman
A student musician often spends many hours mastering an instrument and perfecting its repertoire, but some take their musical efforts to the next level by creating music to play on their instruments.
Such is the case for Andrew Guo and Holden Mui, who study piano and composition at the Music Institute. Recently, they earned recognition for their talents at the Music Teachers National Association's (MTNA) 2015 Composition Competition: after winning on the state and regional levels, Guo was the national Senior Division winner for his work "Seven Images" for solo piano, and Mui was the national Junior Division winner for his piece "Aquarium" for violin and piano.
The MTNA Performance Competitions recognize exceptionally talented young artists and their teachers in their pursuit of musical excellence. While the state competitions are the primary educational level, the division and national levels showcase outstanding performance and honor significant pedagogical achievement.

Matthew Hagle, an accomplished musician who has been a member of the Music Institute faculty since 1998, has worked with Guo for 10 years and with Mui for three years. "Both have remarkably good ears and unusual intellectual maturity and curiosity. They both are similar in having these very strong natural gifts, but their individual styles as composers are different, reflecting their different tastes and personalities. Holden has been very interested in French composers like Ravel and Fauré, and he's been able to use their language to create his own new pieces. Andrew has been developing an individual style, with elements of romantic and postromantic composers, mixed with Shostakovich and Prokofiev. When I hear the best work of these very talented young men, I feel like I might when a great cook serves me a meal: familiar elements, mixed together to create an intriguing and convincing new result!"
The MTNA Competition offers composers younger than 18 a rare opportunity to expose their work on a national level. As the winners, Guo and Mui will enjoy hearing their works at MTNA's National Convention in San Antonio, Texas this April. "Winning these prizes certainly place Andrew and Holden ahead of the curve as composers and will help them get attention and respect for their work in the future," Hagle said.
Guo, 17, lives in Chicago and is the Alexandra C. and John D. Nichols Academy Fellow Laureate at the Music Institute Academy, an advanced training center for gifted pre-college musicians. In addition to studying composition with Hagle, he studies piano with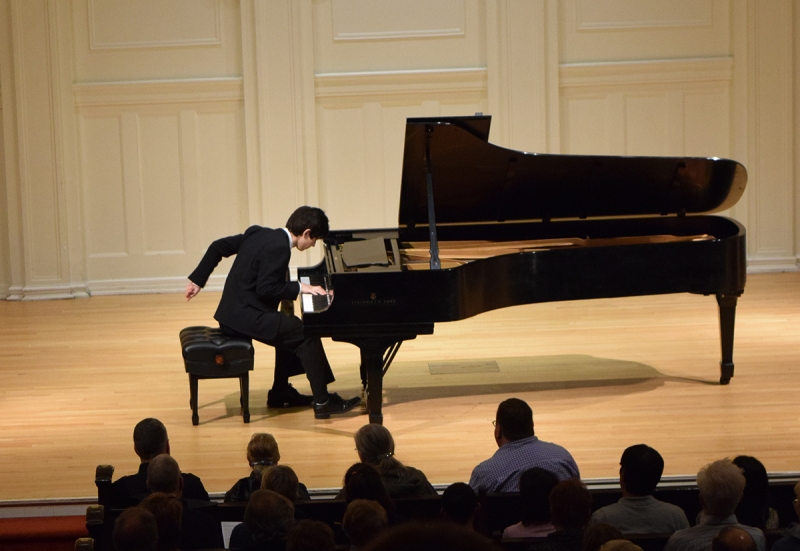 Northwestern University and Music Institute artist faculty member Alan Chow; he began his education at the Music Institute in 2003, studying for many years with legendary teacher Emilio del Rosario. He was the only student pianist to perform in Nichols Concert Hall at a reenactment of the famed 1986 Vladimir Horowitz Recital in Moscow and to play on the same piano Horowitz used for the concert. He has performed at the Harris Theater for Music and Dance, the Grant Park Music Festival, Ravinia Music Festival, and Music in the Loft among others.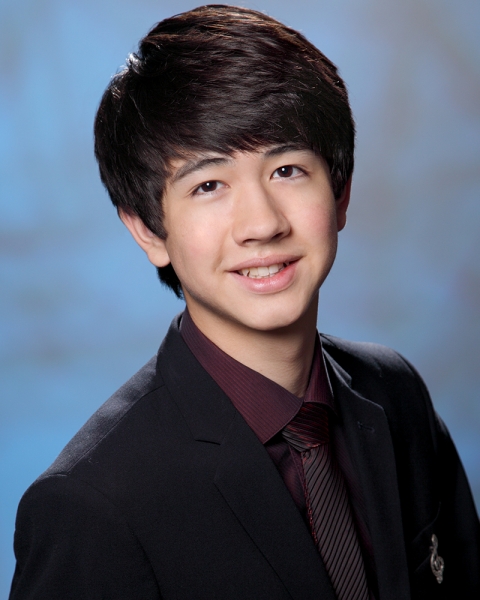 Guo started studying piano at age four, and, after his mother encouraged him to improvise, began studying with Hagle. Though he frequently composes at the piano, he noted, "Some of my best ideas have come to me while taking a walk or eating a meal." But the piano was—no pun intended—instrumental in his growth as a composer. "Piano also proved extremely useful for learning music theory, which has played a key role in my knowledge of harmony. Pianists are trained to think in harmonies, chords, and intervals, which made learning theory much easier."
His award-winning work for the MTNA competition came to him, ironically, when he lacked inspiration for an earlier project he had been working on—a set of variations for piano, which he does not expect he'll ever complete. "I was afflicted with an unfortunate case of composer's block and asked my teacher for suggestions. To my surprise, he asked me to write a short piece with a strict set of rules (I had to create my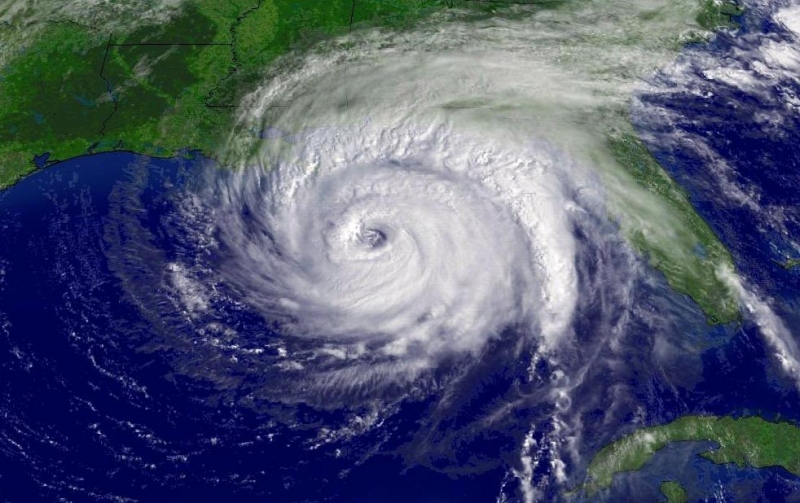 own 'artificial' tonic, dominant, and subdominant chords). Slightly confused, I went home and scribbled out around 30 bars and gave it back to my teacher. Little did I know that this musical idea would eventually be expanded and transformed into the first 'Image' of the set, 'Cyclone.'" Guo composed several other sections of the winning work in response to teacher assignments.
But how does one "teach" composition?
It's an idea some might find hard to grasp, since it's not about the physical act of learning how to play an instrument. Hagle explained, "I try to make sure every student has a solid music theory background, especially in the area of harmony. After that, I treat each student individually, depending on what each is writing. There are certain general areas that everyone needs to feel comfortable with: how to develop your ideas, construct a piece that makes sense, and write down your ideas in a way that produces a convincing performance. When we run into problems, I can help by analyzing what they have done and finding examples of other composers solving similar problems. Eventually, I want them to develop these skills of analysis and comparison themselves so they can find their own solutions or create interesting new ones."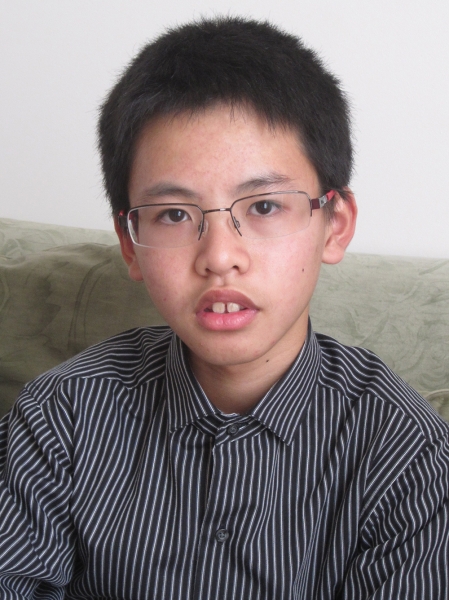 Mui, 13, lives in Lisle and studies piano with the Music Institute's Kate Nir. He attempted to compose music when he was five or six years old, before he began formal studies with Hagle three years ago. Of his winning piece "Aquarium," he described, "The 'Dolphin' section had some ideas from Ravel's Sonatine; the 'Piranha' section was based on a short piece I wrote about a year ago, which Dr. Hagle encouraged me to include."
In his studies with piano teacher Nir, Mui said he learned essential techniques, such as phrasing and tone. He especially enjoys playing Impressionist music "because the chord progressions and tone are more flowing." His favorite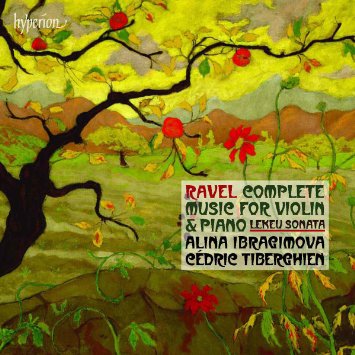 composer is Maurice Ravel, with Ravel's Violin Sonata the piece he most prefers. "Dr. Hagle has helped me analyze music, although writing playable music for the violin has proved difficult because I have not studied violin privately." Nonetheless, his violin-piano work was just the ticket for the MTNA Junior Division victory. 
"I would never be where I am today without the love, care, and support of the Music Institute faculty....In short, the Music Institute has played, and continues to play, an extremely important part in my life." ~ Andrew Guo
Guo also credits his Music Institute teachers and experience for his achievements. "I would never be where I am today without the love, care, and support of the Music Institute faculty. My late piano teacher, Emilio del Rosario instilled in me a deep passion for the arts and made learning music fun. Of course, I would never be the composer I am today without the incredible support and teaching from Dr. Hagle, whom I owe my success in composition. Then there's the Academy, where I've made some of my greatest friends and learned so much more about piano literature, duo piano, improvisation, and chamber. I could go on forever. In short, the Music Institute has played, and continues to play, an extremely important part in my life."