Chen String Quartet
Location:
Nichols Concert Hall live stream - access at musicinst.org/nch-live
Contact:
Fiona Queen | fqueen@musicinst.org
---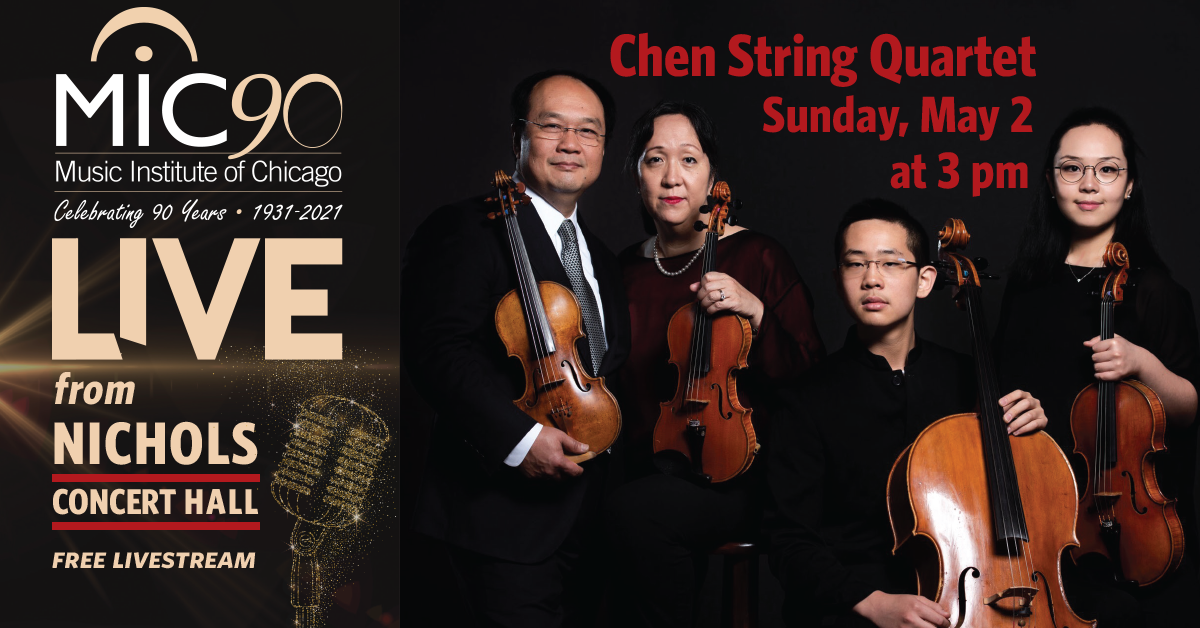 The Music Institute of Chicago opens its concert home to family homes worldwide through the presentation of "Live from Nichols Concert Hall," a free chamber music series April 11–May 2 streamed live from its historic Nichols Concert Hall. This series is part of the Music Institute's 90th anniversary year, which celebrates innovation, access, and excellence in music education, service to the community, and music performance.
The Chen String Quartet was founded in 2014 and is comprised of violinists Laura and Robert Chen, violist Beatrice Chen, and cellist Noah Chen. They have performed on the Constellations Chamber Concerts in Washington DC, From the Top's virtual concert series, and twice on the International Music Foundation's Rush Hour Concert Series. Most recently, their concert celebrating the 90th anniversary of the Music Institute of Chicago was broadcasted live on WFMT. The quartet constantly seeks to broaden their range of repertoire and performances. They are committed to community outreach, having played at various retirement homes, churches, and other venues regularly throughout the Chicago, Philadelphia, and DMV areas. And from during the Covid-19 pandemic, the Chen Quartet has produced more than 80 virtual concerts on platforms such as Zoom and Facebook.
Robert Chen has been concertmaster of the Chicago Symphony Orchestra since 1999. Laura Park Chen is a former member of the Philadelphia Orchestra, Boston Symphony Orchestra, and Chicago Lyric Opera Orchestra. Beatrice Chen is a student of Hsin Yun Huang at the Curtis Institute of Music. Noah Chen is a student of Dr. Clara Minhye Kim at Juilliard Pre-College.
PROGRAM
Beethoven: String Quartets, Op. 18
No. 5 in A Major  
No. 6 in B flat Major
Beethoven String Quartet No. 15 in A minor, Op. 132
              III. Molto adagio