Back to top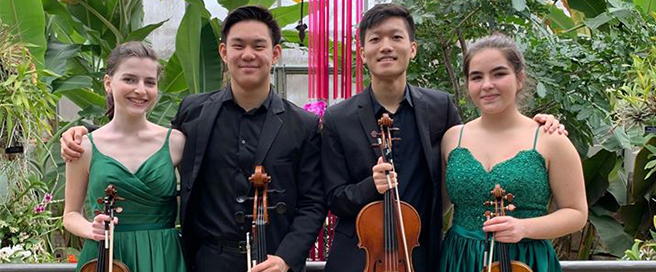 May 9, 2020
The Music Institute of Chicago (MIC) Academy's Dasani String Quartet was awarded the silver medal in the junior division of the 2020 Fischoff National Chamber Music Competition which culminated on May 9. The Fischoff National Chamber Music Association, based in South Bend, Indiana, sponsors the nation's largest chamber music competition and is regarded as America's premier educational chamber music competition. Due to the COVID-19 pandemic, the competition, which included multiple rounds of competition, was forced to take place virtually this year. Chamber groups from 24 states and 27 countries and territories were represented among the 130 competition entries. Of the 48 ensembles who made it to the quarterfinal competition round, five were from MIC's Academy program.
Historically, Academy chamber groups are strong competitors at the competition and have won 15 medals at Fischoff since the Academy's inception in 2006. This year, of the six Music Institute of Chicago Academy ensembles who submitted recordings to the competition, five continued to the quarterfinal round:
 
Dasani String Quartet (Junior Division Silver Medalists)
Coach: Mathias Tacke
Isabella Brown, 17, violin, Gurnee, IL
Katya Moeller,16, violin, Coralville, IA
Zechary Mo, 18, viola, Rolling Meadows, IL  
Brandon Cheng, 17, piano, Chicago, IL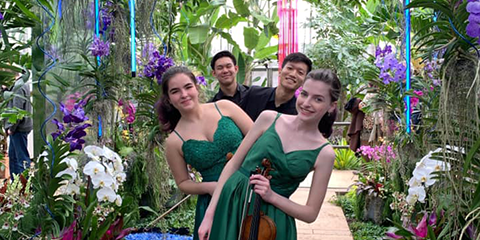 More About the Dasani String Quartet
The Dasani String Quartet is coached by Mathias Tacke, former violinist of the world-renowned and Grammy-nominated Vermeer Quartet, includes Isabella Brown and Katya Moeller, violins, Zechary Mo, viola, and Brandon Cheng, cello.  All four students are Merit Scholarship Fellows at the Music Institute of Chicago Academy, a training program for advanced pre-college students. While the Coronavirus pandemic unfortunately cut Dasani's year short, the group did enjoy performing as part of both "Melodies on Canvas" and "The Chicago Botanic Gardens Orchid Show," and was chosen as one of only two Junior Finalists in the 2020 WDAV Young Chamber Musicians Competition. Individually, their experience includes performances at prestigious venues around the world, many competition wins, and solo appearances with orchestra and on radio.
 
Isabella Brown is a violin student of Academy artist faculty Almita Vamos, soloed with the Cleveland Orchestra as a top prize winner of the 2019 Cooper International Violin Competition, will be soloing with the Chicago Symphony Orchestra next season as the winner of the 2020 Crain-Mailing CSO Young Artist Competition, and has performed at Carnegie Hall, The Kennedy Center, Chicago Symphony Center, and Cleveland's Severance Hall.
 
Katya Moeller, also a violin student of Almita Vamos, was the 2019 Grand-prize winner of the ENKOR International Violin Competition, a finalist at both the Ysaye International Violin Competition in Belgium and the National MTNA Competition, and recently performed in Brazil, Singapore, Thailand and Hong Kong as part of the Avita Duo.
 
Zechary Mo, a viola student of Academy artist faculty Roland Vamos and Davis King, was a semifinalist in the 2019 Klein International String Competition, won Grand Prize in the 2019 Illinois ASTA Competition, and has won several concerto competitions which led him to solo with several Illinois orchestras as well as the La Crosse Symphony Orchestra in Wisconsin.
 
Brandon Cheng, a cello student of Academy artist faculty Richard Hirschl, serves as the principal cellist for the Chicago Youth Symphony Orchestra and has received honorable mentions at the Merit School of Music's Conservatory Concerto Competition and the Society of American Musicians Cello Competition. In addition he has performed for and with musicians including Yo-Yo Ma, Emilio Colon, Rachel Barton Pine, and Mihai Marica.
---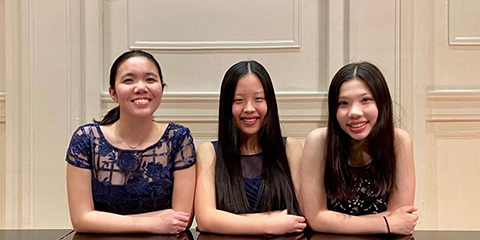 Insieme Piano Trio (semifinalists) 
Coaches: Abraham Stokman and Sang Mee Lee
Sonya Jones, 15, violin/viola, Chicago, IL 
Abigail Park, 16, violin/viola, Northbrook, IL  |  Ashley Kim, 16, piano, Wilmette, IL
---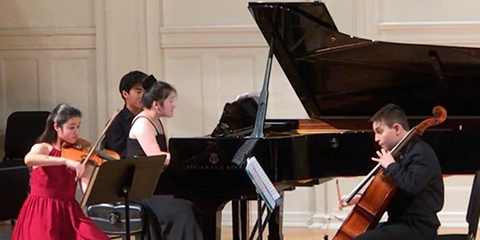 Primavera Piano Trio (semifinalists) 
Coaches: Mark George and Rodolfo Vieira
Esme Arias-Kim, 14, violin, Hoffman Estates, IL 
Jan Nedvetsky, 13, cello, Wilmette, IL
Yerin Yang, 17, piano, Mount Prospect, IL
---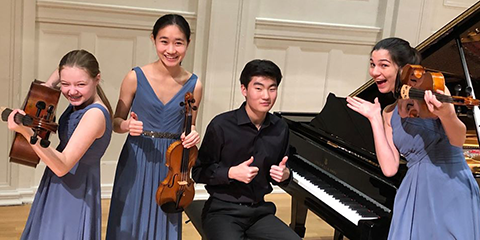 Aurora Piano Quartet (quarterfinalists)
Coaches: Elaine Felder and Sang Mee Lee
Sidney Lee, 16, violin/viola, Arlington Heights, IL 
Elinor Detmer, 15, violin/viola, Chicago, IL
Amelia Zitoun, 14, cello, Shorewood, WI  |  Colin Song, 17, piano, Glenview, IL
Check out "Aurora Piano Quartet, The Road to Fischoff, May 2020" a video about preparing for this famous competition >>
---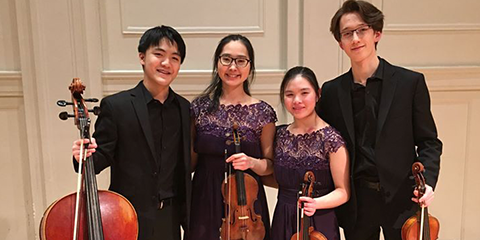 Gemini String Quartet (quarterfinalists) | Coach: Jasmine Lin
Noelle Naito, 17, violin, Elkridge, MD  |  Isabel Chen, 17, violin/viola, Northbrook, IL
Jonah Kartman, 18, violin/viola, Glendale, WI  
Cameron Chiu, 18, cello, Palatine, IL
---
Check out the Academy Goes to Fischoff YouTube Playlist >>
Check out more of the Academy's award history here >>